Gamine, the incomparable sprinter who is among the fastest runners this century, was retired Monday, according to a release from her owner, Pandora jewelry baron Michael Lund Petersen.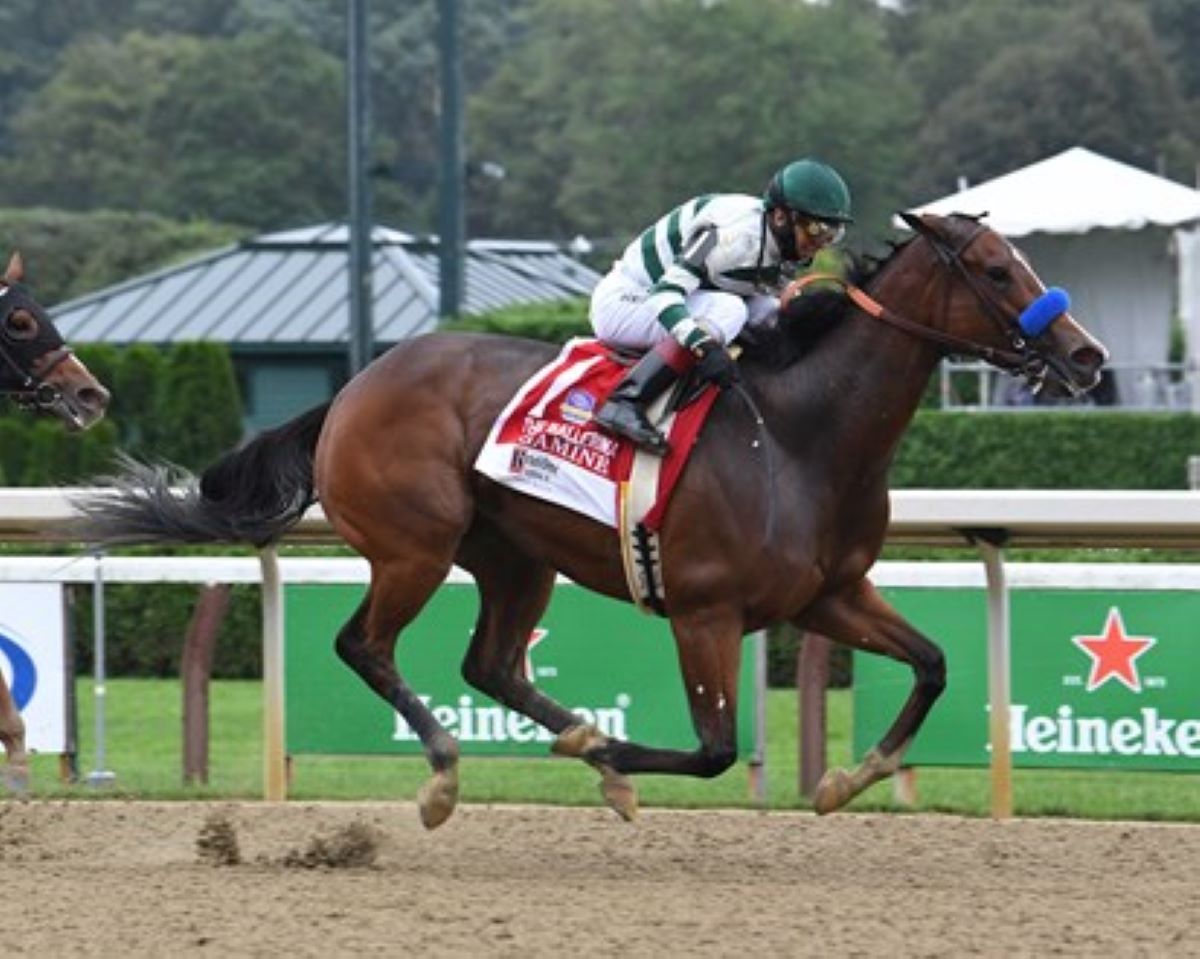 Through a representative, Petersen announced the now-5-year-old mare will reside at Hill 'n' Dale Farm in Kentucky. With a 9-0-1 record and $1,771,500 in career earnings, Petersen believes she has nothing left to prove.
"Gamine is leaving the track happy and healthy. She gave me and my family the thrill of a lifetime," Petersen said in the release. "We look forward to her next chapter."
Gamine's last chapter stamped her as one of the top sprinters of the 21st century. The reigning Eclipse Award Female Sprinter blazed a trail across tracks all over the US. The daughter of Into Mischief's greatest hits from 2020 literally blend into each other.
Which Gamine performance was her best?
There was the 2020 Breeders' Cup Filly & Mare Sprint at Keeneland, where Gamine destroyed one of the best sprinter fields of the year by 6 ¼ lengths. Her time of 1:20.20 for seven furlongs tied the legendary Dr. Fager's 31-year-old Vosburgh Handicap mark. It also set the track record, coming with a 121 Equibase Speed Figure that was among the best figures of the year.
Two starts and three months before that, there was the Grade 1 Test Stakes at Saratoga. There, Gamine blew away the field by seven lengths. Her time of 1:20.83 for seven furlongs was two-fifths of a second off Darby Creek Road's 44-year-old track record. It tied Lady Tak's 2003 event record, bringing a 118 Equibase with it.
Before that, there was the Grade 1 Acorn Stakes at Belmont Park. Gamine's 18 ¾-length dissection was one of the top performances of the year – on any track. Her mile time of 1:32.40 was one-fifth of a second behind Dr. Fager's 54-year-old world record time. It came with a 112 Equibase that didn't do Gamine's performance justice.
Average margin of victory: seven lengths
In her nine victories, Gamine's average margin of victory was seven lengths. She won Grade 1 races at four tracks, including Saratoga, Belmont Park, Keeneland, and Churchill Downs, where Gamine captured the 2021 Derby City Distaff by an unusually close 1 ½ lengths. She rectified that "oversight" by winning her next race, the Grade 2 Great Lady M. Stakes at Los Alamitos, by 10 lengths.
Along with that, Gamine won the Grade 3 Las Flores Stakes at Santa Anita by five lengths. Her final victory came in her penultimate race, August's Grade 1 Ballerina at Saratoga. She won by nearly two.
Gamine's only two losses came in her last race, a third in the Breeders' Cup Filly and Mare Sprint in defense of her title, and a ninth in the 2020 Kentucky Oaks. There, Gamine crossed the finish line third, but was disqualified to ninth after testing positive for the anti-inflammatory betamethasone.
"Gamine is the best filly sprinter I have ever trained," Hall of Fame trainer Bob Baffert said in that statement. "She defines greatness. She's a big, beautiful, elegant filly. She was all class. We knew we had something very special right from the start."