You've got an in-form Gamine running a seven-furlong sprint on an Eastern track with a Breeders' Cup berth on the line. Given what this combination has created in the past, it's no wonder you'll find the Champion Female Sprinter of 2020 in a race called the Ballerina.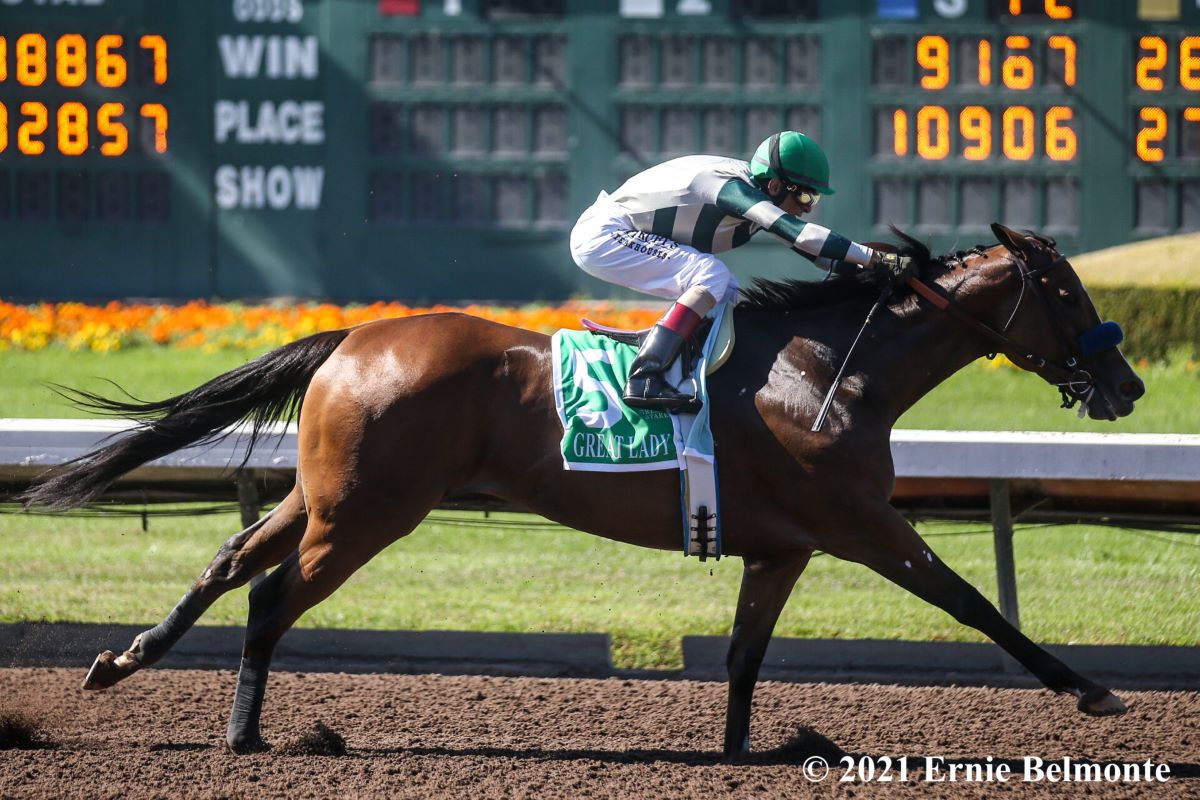 After all, almost every time Gamine runs, it resembles a Thoroughbred sprinting ballet; one of the most fluid, seamless strides you'll see from a sprinter.
That's what makes the 4-year-old daughter of Into Mischief the one to beat in the Grade 1 Ballerina Stakes. The Ballerina is one of six Grade 1s on Saratoga's Travers Stakes Saturday card. It sends its 3-year-old and up fillies and mares seven furlongs on the Spa's main track. Along with $300,000 of the $500,000 purse, the winner earns a berth in the Nov. 6 Breeders' Cup Filly and Mare Sprint at Del Mar.
That's a race Gamine is well-acquainted with. After all, she set the track record in that race at Keeneland last year. That kick-started a four-race winning streak that brings Gamine back east in search of more stakes titles. And make no mistake, the Bob Baffert-trained sprinter loves her some Eastern tracks.
Gamine travels very, very well
Not that the West Coast-based filly can't run anywhere, which we've seen. Of Gamine's eight career victories – coming in nine races – five came at tracks in either the Eastern or Central time zones. She's won at Oaklawn Park (Arkansas), Keeneland and Churchill Downs (Kentucky), and Belmont Park and Saratoga (New York).
This explains why Baffert can't get the shipping documents filled out quickly enough.
"She's filled out and she looks good, and she's been working well, so we wouldn't send her unless we thought she was doing real well," Baffert told the New York Racing Association. "We're excited about it. She always runs well when she goes back east. She likes the Eastern tracks."
Saratoga certainly holds a fond memory here
Gamine certainly likes New York. She won last year's Acorn Stakes at Belmont Park by 18 ¾ lengths in a stakes-record 1:32.55 for one mile. In her only Saratoga visit, she romped to a seven-length victory in last year's Test Stakes.
This year, she's ventured east only once, coming into Churchill Downs on Kentucky Derby Day and riding out with the Derby City Distaff title. That victory over seven furlongs gave Gamine her fourth Grade 1 title.
She bookended that with a season-opening, glorified workout victory in the Grade 3 Las Flores at Santa Anita. Last out, Gamine destroyed an overmatched field by 10 lengths in the July 5 Grade 2 Great Lady M at Los Alamitos. Only once during her four-race win streak has anyone finished within two lengths of her. That was Sconsin in the Derby City Distaff, who finished 1 ¾ lengths back after Gamine bobbled at the start.
Baffert wants to see more of Gamine
"She's just brilliant, just a brilliant filly," Baffert said. "She's fun to watch and people like watching her run. Fans love those kind of horses, and they count on them."
Even with Gamine at the top of her game, Baffert is thinking about the next moves for his star sprinter. He noted that when Gamine comes down the stretch, she cocks her head. Baffert asked Velazquez why she does that, because he said she doesn't do it during morning workouts.
"He said maybe because she's going so fast," Baffert said. "Eventually, I'd like to stretch her out. I still think I can stretch her out. I think if we could slow her down a little bit, she'd stretch out. When I did stretch her out the two times there, it was the wrong time to try her long. But I think as they get older, they can do it."