Magnus Carlsen looks to continue his dominance of the online chess scene while Wesley So will attempt to put his stamp on the new Champions Chess Tour as the two world-class grandmasters face off in the final of the Skilling Open.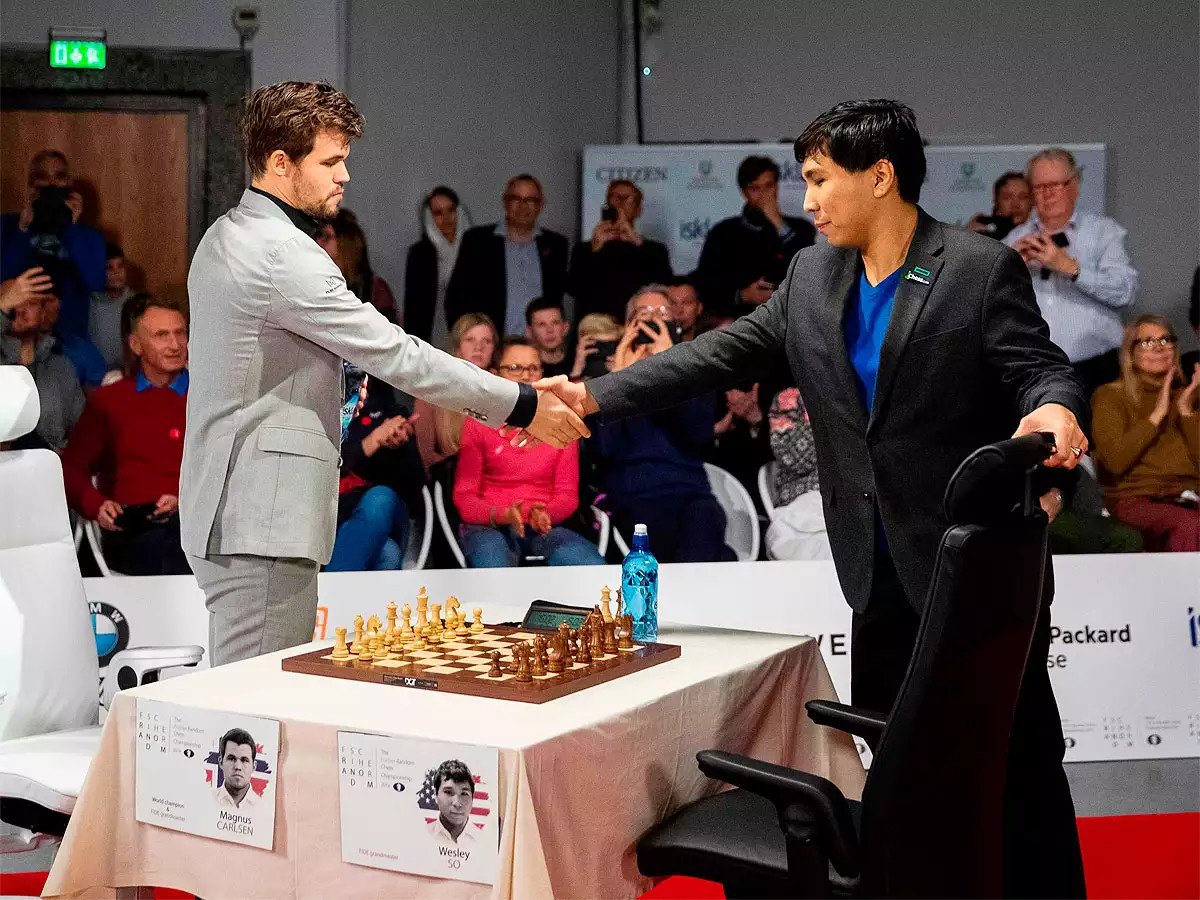 Carlsen and So will battle in the first of two, four-game matches on Sunday, with the second match – and a potential tiebreaker – looming on Monday.
Nakamura, Nepomniachtchi Comeback Bids Fall Short
Both Carlsen and So held one-match leads heading into the second day of semifinal play at the Skilling Open on Saturday. In the end, both drew their second matches in order to advance. But the matches were far more dramatic than that description suggests.
So gained opportunities to take complete control versus Hikaru Nakamura on Sunday, building winning positions in each of the first two games. But each time, So blundered, allowing Nakamura back into those games, both of which ended in draws.
"It's just impossible not to win this position on this level!"

Peter Leko jinxes it as Wesley So blunders a draw by perpetual check when he was completely winning against Hikaru Nakamura! https://t.co/Z3JN7LJk2j #c24live #ChessChamps #SkillingOpen pic.twitter.com/MixYEkdqW8

— chess24.com (@chess24com) November 28, 2020
"It's always very tricky because Hikaru's very tactical and slippery, and he makes use of all his chances and he never gives up," So said of those two games. "He has this tremendous fighting spirit, so he'll just keep fighting until he doesn't have any chances left, so when we get down to a minute or two minutes on the clock, he plays just much better while I simply panic with very little time."
Still, the draws moved So closer to advancement. He secured a quick draw with White in Game 3, then watched as Nakamura blundered in Game 4. When So achieved a winning position, he agreed to a draw to remove all risk and advance with a 2-2 tie in the second match.
Carlsen found himself in more danger against Russian grandmaster Ian Nepomniachtchi. The World Champion blundered in Game 1, falling into a mating attack that gave Nepomniachtchi a 1-0 lead and hopes of forcing a blitz tiebreaker.
Carlsen Favored in Skilling Open Final
Carlsen fought back to level the match with his own win in Game 2. Draws in the final two games secured an overall match tie for Carlsen, which was enough for him to advance thanks to his victory in the first match on Friday. Still, the Norwegian wasn't happy with his play.
"I haven't been able to gain much momentum," Carlsen said. "Even the game that I won was very unclear, and I think I was at some point even worse. Frankly I'm not playing that great, but it's been enough so far. I think I'll have to step it up in the final because Wesley's extremely strong."
Carlsen enters the final in the same position he normally finds himself in: as a significant favorite to win the Skilling Open. Unibet lists Carlsen as a -400 favorite over So (+225).
So has proven that he can compete with Carlsen in the past. While Carlsen has usually found ways to get the best of the American, So crushed him in the finals of the 2019 FIDE Fischer Random World Championship – though he says success in that variant won't translate over to standard chess.
"If we play Chess960, I feel very confident," So said after his semifinal win. "But chess and Chess960 are just two completely different games."