World Chess Champion Magnus Carlsen comes into the Banter Series final as a significant favorite over Wesley So, but the Norwegian still offers value for bettors if the price is right.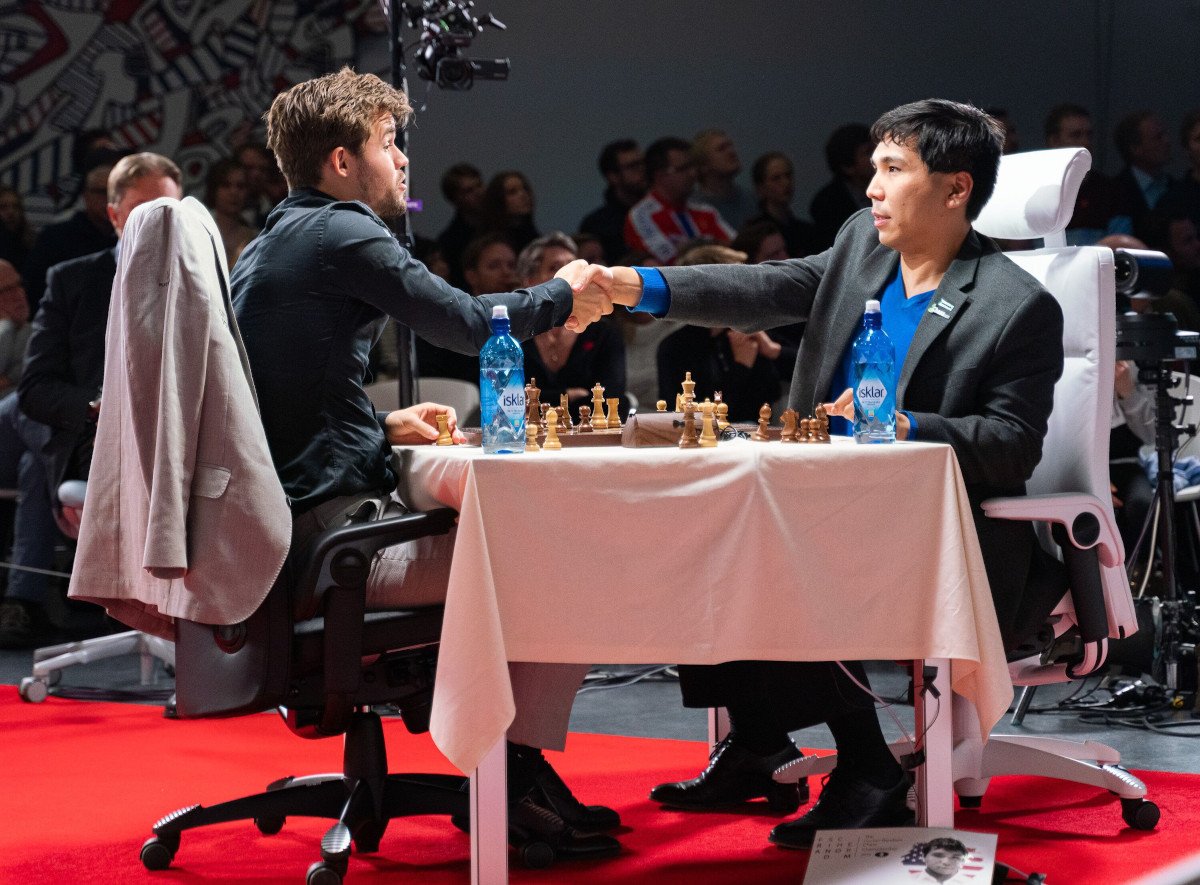 The grandmasters will meet in the final on Tuesday, with the winner taking home a $12,000 top prize.
Carlsen Battles Back from Early Deficit vs. Aronian
Carlsen struggled early in his semifinal contest against Levon Aronian. The Armenian grandmaster won the first two games of the 10-game online blitz match to put the world champion in an early hole. But Carlsen stormed back to win five of the next six games and clinch an early 5.5-2.5 win.
"A very, very nervy start, but I've got to say, 5.5 for the last six games, that's pretty good," Carlsen said afterward. "As I said, very nervy games. I have to play much better in the final."
So never found himself in trouble in his semifinal vs. Vietnamese Grandmaster Le Quang Liem. The American jumped out to early leads of 2.5-0.5 and 4.5-1.5, quickly moving close to the match win. Le struck back with a win in Game 7 to retain hopes of a comeback, but So finished the match with a victory two games later to make the final score 6-3.
Let's Bet on Chess
Sports bettors don't typically gravitate toward chess markets, but as a former competitive tournament chess player, chess betting has always fascinated me on the rare occasions when sportsbooks have offered it. These days, online betting sites more frequently give us opportunities to make chess bets.
With that in mind, I plan to start making and tracking picks for any prospective chess bettors out there. I'll be making hypothetical $100 bets on major live and online tournaments, along with anything else that shows up at sportsbooks. To get started, here's a breakdown of Tuesday's Carlsen vs. So matchup.
Unibet lists Carlsen as a -625 favorite over So (+350) as of Monday afternoon. Carlsen opened as at least a -1000 favorite, but bettors have moved that number significantly since Sunday.
That's understandable, as So has historically given Carlsen some trouble. The American crushed Carlsen in the final of the 2019 Fischer Random (aka Chess960) world championship, winning 5-1 (13.5-2.5 under the scoring system used for that event).
But bettors should consider two factors about that event. First, So was so dominant that the match didn't even make it to the blitz portion, having been decided in rapid play. More importantly, Fischer Random just isn't standard chess, and it's reasonable to assume that So may have some skills that allowed him to match up particularly well against Carlsen in that game.
---
Banter Series Final Odds
Magnus Carlsen (-625)
Wesley So (+350)
Odds via Unibet
---
Carlsen and So tied for first in the recent St. Louis Rapid and Blitz tournament, though Carlsen scored a full point better in the blitz portion, beating So 1.5-0.5 in their blitz games. Carlsen also dominated So in their only meeting on the Magnus Carlsen Chess Tour, winning both rapid mini-matches 2.5-0.5 in the quarterfinals of the Lindores Abbey Rapid Challenge.
All signs point to Carlsen – the classical, rapid, and blitz world champion, not to mention a veteran of online chess – being the clearly stronger player, if not by a wide margin. That's not to say he can't lose: Alireza Firouzja's 8.5-7.5 upset of him in the Banter Blitz Cup earlier this year is proof that it can happen.
That would have stopped me from backing Carlsen at -1000. But I believe he's still about 90% to win Tuesday's match, as it's hard to see So overcoming his disadvantage over 10 games – especially as Carlsen continues to show the ability to turn it on when he needs to, such as in the match against Aronian. It's not a sexy pick, but my money is on the champ.
The Pick: Magnus Carlsen (-625)