Brandon Moreno scored an upset victory over Deiveson Figueiredo on Saturday at UFC 263, submitting the champion in the third round to claim the UFC flyweight title.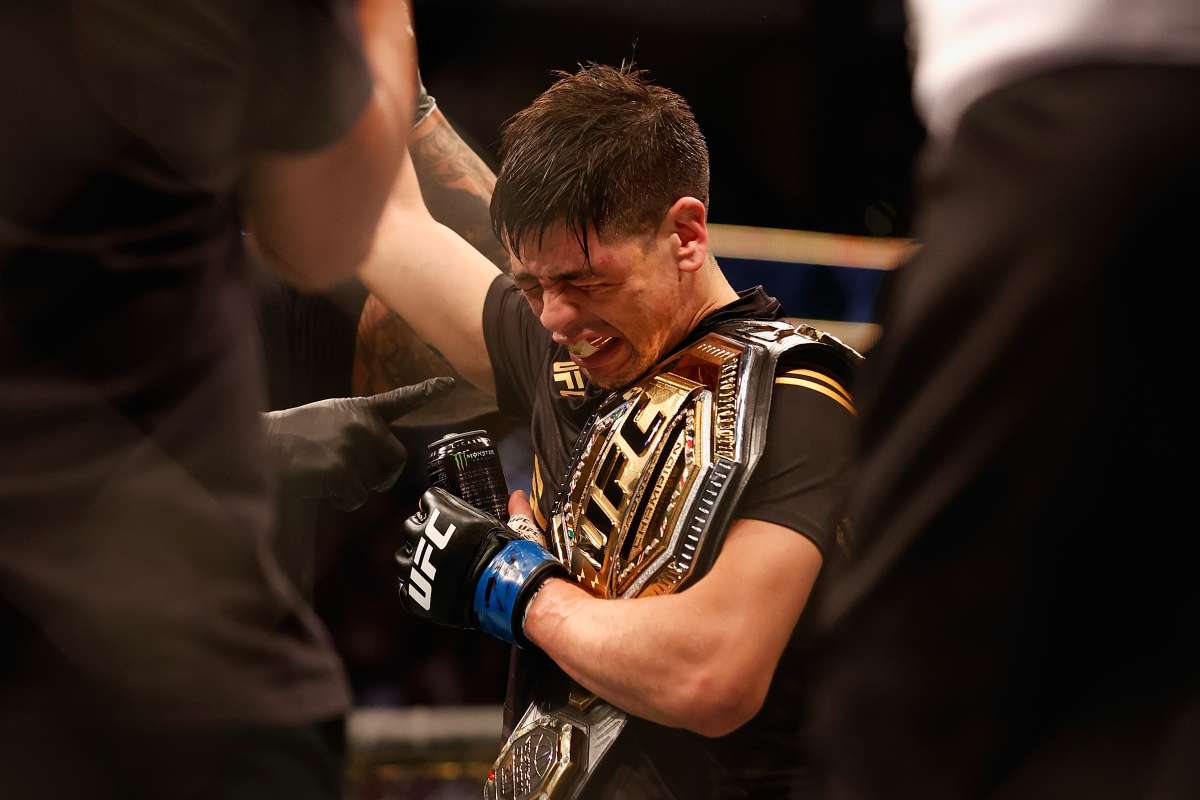 The victory completed a stunning comeback for Moreno, who the UFC cut from its roster in early 2019.
Moreno becomes first Mexican UFC champion
Moreno and Figueiredo fought to a draw in December. Figueiredo (20-2-1) vowed to step up his game for the rematch, as he had turned around in just three weeks to help fill a card in their first meeting. Instead, it was Moreno (19-5-2) who raised his game to a new level. He landed a rear-naked choke at 2:26 in the third round to become the first Mexican-born champion in UFC history.
"This is a real dream come true. I worked so hard for this belt," Moreno said after his win. "This moment is so special. Not just for me, but for all my people, for my country, for my family, for my team … for everybody."
Moreno returned to his hometown gym in Tijuana, Mexico on Monday to celebrate his win. While there, he told reporters that he's ready to defend his title as soon as possible. "I don't know who, but I do know I want to fight again this year," Moreno said. He also suggested that he could headline a card in Mexico.
Adesanya dominates Vettori in rematch
In the UFC 263 main event, Israel Adesanya easily defeated Marvin Vettori to retain his middleweight championship.
Adesanya (21-1) didn't get the finish he wanted, but left no doubt as to who was the superior fighter in a unanimous decision victory. All three judges scored the fight 50-45 for Adesanya. Vettori (17-5-1) managed a few takedowns against the champion, but never accomplished much from the positions he achieved. Adesanya had a huge advantage when the fight was standing, landing numerous leg kicks on the way to a 96-58 significant strike advantage.
"Vintage me," Adesanya said of his win. "Having fun. I did have fun in there, I'll say that."
Shields finds path to victory in MMA debut
Last Thursday, boxing legend Claressa Shields (1-0) earned her first career MMA victory, beating Brittney Elkin by a third-round TKO at PFL 4 in Atlantic City.
IT'S ALL OVER!!! CLARESSA SHIELDS IS HERE TO STAY!#2021PFL4 pic.twitter.com/6zYPYwCGQY

— PFL (@PFLMMA) June 11, 2021
Elkin (3-7) dominated the first two rounds of the fight, using her Brazilian jiujitsu expertise to get Shields on the mat and keep her there. But Shields was able to stuff a takedown attempt in the third round before landing a flurry of powerful punches from a kneeling position. Referee Gasper Oliver stopped the fight at 1:44 in the third round.
"She had me on the ground, but she couldn't hurt me," Shields said afterward. "Her punches didn't hurt me. She tried to get me in an armbar and that didn't hurt me."
Koch accepts 18-month doping sanction
Former UFC fighter Erik Koch accepted an 18-month suspension after violating the UFC Anti-Doping Policy. Koch tested positive for an anabolic agent known as 3'-hydroxy-stanozolol. By default, the USADA issues two-year sanctions for such violations.
Koch received a reduced sentence due to his cooperation with the case. He will regain his eligibility on April 3, 2022. Koch is not currently on the UFC roster.