After a delay of nearly a year, Claressa Shields and Marie-Eve Dicaire will meet on Friday night to unify the women's junior middleweight championship at Dort Federal Credit Union Event Center in Flint, Michigan.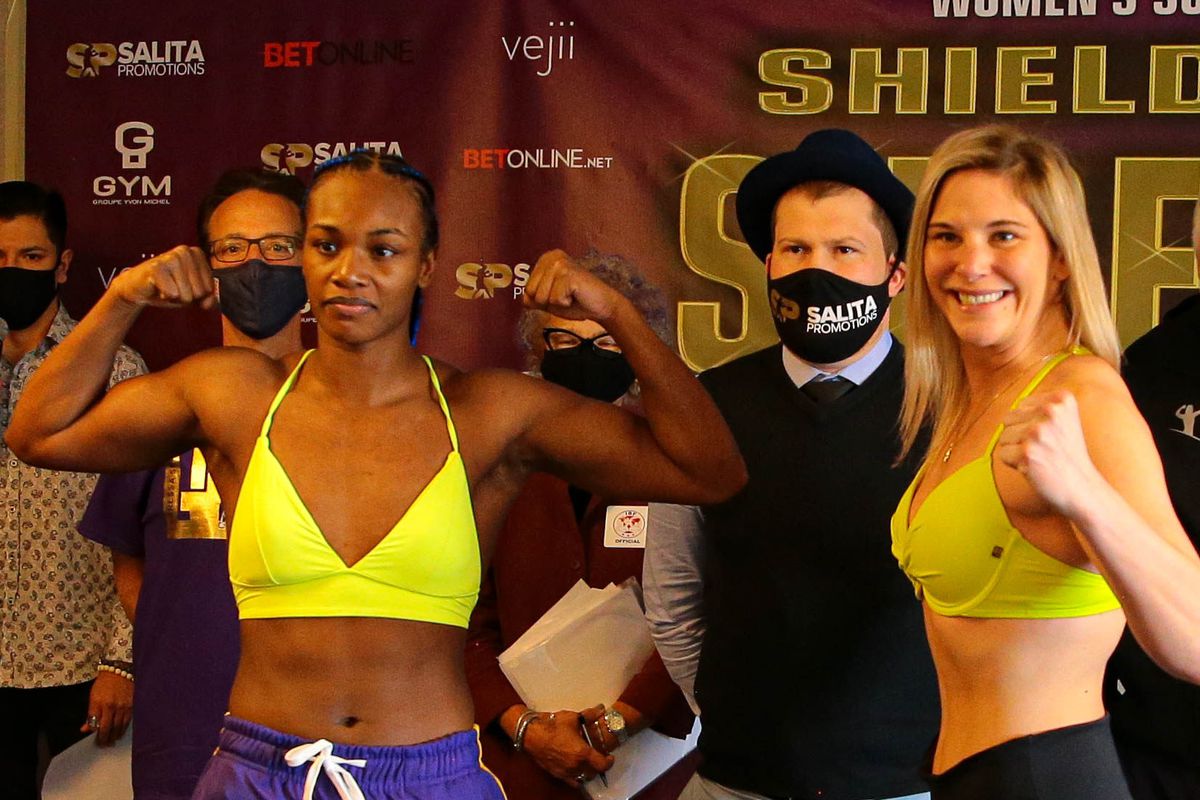 Shields and Dicaire will headline a four-fight, all-women's pay-per-view card after shopping the fight around to a variety of potential broadcast partners.
Shields wants to grow women's boxing
Showtime planned to air the fight last May. But the COVID-19 pandemic postponed the fight, and the network couldn't reach a new deal with Shields' team, leading to the broadcasting change.
Shields (10-0, 2 KOs) stands out as the most recognizable name in women's boxing today. She holds the undisputed middleweight title, and won the WBC and WBO junior middleweight titles last January in a unanimous decision victory over Ivana Habazin.
---
Shields vs. Dicaire Odds (via FanDuel Sportsbook)
Claressa Shields: -1250
Marie-Eve Dicaire: +630
Method of Victory
Shields by Decision: -210
Dicaire by Decision: +950
Shields by KO/TKO: +300
Dicaire by KO/TKO: +1600
Draw: +2000
---
Shields hasn't won many big fights, but that's largely because there aren't many big-name opponents in women's boxing today. Certainly, victories over Hanna Gabriels and Christina Hammer stand out as particularly significant wins. But her self-proclaimed Greatest Woman of All-Time (GWOAT) status arises mainly from her dominance, and the fact that she has already won titles in three different weight classes.
For Shields, one major reason for moving the fight to pay-per-view is to show that women's boxing has value.
"I know that I've gotten over 430,000 views, over 450,000 views on Showtime, and my highest purse was $350,000," Shields told BoxingScene.com. "So, the numbers should be more, and I think that this should just start where we can gauge and see what we have to do to build our sport. You know, because boxing is boxing, but we're also women, and we're not respected as much yet."
Short rounds lead to few knockout opportunities
Shields has also pushed for women's boxing to move to three-minute rounds – the same as men's boxing – rather than the two-minute rounds fought by professional women today.
"A lot of fans have said to me that they feel like they're being cheated out of our fights because they're two minutes," Shields told Yahoo Sports. "They want to see their favorite fighter get knockouts, they want to see their favorite fighter look smart and have enough time to execute, and two minutes is not enough time."
Shields comes into the fight as a heavy -1250 favorite over Dicaire (+630), according to FanDuel Sportsbook. Dicaire (17-0, 0 KOs) is also undefeated and has never had a knockout in her career. Yet FanDuel is offering what seems like a generous -290 on the fight going the distance, and just +198 on a finish.
Despite being undefeated and holding the IBF title, Dicaire is clearly the B-side of this fight. But the Canadian says she's ready to take advantage of her shot against the biggest name in women's boxing.
"It's an opportunity of a lifetime," Dicaire told RingTV. "Since I was a kid, I dreamed of an opportunity like this to show my skills, talent, and passion for the sport. And now that I have this opportunity, I want to seize it."