Displaying further signs of post-pandemic economic health, Belmont Park boosted its 2021 spring/summer meet handle by 20.6% over 2019 totals, and 63.5% over last year's handle.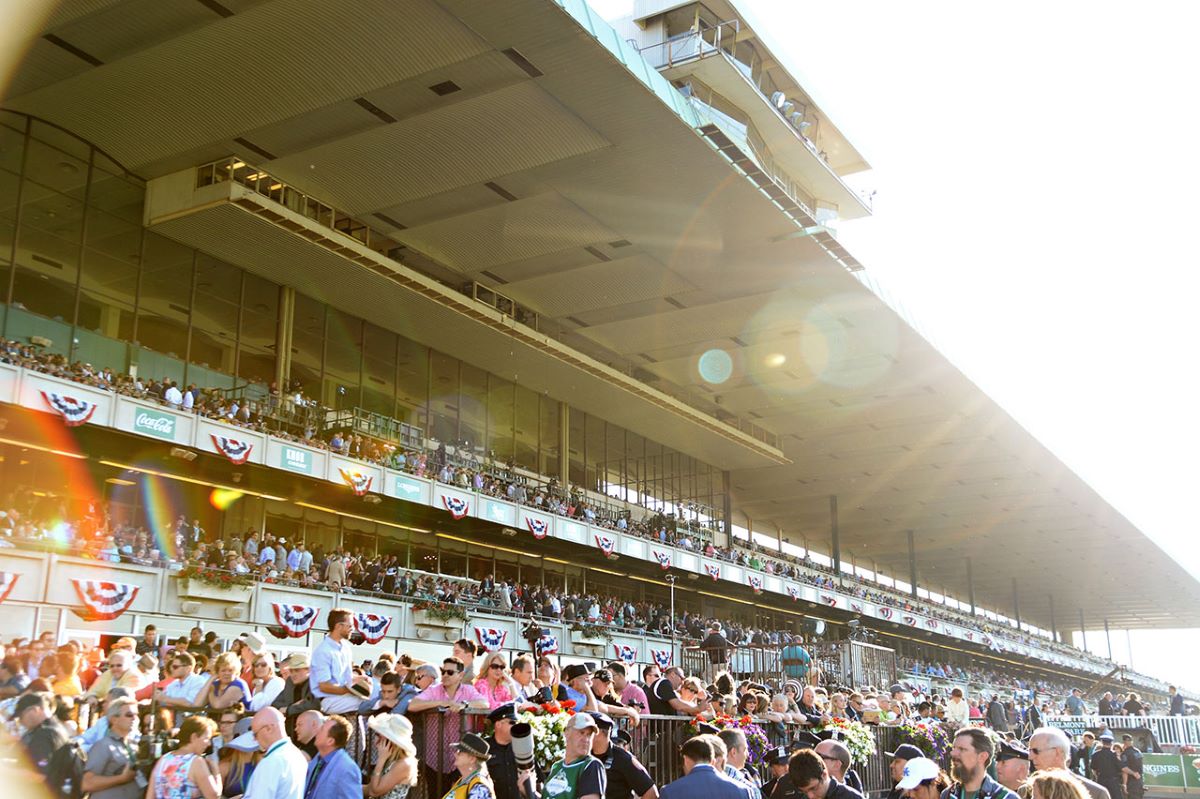 The New York Racing Association released the figures Wednesday. They showed the 48-day Belmont spring/summer meet brought in $632,208,251 in all-sources handle. This, from a meet that began April 22 without spectators. Belmont Park didn't open to fans until May 1.
A few variables played into the full handle equations. Last year's spring/summer meet ran only 25 days, due to the pandemic. It ran without fans, of course, and it ran with a scattered, pieced-together schedule that moved the meet's flagship event, the Belmont Stakes, to mid-June as the Triple Crown's opening leg for the first time in history. Normally, the Belmont Stakes runs on the first Saturday in June.
Last year, the NYRA spread out its major stakes races throughout its meet. This year, it put many of them back on the June 5 Belmont Stakes undercard. That June 5 card, featuring eight Grade 1 races, produced $112,725,278 in all-sources handle. That's a record for a non-Triple Crown year.
Daily average handle increased from 2019, dipped from 2020
The on-track handle that day was more than $7.5 million. The total on-track handle was a tick under $50 million ($49,343,664).
The NYRA reported the average daily handle over the 48-day meet was $13,171,005. That represents a 20.6% increase from 2019, though it's a 15% drop from the abbreviated 2020 meet's average daily handle of $15,466,198. That was a byproduct of fewer race days and an influx of ADW wagering from horseplayers around the world.
The Belmont Park spring/summer meet is traditionally one of North America's most lucrative. It typically generates all-sources handle north of $600 million thanks to a 59-stakes schedule with races such as the Belmont Stakes, the Met Mile, the Acorn, the Woody Stephens, and the Belmont Derby Invitational generating robust betting interest.
Belmont Park ran more races, held field sizes consistent
Those handles came from the meet's 454 races (243 on dirt, 211 on turf, 33 taken off the turf for weather). The average field sizes were 7.6, an increase from the 7.0 average field size seen in 2019. Belmont Park ran 448 races two years ago (260 dirt, 188 turf, 46 taken off turf).
In last year's abbreviated meet, Belmont Park ran 248 races (128 dirt, 120 turf, five taken the off turf). Not surprisingly, with fewer races and race-starved owners and horsemen, the average field size was 8.6.