Looking at the familiar names lining up for Saturday's Grade 1 Woody Stephens at Belmont Park, it's tempting to dismiss the seven-furlong sprint as a race for Triple Crown washouts, has-beens, and never-weres.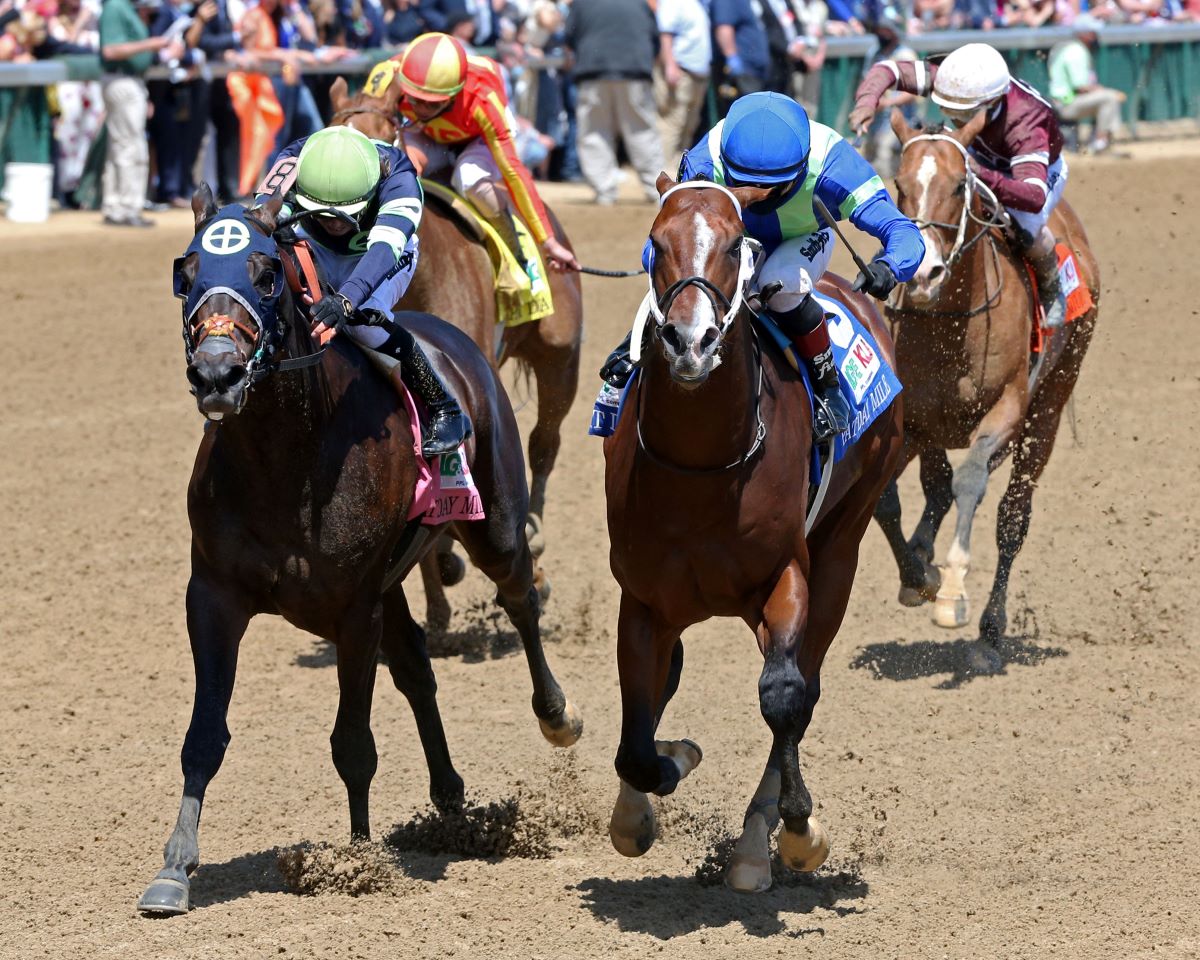 Don't. Instead, understand that not every horse is bred to go two turns. Understand that the Woody Stephens is one of the most historic races at Belmont Park, named after the late Hall of Fame trainer who won five consecutive Belmont Stakes from 1982 to 1986. Understand that feat is akin to Joe DiMaggio's 56-game hitting streak and probably won't be approached, let alone touched, anytime soon.
And understand that any race featuring the likes of Jackie's Warrior, Dream Shake, Drain the Clock, and Caddo River should be taken seriously by horseplayers and horse racing fans.
The $400,000 Woody Stephens is one of eight Grade 1s on Belmont Park's Saturday card, and that its six-horse field is as talented as it is compact.
Jackie's Warrior sets high one-turn Woody Stephens bar
Take Jackie's Warrior. No owner or trainer in the world would throw back a horse who's 5-for-5 in one-turn races – with two Grade 1 victories on the resume. That includes the Champagne Stakes last fall at Belmont Park, where Jackie's Warrior clocked his career-best 100 Beyer Speed Figure. The son of Maclean's Music is 5-for-7 with a field-best $868,964 in earnings in those seven races.
Last out, Jackie's Warrior captured the Grade 2 Pat Day Mile on the Kentucky Derby undercard. Jackie's Warrior's vanquished his opponents, including Triple Crown trail refugees such as Dream Shake, Prevalence, Sittin On Go, and Starrinmydreams. The colt led from the quarter-mile spot to the wire, beating Dream Shake by a head.
---
Grade 1 Woody Stephens Stakes/Belmont Park
Morning Line (Jockey/Trainer)
Nova Rags, 8/1 (Junior Alvarado/Bill Mott)
Drain the Clock, 7/2 (Irad Ortiz Jr./Saffie Joseph Jr.)
Jackie's Warrior, 7/5 (Joel Rosario/Steve Asmusssen)
Dream Shake, 5/2 (Flavien Prat/Peter Eurton)
Tulane Tryst, 20/1 (Luis Saez/Cherie DeVaux)
Caddo River, 4/1 (Florent Geroux/Brad Cox)
---
A brewing rivalry? Anyone?
"He ran huge last time against Jackie's Warrior," Dream Shake's assistant trainer Tomas Dubaele told the New York Racing Association. "Hopefully, going seven furlongs will help him. If he runs the same race as last time, he should be tough."
Dream Shake did handle two turns well
After handily winning his debut in a Santa Anita Park maiden race, Dream Shake finished third in both his two-turn Derby trail efforts: the Grade 2 San Felipe Stakes and the Grade 1 Santa Anita Derby. He came out of that into his runner-up at the Pat Day Mile.
Caddo River also comes into the Woody Stephens off a runner-up finish. His came at the Arkansas Derby to surprise winner Super Stock. Afterward, trainer Brad Cox realized the horse who blitzed the field by 10 ¼ lengths in the Derby trail's Smarty Jones Stakes in January wasn't in Caddo River's wheelhouse.
"We're hopeful that the cutback is the play here from the mile and an eighth," Cox said. "He's been working steady over the past month and hopefully, with a good trip, he can have a breakthrough performance and maybe pick off a Grade 1. I think the shortening up will be good for him. It's nothing but a positive (the Derby trail). We just felt like it wasn't going to set up for us at the Kentucky Derby and he's not a horse who really wanted a mile and a quarter, so we're hoping that backing up to seven-eighths will be a positive for him."
Don't circle the drain with Drain the Clock
With Drain the Clock, Saffie Joseph Jr. shares the same thought process as Cox. And like Caddo River, Drain the Clock didn't embarrass himself on the Derby trail. After winning two stakes – including the Grade 3 Swale – Drain the Clock finished a solid second to Greatest Honour in the Grade 2 Fountain of Youth.
And, like Jackie's Warrior, Drain the Clock is unbeaten around one turn. He makes his Grade 1 debut coming out of an easy win in the April 3, Grade 3 Bay Shore at Aqueduct.
"I feel he's a better one-turn horse," Joseph said. "Can he win two turns? Yes, against the right company. But for him to achieve his full potential, one turn is his best distance. He's unbeaten at one turn. It's coming up a small field, but I think any one of them could win it. He'll have to run his best, but he's won most of his one-turn races quite handily and we never really let him out fully."
The pick: Dream Shake. It's a tough, tough ask going against a one-turn behemoth like Jackie's Warrior. But there's more value here, especially in New York, where Jackie's Warrior will take more money than a California invader like Dream Shake. The cutback to seven furlongs could be the difference here for a colt who hasn't run a bad race yet.