We last saw Super Stock finishing a distant 16th in the Kentucky Derby. We'll next see him back not in the final Triple Crown jewel – the Belmont Stakes – but in the inaugural Texas Derby.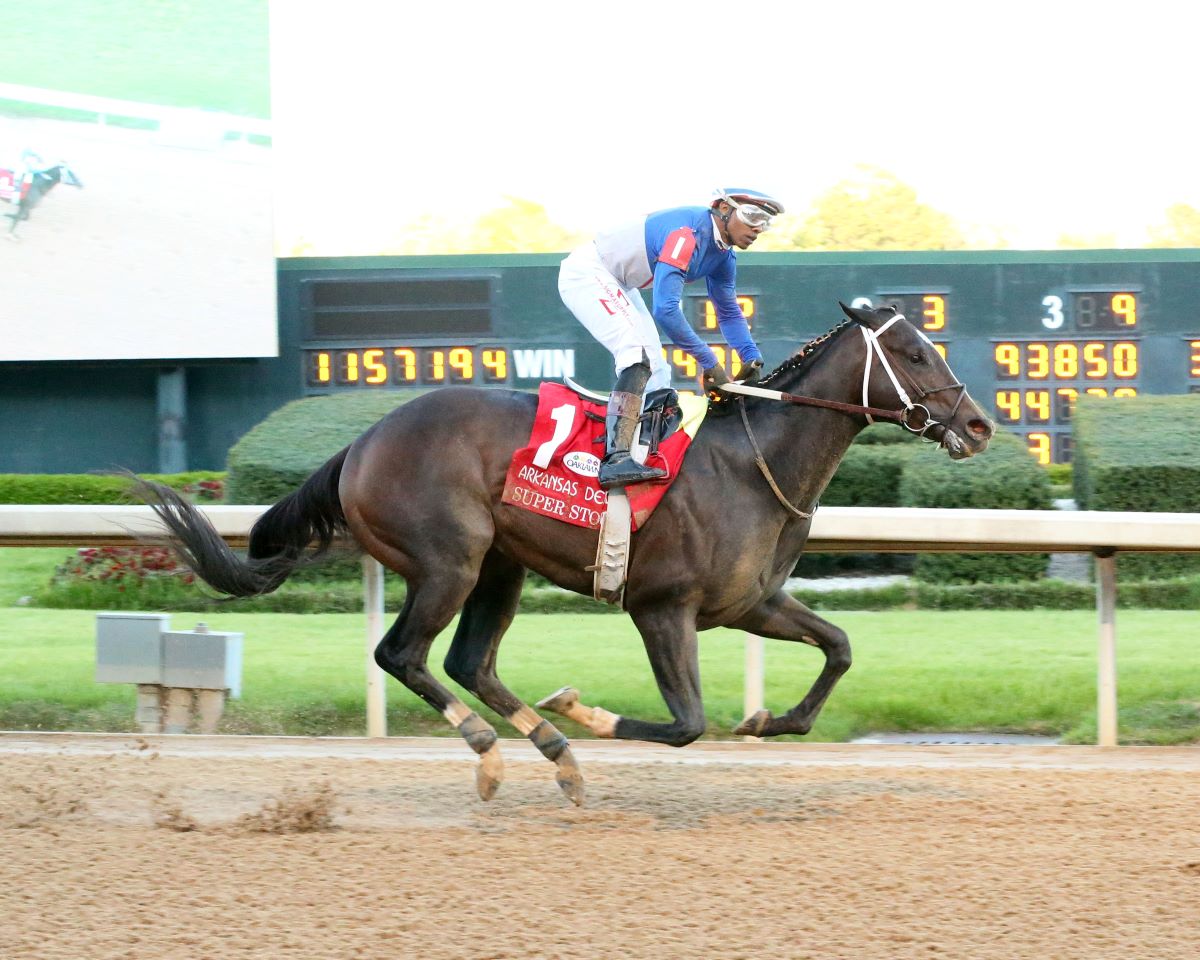 The 3-year-old Arkansas Derby winner is one of 10 expected sophomores in the $300,000 Listed Stakes event at Lone Star Park. The 1 1/16-mile race runs Memorial Day on the Steve Sexton Mile undercard. And coming from the outside post, Super Stock will see a very familiar foe.
That's Get Her Number, who doubles as the other Grade 1 winner in the field. That, courtesy of his American Pharoah Stakes victory last September at Santa Anita Park. He starts next door, in post 9. These two have a history, albeit it a one-sided one, because Super Stock has gotten Get Her Number's number the last two times they've tangled.
The first came at the aforementioned Arkansas Derby, when Get Her Number finished fourth, three lengths behind Super Stock. The second came a month earlier at the Rebel Stakes on the same Oaklawn Park dirt. Fourth-place Super Stock beat seventh-place Get Her Number by two lengths. Neither was in the same area code as the winner, Concert Tour. Super Stock finished 6 ½ lengths back, Get Her Number, 8 ½.
Super Stock and Get Her Number have the same dad
The similarities don't end there. Both Super Stock and Get Her Number are products of sire Dialed In. Both own two career victories, although Super Stock hit the board four other times in his nine races (2-2-2). Get Her Number has been an all-or-nothing colt. His two victories mark his only in-the-money finishes in five events.
As for Super Stock, he returns to Lone Star Park for the first time since winning the Black-Type Texas Thoroughbred Futurity last August. That maiden-breaking win came only a week after he finished second by a head in a Lone Star maiden special weight race.
That Texas Thoroughbred Futurity win gave trainer Steve Asmussen license to turn Super Stock loose for bigger game. He's run nothing but stakes races since, and – until the Derby – more than held his own in those outings. Super Stock finished third (to Sittin On Go and Midnight Bourbon) in the Grade 3 Iroquois, third to Essential Quality in the Grade 1 Breeders Futurity, and second to King Fury in the Listed Street Sense Stakes.
We've heard this racing/pandemic story before
Then, came his fourth in the Rebel and his improbable Arkansas Derby victory, where he reeled in favorites Caddo River and Concert Tour in the final furlong. That win, at 12.20/1 odds, sent Super Stock and owners Erv Woolsey and Keith Asmussen into the Derby.
Woolsey doubles as country music legend George Strait's manager. The pair owned numerous Thoroughbreds in the past before Strait lost interest in racing. Keith Asmussen doubles as Steve Asmussen's father.
Super Stock doubles as another one of those COVID-19 fortuitous racing quirks. The duo bought the horse as a yearling for $70,000. They planned to train him, race him, then sell him. But because of the pandemic, the sale was canceled.
Oh well, we've got to keep you around now
Then, a training ground injury kept Super Stock around longer. He suffered the injury after running loose after a workout. That kept him out of the Kentucky Jockey Club last November, and Steve Asmussen told the Dallas Morning News that probably spared a post-race sale. The trainer said that if Super Stock ran well, he probably would have been sold shortly thereafter.
Do these circumstances sound familiar? This is a similar domino-of-circumstances that led eventual Preakness Stakes winner Rombauer to the Pimlico winner's circle.
Super Stock couldn't beat Rombauer to the Triple Crown race punch. After making a mild move coming around the far turn, Super Stock weakened in the stretch. He finished a well-beaten, non-threatening 16th in the Derby – nearly 20 lengths behind winner Medina Spirit.
Lone Star is Super Stock's, Asmussen's backyard
Since that Derby, Super Stock worked out three times at Churchill Downs. His best was a five-furlong breeze in 1:00.40 on May 17.
This Texas Derby, however, comes in Steve Asmussen's backyard. A resident of nearby Arlington, Asmussen captured 13 Lone Star Park training titles, making him the leading trainer in track history.