Arkansas hasn't finished a college football season with a winning record since 2016, and last finished the year with a ranking in the AP Poll in 2011. But the Razorbacks have already pulled a couple of upsets to start the 2021 season undefeated, and will look to continue that trend when they travel to face Georgia on Saturday.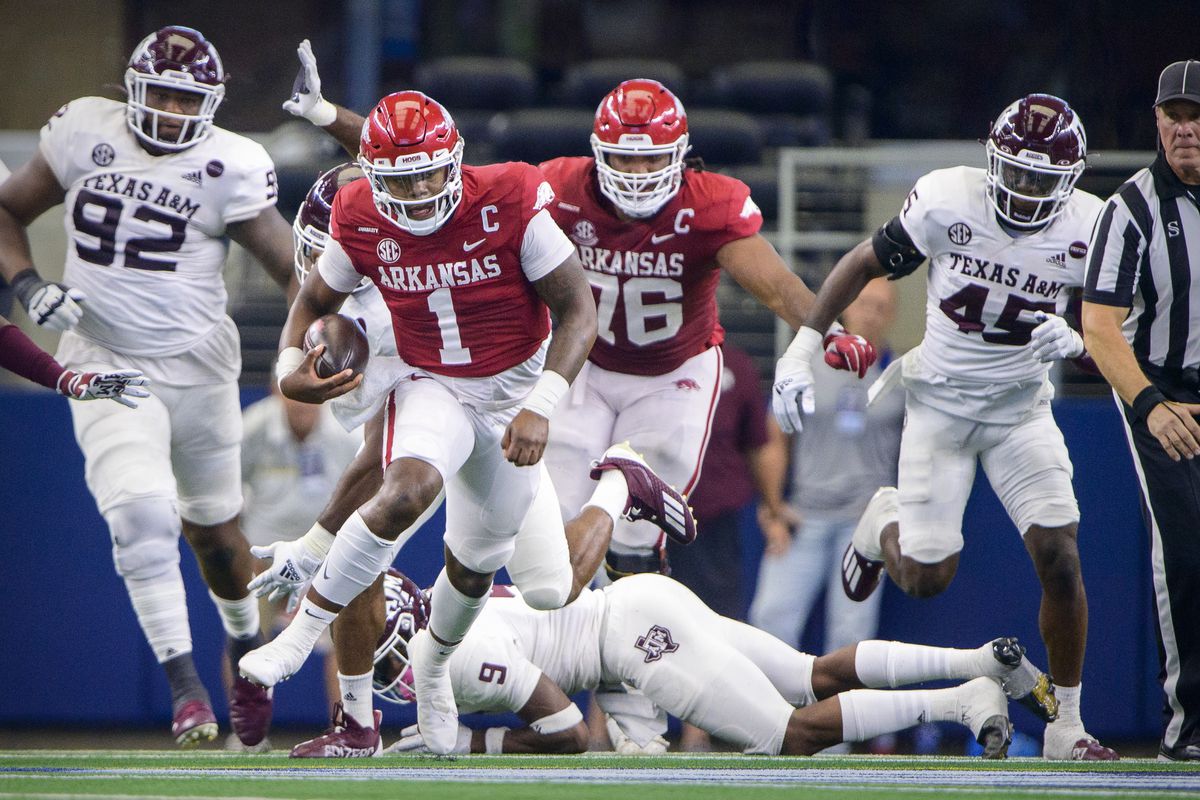 No. 8 Arkansas (4-0) has already beaten Texas – ranked No. 15 in the country at the time of their matchup –   and Texas A&M, which came into last week's game ranked No. 7 before the Razorbacks scored a 20-10 victory at AT&T Stadium in Arlington.
Pittman: Georgia is 'best team in the country'
Without a doubt, however, Arkansas faces its biggest test of the season thus far on Saturday. Georgia (4-0) stands as both the No. 2 team in the country and the co-favorite to win the national championship this year, alongside fellow SEC powerhouse Alabama.
That means that the Razorbacks' Cinderella story might just end this weekend. Even Arkansas head coach Sam Pittman acknowledges that his team faces a monumental task against the Bulldogs.
"Well, they're an outstanding football team, one. Two, they're able to play a lot of players and develop them because they have been so dominant in the early parts of the game," Pittman told reporters. "They're got the best team in the country. If not the best, they're certainly one or two, just like they're rated. We know the task is going to be very difficult because we understand what kind of players they have and what kind of coaching staff they have."
Georgia didn't surprise anyone by starting the year strong. While its opener against Clemson represented a real challenge – the Bulldogs pulled out a 10-3 win – Georgia hasn't faced a ranked opponent since then, blowing out the likes of UAB, South Carolina, and Vanderbilt.
Smart still sees room for improvement
Despite coming off a 62-0 shutout of the Commodores, Georgia head coach Kirby Smart says his team still has room for improvement.
"I don't know that we're playing to our full potential, and we're going to face better offenses than we've faced," Smart told reporters when asked about the Georgia defense. "So we're not buying into all that hype. We've got to play better, and we're going to play better people than we've played, so I Think the verdict is still out."
Oddsmakers aren't buying that Arkansas will be the team to challenge Georgia's dominance just yet. The Bulldogs come into Saturday's game as a massive 17-point favorite and -1000 on the moneyline.
For the Razorbacks, those numbers only highlight how big a victory this would be for them if they could pull off another upset, one that would immediately put them into the College Football Playoff conversation.
"Personally, I'm very excited," Arkansas running back Trelon Smith told reporters. "They're undefeated and ranked No. 2, so the opportunity is definitely there for us to showcase what we can do and beat them. If you ask me, I'm just excited as well. I can't wait to go out there and just have fun."