When Clemson lost to Georgia in its opening game of the season, there was disappointment for the Tigers, but no real panic. That changed on Saturday when NC State upset Clemson 27-21 in overtime to all but sink the Tigers' chances of winning a national championship.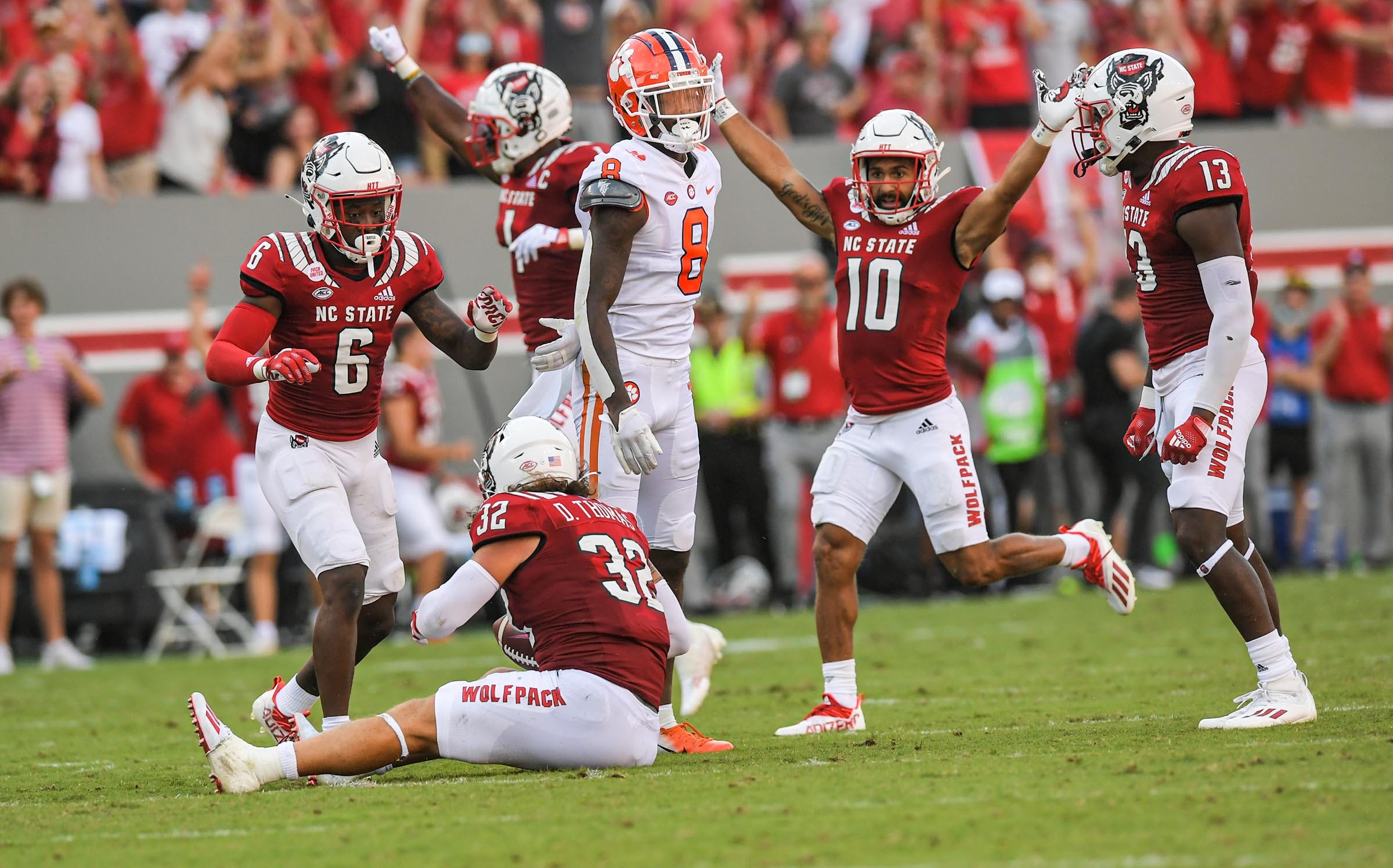 Clemson (2-2) fell to No. 25 in the Week 5 AP Poll, but the new national championship odds show the real damage to its season.
Struggling Clemson faces long road to contention
FanDuel Sportsbook now rates Clemson as just a +8000 pick to win a national championship this year. Even those odds may be shorter than they should be, as it's unclear whether the Tigers will make the College Football Playoff even if they run the table and win the ACC Championship – something they're no longer guaranteed a shot at, even if they do win out.
If Clemson fails to make the College Football Playoff, it will be the first time the ACC powerhouse has missed the semifinals since 2014, the first year of the current postseason system.
---
AP Poll Rankings – Week 5 (Odds via FanDuel Sportsbook)
Record
National Championship Odds
No. 1 Alabama
4-0
+175
No. 2 Georgia
4-0
+175
No. 3 Oregon
4-0
+1600
No. 4 Penn State
4-0
+4000
No. 5 Iowa
4-0
+4000
No. 6 Oklahoma
4-0
+2000
No. 7 Cincinnati
3-0
+4000
No. 8 Arkansas
4-0
+20000
No. 9 Notre Dame
4-0
+6000
No. 10 Florida
3-1
+10000
---
Clemson has struggled to generate any sort of offensive threat over the first four weeks of the season. Outside of a 49-3 win over South Carolina State, the Tigers have scored just 38 points in their other three games — a stunningly low number for the perennial national championship contender.
The two SEC schools that have topped the AP Poll in recent weeks faced little resistance on Saturday. No. 1 Alabama (4-0) pounded Southern Miss 63-14, while No. 2 Georgia (4-0) blanked Vanderbilt 62-0.
Alabama, Georgia dominate national championship odds
That left things largely unchanged at the top of the AP Poll, with Georgia picking up an extra first-place vote over the Crimson Tide compared to Week 4. The two schools stand as co-favorites to win the national championship this year, with FanDuel rating each as a +175 pick at the moment.
That puts Alabama and Georgia well ahead of the pack. Oregon (4-0) remains at No. 3 in the AP Poll after a 41-19 win over Arizona. The Ducks also rate as the third choice to win a national title this year, but at far longer +1600 odds. No. 11 Ohio State (3-1) shares those +1600 odds despite losing to Oregon earlier this season.
While several other top-10 teams sport undefeated records, sportsbooks don't have much confidence in any of them to make a national championship run. Oklahoma (4-0) survived another close call in a 16-13 win over West Virginia on Saturday. That dropped the Sooners (+2000) to No. 6 in the AP Poll.
The Big Ten features four undefeated, ranked teams, with both No. 4 Penn State (4-0) and No. 5 Iowa (4-0) rating as likely College Football Playoff contenders in the early going of the season. But oddsmakers aren't expecting any of these teams to finish the year with realistic title chances. The Hawkeyes and Nittany Lions both boast +4000 national championship odds, as does Michigan, while Michigan State (+10000) remains a long shot to be in the hunt come December.