Alabama escaped its trip to Florida with a hard-fought 31-29 victory over the Gators. That result was still enough to shake up the national championship odds at sportsbooks, as the Crimson Tide look just a bit more vulnerable than they did a week ago.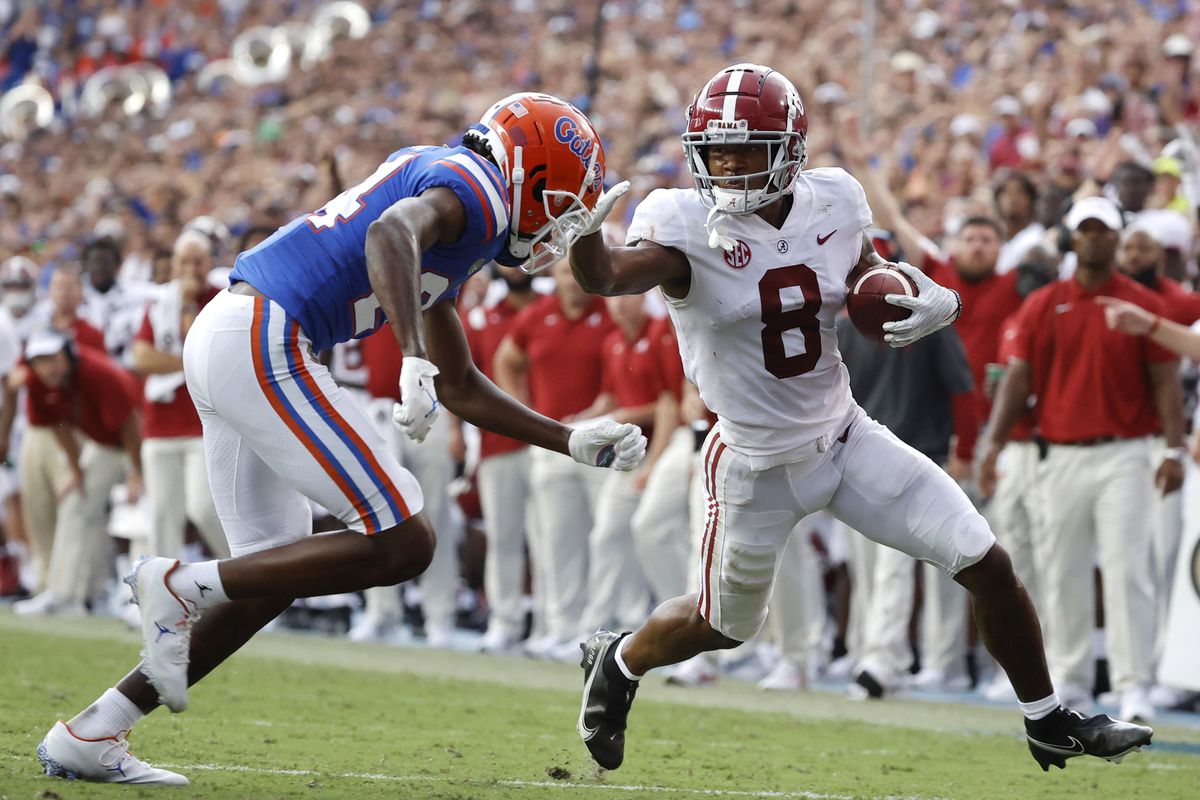 Alabama (3-0) jumped out to a 21-3 first-quarter lead over Florida (2-1) on Saturday before hanging on late for a two-point victory.
Alabama, Georgia top stable AP Poll rankings
That allowed the Crimson Tide to hang on to the No. 1 ranking in the latest AP Top 25 Poll. Nothing significant changed at the top of the poll, with Alabama taking 59 of 62 first-place votes to easily earn the No. 1 ranking yet again.
Georgia (3-0) took the No. 2 position, once again receiving three first-place votes after a 40-13 win over South Carolina. Oregon (3-0) slid past Oklahoma (3-0) to take the No. 3 spot. The Ducks defeated Stony Brook 48-7, while the Sooners survived a tough test from Nebraska (2-2) to come out with a 23-16 win.
That pattern continued down the AP rankings, as the same 12 teams occupy the top 12 spots in the poll for the second consecutive week. The only big mover was Penn State (3-0), which jumped from No. 10 to No. 6 after a 28-20 win over Auburn.
But while the rankings remained stable, there were some significant changes in the national championship odds. Alabama entered the weekend as the +150 favorite at FanDuel Sportsbook, but slid to +200 after its close call at The Swamp.
Ducks fly into national championship consideration
The biggest beneficiary was Georgia, which moved from +400 all the way up to +250. The Bulldogs benefited both from the fact that Alabama looks somewhat vulnerable, and from the Florida loss, which only improves the chances that Georgia will reach the SEC title game.
Clemson and Ohio State both saw their odds lengthen slightly from +900 to +1000. Oklahoma fared even worse, moving from +900 to +1400.
---
AP Poll Rankings – Week 4 (Odds via FanDuel Sportsbook)
Record
National Championship Odds
No. 1 Alabama
3-0
+200
No. 2 Georgia
3-0
+250
No. 3 Oregon
3-0
+1600
No. 4 Oklahoma
3-0
+1400
No. 5 Iowa
3-0
+5000
No. 6 Penn State
3-0
+2500
No. 7 Texas A&M
3-0
+6000
No. 8 Cincinnati
3-0
+6000
No. 9 Clemson
2-1
+1000
No. 10 Ohio State
2-1
+1000
---
One contender did make a big move over the weekend; Oregon sat at +4000 heading into Week 3 action, in part due to uncertainty over whether the Pac-12 would even get a team into the College Football Playoff. The Ducks' strong play, weaker performances by some of their conference rivals, and shakiness from several top contenders have tightened Oregon's national championship odds to just +1600.
Penn State also earned a boost thanks to its big non-conference win. The Nittany Lions sit at +2500 to win a national championship this year, up from +4000 a week ago. In fact, the Big Ten as a whole is earning more respect from oddsmakers, with Michigan (+4000) and Iowa (+5000) also receiving some national title consideration.