The Oregon Ducks put themselves in position to make a run at their first College Football Playoff berth since 2014 by scoring a 35-28 win on the road at Ohio State on Saturday. That victory earned them the No. 4 ranking in the latest AP poll.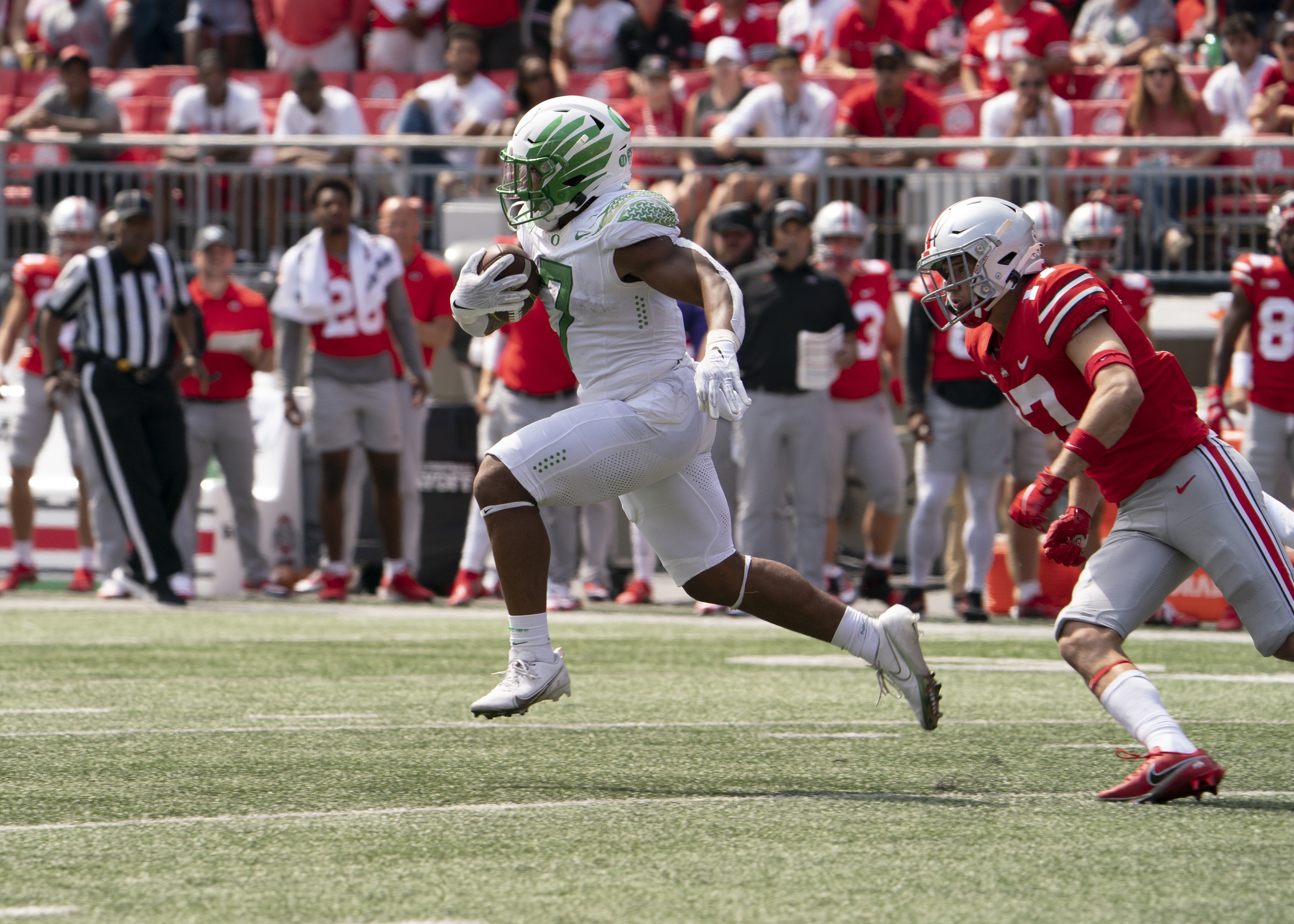 The Buckeyes entered the game as a two-touchdown favorite, but the Ducks were able to avenge their loss in the 2015 national championship game in the crucial early-season encounter.
Ohio State remains national title contender after loss
Ohio State (1-1) came in as the No. 3 team in the nation, but fell to No. 9 in the Week 3 poll. Meanwhile, Oregon (2-0) jumped all the way up from No. 12 to fourth, putting itself in excellent position for a playoff berth if the Ducks can continue winning.
Oregon next hosts Stony Brook at home before beginning a potentially tricky Pac-12 schedule. The conference features more balance between its top teams than most of the Power Five leagues, which means the Ducks still have a long way to go if they want to hold on to a top-four position.
---
AP Poll Rankings – Week 3 (Odds via FanDuel Sportsbook)
Record
National Championship Odds
No. 1 Alabama
2-0
+150
No. 2 Georgia
2-0
+400
No. 3 Oklahoma
2-0
+900
No. 4 Oregon
2-0
+4000
No. 5 Iowa
2-0
+8000
No. 6 Clemson
1-1
+900
No. 7 Texas A&M
2-0
+6000
No. 8 Cincinnati
2-0
+10000
No. 9 Ohio State
1-1
+900
No. 10 Penn State
2-0
+4000
---
Ohio State will host Tulsa and Akron in the next two weeks before beginning its Big 10 campaign. The Buckeyes could play themselves back into contention if they run the table and win a conference championship, but there are no guarantees now that they've put a loss on their record.
Sportsbooks still like the Buckeyes' long-term prospects better than those of the Ducks. FanDuel Sportsbook lists Ohio State as a +900 pick to win a national championship this year, with Oregon at +4000.
SEC claims top two positions in AP poll
Alabama (+150) and Georgia (+400) remain the clear frontrunners in the national title race, however. The SEC rivals hold the top two spots in the AP poll, and were the only teams to receive first-place votes in Week 3.
No. 1 Alabama (2-0) eased past Mercer 48-14 on Saturday and received 60 first-place votes. No. 2 Georgia (2-0) blew out UAB 56-7 and picked up the other three first-place votes. The Bulldogs gained consideration for the top spot after their 10-3 victory at Clemson in the prior week.
Oklahoma (2-0) took the third spot in the AP Poll, while Iowa (2-0) slotted in behind Oregon to round out the top five. Clemson (1-1) sits in sixth ahead of Texas A&M (2-0).
Cincinnati (2-0) remains the top Group of Five team in the AP Poll rankings, now ranking eighth ahead of Ohio State and Penn State (2-0). The Bearcats face two notable tests coming up, first against Indiana (1-1), and then vs. No. 12 Notre Dame (2-0), which survived two close calls against Florida State and Toledo to start the year.
Given the difficulty Group of Five teams face in even making it to the playoffs, FanDuel lists Cincinnati as a +10000 pick to win the national championship this season.