2021 has been the year of Shohei Ohtani. The two-way star has accomplished things on the mound and at the plate that no player has approached since Babe Ruth more than 100 years ago. Yet there's still at least a touch of drama in the AL MVP race as Vladimir Guerrero Jr. attempts to lead the Toronto Blue Jays to the playoffs in the final weeks of the season.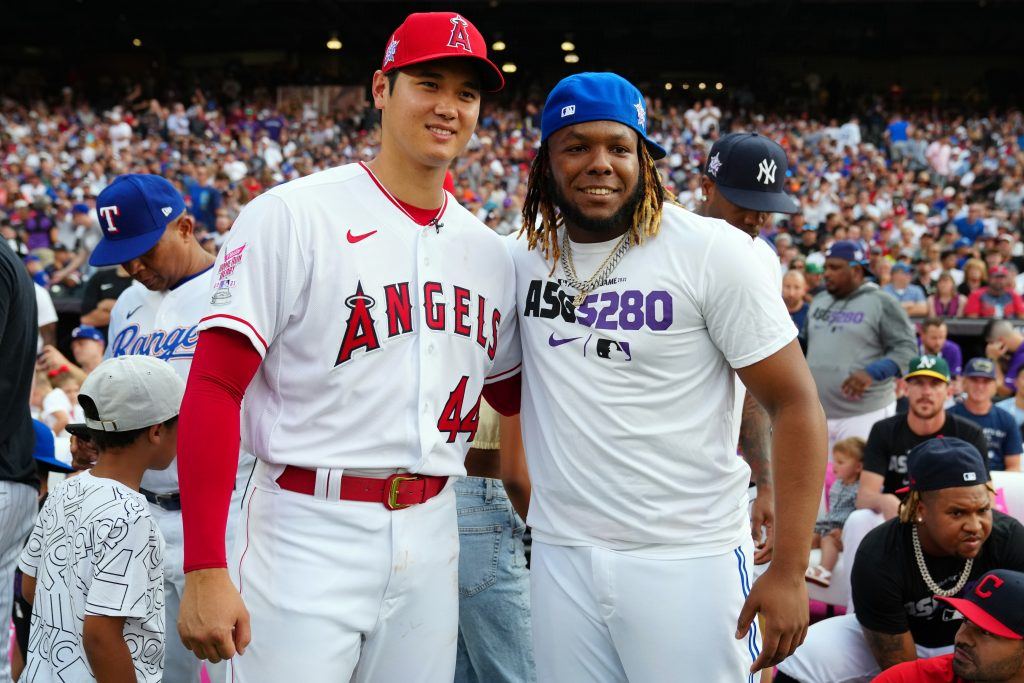 There's little double that Ohtani, who has both hit and pitched at an All-Star level, remains the favorite for AL MVP.
Guerrero outpaces Ohtani at the plate
Ohtani has cooled off at the plate in the past two months, but he still has the second-highest OPS in the American League, trailing only Guerrero. Ohtani hit his 45th home run of the season on Tuesday night, his first homer in nearly two weeks. He's just one behind Guerrero and Royals catcher Salvador Perez for the MLB lead.
Shohei Ohtani is the first player with 45 HR and 20 SB since Alex Rodriguez (2007).#WeBelieve x @loanDepot pic.twitter.com/ukDPrUa9Xd

— Los Angeles Angels (@Angels) September 22, 2021
Guerrero's AL MVP argument relies on the fact that he outpaces Ohtani in nearly every offensive category. Guerrero leads the majors with a .321 average, 119 runs, and those 46 homers. He also leads the American League in on-base percentage (.411), slugging (.615), and OPS (1.026). While Guerrero benefits from a much better surrounding lineup than Ohtani – especially with the absence of Mike Trout from the Los Angeles Angels offense – the difference is clear.
Yet Ohtani stands as an overwhelming -3500 pick to win the AL MVP, according to FanDuel Sportsbook, while you can back Guerrero at +750. The reason is obvious: while Guerrero is a touch better at the plate, Ohtani has also excelled on the mound.
Mound success makes Ohtani easy AL MVP choice
Ohtani has gone 9-2 with a 3.28 ERA over 22 starts for the Angels. No other MLB player has ever hit more than nine home runs while starting over 20 games in the same season. He boasts a rare combination of power and speed – he's stolen 23 bases – while also allowing the lowest batting average against in the league on a single pitch, as hitters are averaging only .067 against his devastating split-finger fastball.
To sum it all up in one number, Baseball Reference credits Ohtani with a total of 8.2 Wins Above Replacement (WAR), compared to 6.8 for Guerrero. While Guerrero has put together an incredible season, Ohtani has done things nobody has ever seen in MLB, making him the clear winner in the AL MVP debate.
---
AL MVP Odds (via FanDuel Sportsbook)
Shohei Ohtani: -3500
Vladimir Guerrero Jr.: +750
Marcus Semien: +15000
---
Guerrero may even have competition for MVP on his own team. Marcus Semien rates as a distant +15000 third choice to win the AL MVP award, but he actually narrowly leads Guerrero in WAR with 6.9. Semien's raw numbers lag behind Guerrero's: he's hitting .268 with 41 homers and 97 RBIs.
Semien primarily plays second base and shortstop for the Blue Jays, and does so well, making him one of the most valuable defensive players in the American League. That means Semien provides just as much value to Toronto as Guerrero, even if he won't get nearly as much consideration for AL MVP.