Popular Canadian chess streamer Eric Hansen stunned the field at the Airthings Masters, finishing fifth after the round-robin portion of the tournament to safely go through to the quarterfinals of the online rapid event.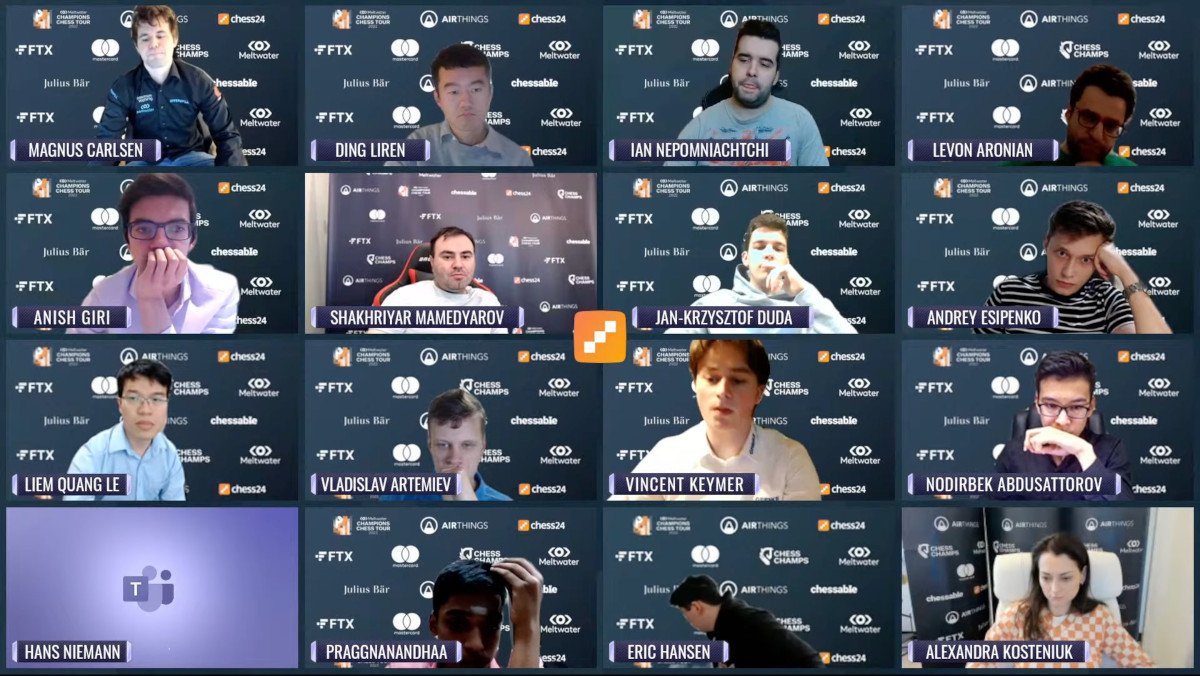 Hansen started strong and held on during the final day of play to make it into the knockout rounds of the first event of the 2022 Champions Chess Tour season.
Hansen enjoying 'dream' Airthings Masters performance
While Hansen is a strong grandmaster, he ranks just 237th in FIDE's official world rankings with a 2606 standard rating. However, Hansen scored wins over the likes of Magnus Carlsen and Ian Nepomniachtchi to set himself up for success in the Airthings Masters.
With two rounds remaining on Tuesday, Hansen was poised to clinch a quarterfinals berth. However, he dropped a game to Alexandra Kosteniuk, who scored her only win of the tournament in their 14th-round battle.
I never knew that scoring 1 out of 15 could be such a relief 😂 Thank you so much for your support! Your messages meant a lot! @ChampChessTour #AirthingsMasters #ChessChamps

— Alexandra Kosteniuk (@chessqueen) February 22, 2022
"I never know that scoring one out of 15 could be such a relief," Kosteniuk would later write on Twitter.
Hansen secured a draw against Germany's Vincent Keymer in the final round to officially put himself into the final eight.
"It's been a bit of a dream," Hansen said of his run. "I'm still taking it all in."
Oddsmakers still see Hansen as an underdog, though his performance so far has impressed fans and pundits. Bwin lists the Canadian as a +1400 pick to win the Airthings Masters. He also rates as the +180 underdog to Andrey Esipenko (-250) in their quarterfinal match.
Carlsen overcomes COVID to qualify
Carlsen safely qualified for the quarterfinals in second place behind Nepomniachtchi at the top of the table. However, things weren't easy for the World Champion. Carlsen struggled with the aftermath of a COVID-19 infection throughout the tournament, and got off to a particularly slow start on Day 1, scoring just 1.5 points in four rounds.
"It's been a little bit better today, but the first could of days I was feeling like I'm okay but I didn't have the energy which made it hard to focus because every time I tried to think I blundered," Carlsen said after the third day of round-robin play. "It was a little bit better today but still pretty bad."
---
Airthings Masters Odds (via Bwin)
Magnus Carlsen: -115
Ian Nepomniachtchi: +500
Ding Liren: +600
Vladislav Artemiev: +800
Andrey Esipenko: +1000
Eric Hansen: +1400
Liem Le Quang: +2000
Vincent Keymer: +2500
---
Bwin now sees Carlsen as the -115 favorite to win the Airthings Masters, ahead of both Nepomniachtchi (+500) and Ding Liren (+600). But the Norwegian says he'll have to pick up his game to earn the first title of the tour season.
"I think I played pretty badly today, so I will have to play a lot better in the knockouts," Carlsen said. "But at least I'm there, which is the most important thing…I'm trough and I have the chance to fight regardless of who I'm going to face."
Carlsen will start his knockout stage run against Liem Le Quang, who qualified in the eighth position. Bwin sees Carlsen as the -800 favorite in that match.