For five games, Ian Nepomniachtchi battled toe-to-toe with Magnus Carlsen in the 2021 World Chess Championship. But Carlsen broke through in an epic Game 6 and, after that, dominated the match to retain his title and improve his claim as the greatest chess player of all time.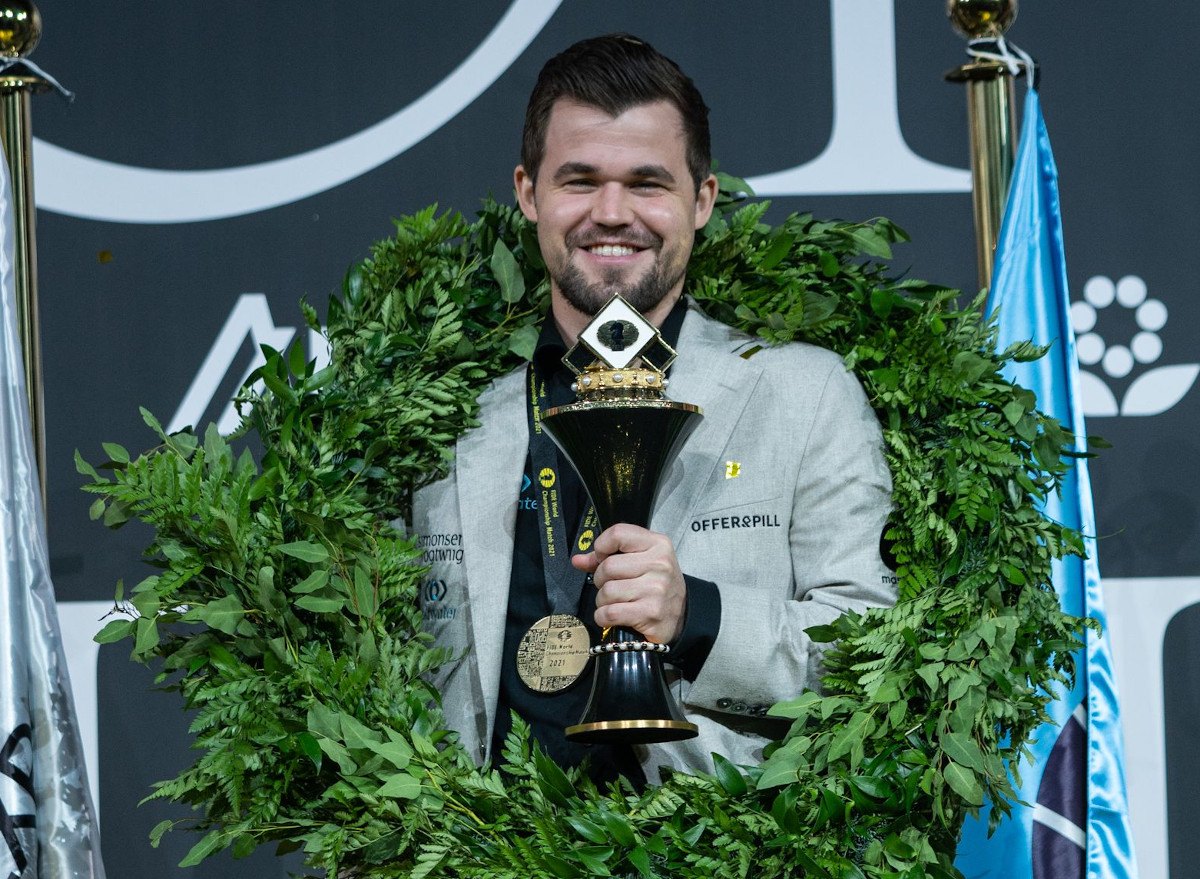 Carlsen won four of the final six games to take the match 7.5-3.5, clinching victory with three games left to play.
Carlsen takes advantage of Nepomniachtchi blunders
Nepomniachtchi fell apart after the historic Game 6, which now stands as the longest game (in number of moves) in World Chess Championship history. Carlsen scored further wins in games 8, 9, and 11, all due to uncharacteristic blunders by the challenger.
People said the championship was 60/40 pic.twitter.com/OZbbh6uhMj

— Magnus Carlsen (@MagnusCarlsen) December 10, 2021
By the time of Friday's Game 11, the match was all but over. Nepomniachtchi would have needed to win both of his White games and find a way to win with Black in order to force tiebreakers, a nearly impossible task against Carlsen.
Ultimately, Nepomniachtchi didn't earn much of an advantage in Game 11. However, he believed he couldn't settle for a draw, and instead of heading into an equal endgame, played the blunder 23. g3, which instantly provided Carlsen with a winning attack. While the champion didn't find the quickest finish, he coolly converted his advantage, easily winning a tricky endgame to seal the title.
"You can point at things he could have done differently in every game, of course, but overall I'm happy with my play, very proud of my effort in the sixth game, and that laid the foundation for everything," Carlsen told reporters afterwards. "The final score is probably a bit more lopsided than it could have been, but that's the way some of the other matches also could have gone if I'd gotten a lead."
Carlsen first won his title by challenging Viswanathan Anand for the championship in 2013. Carlsen beat the Indian grandmaster 6.5-3.5 in a 12-game match. Since then, he's defended the World Chess Championship four more times: first beating Anand in a rematch, then defeating Sergey Karjakin, Fabiano Caruana, and now Nepomniachtchi.
Caruana, Firouzja top contenders for 2023 match
Carlsen has now won five World Chess Championship matches, one short of the record held by Anatoly Karpov, Garry Kasparov, and Emanuel Lasker. He's held the title for eight years and will extend that reign to nearly 10 years by the time the next championship match takes place in 2023.
---
World Chess Championship 2023 Odds (via Unibet)
Magnus Carlsen: -400
Fabiano Caruana: +700
Alireza Firouzja: +1100
Jan-Krzysztof Duda: +3000
Sergey Karjakin: +3000
Ian Nepomniachtchi: +3000
Teimour Radjabov: +3000
Ding Liren: +5000
Wesley So: +5000
Levon Aronian: +8000
Anish Giri: +8000
Maxime Vachier-Lagrave: +8000
---
At the moment, Carlsen rates as a heavy favorite to retain his title again in two years. Unibet lists the current champion as a -400 pick to hang on to the championship against whoever rises up to face him.
Fabiano Caruana stands as the most likely challenger according to Unibet, with +700 odds of winning the World Chess Championship. Behind him sit two fascinating possibilities: Iranian prodigy Alireza Firouzja (+1100), who recently rose to No. 2 on the classical chess rating list, and Poland's Jan-Krzysztof Duda (+3000), a 23-year-old who now ranks No. 13 in the world.  
Magnus Carlsen: "I'll be celebrating by playing the World Rapid and Blitz Championship!" (rearranged to be played in Warsaw from December 26-30)#CarlsenNepo

— chess24.com (@chess24com) December 10, 2021
Before then, Carlsen will take a shot at winning the same triple crown he achieved in 2019. He'll compete in the World Rapid and Blitz Championship beginning Dec. 26. While odds are not yet available for either competition, Carlsen will enter as a leading favorite in both disciplines – with rival Hikaru Nakamura likely rating as a co-favorite in the blitz competition.