When Two Emmys won August's Mr. D Stakes at Arlington Park at 27/1, Hugh Robertson was the trainer of record. When Two Emmys leaves the Keeneland starting gate for Friday's Grade 3 Sycamore Stakes, where he's the 3/1 morning-line favorite, Mac Robertson will be the trainer of record.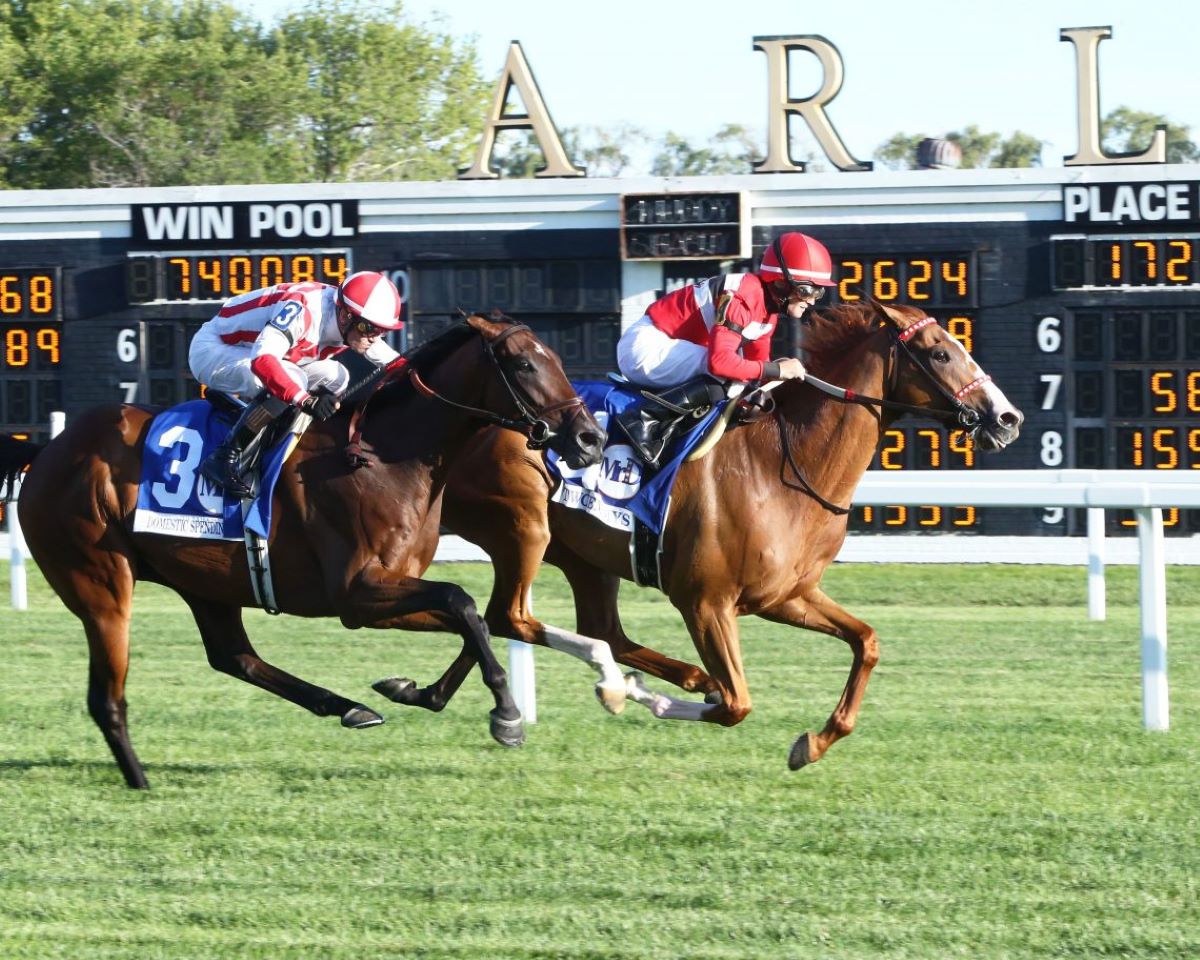 What's going on here? Did the 5-year-old gelding suddenly become a faster horse running for one Robertson? Does Mac Robertson know something his father, Hugh, doesn't?
"This is how we've done it for 20 years," Mac Robertson said about the horse he shares with his father. "When I am at Keeneland, the horses race in my name. In the winter, they are in his name at Fair Grounds and my name at Oaklawn Park."
With this tag-team training arrangement, Hugh Robertson — who co-owns the horse with Wolfe Racing — got the black-type on his resume when Two Emmys captured the Mr. D. That's the race formerly known as the Arlington Million. With Arlington Park closing after 94 years, Two Emmys has one major trivia notch in his saddle.
Two Emmys Gets Pace Break in Career Win
He won that race nearly 10 weeks ago on an emotional day at Arlington Park. Jockey James Graham called it "surreal." And Two Emmys won it with a modest, unhurried pace, turning aside fast-closing, 2/5 favorite Domestic Spending by a neck. The son of standout British sire English Channel rolled up a career-best 113 Equibase Speed Figure. He paid $56.20, $9.80, and $5.80 for his fourth career victory in 16 starts.
You won't get anything close to that betting on Two Emmys in Friday's 1 ½-mile, three-turn Sycamore, named after the tree that towers over Keeneland's walking ring. You may get Two Emmys as the lone speed in a race devoid of early pace. He could break out unpressured again, with Yamato and Ry's the Guy about the only rivals who could provide early company.
Two other closers, Glynn County and Ajourneytofreedom, also merit attention. Glynn County finished third in the Mr. D, three lengths back. He came back with another third in the Calumet Turf Cup at Kentucky Downs last month. That came with a career-best 121 Equibase. It also came at the expense of fourth-place Ajourneytofreedom, who turned in his career-best 119 Equibase completing the superfecta.
Father, son, it doesn't matter who gets the credit here
Neither of those two own a graded-stakes victory.
Two Emmys, meanwhile, is 2-3-0 in his six 2021 starts. His only exacta miss came in a March allowance optional claiming race at Fair Grounds. That, racing for the elder Robertson.
At Keeneland, however, it doesn't matter which Robertson pulls the training strings.
"He loves it here at Keeneland," Mac Robertson said. "There are not many friendlier places than Keeneland for horses. There is a lot of grass, so he can graze. He likes to run on it, and he likes to eat it."