To illustrate how seriously trainer Mike Maker takes the $1 million Grade 3 Calumet Turf Cup and how deep his barn goes at Kentucky Downs, Maker had owner Michael Hui retire Grade 1 winner Zulu Alpha Friday. And even with Zulu Alpha's retirement, Maker still sends four horses into Kentucky Downs' marquee race.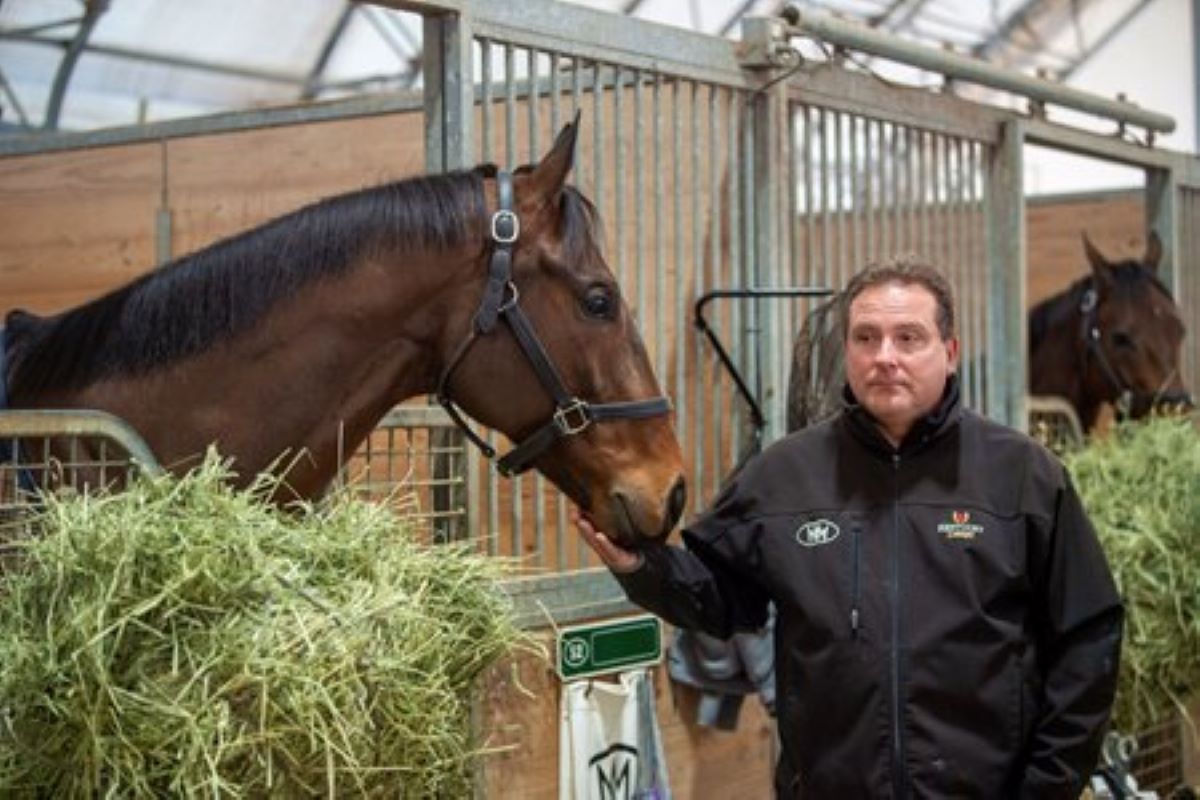 Next horse up, which in this case, was Dynadrive (20/1). He got into the 14-horse field when Maker scratched Bluegrass Parkway Saturday morning. Dynadrive joins Maker's Tide of the Sea (6/1), Ajourneytofreedom (10/1) and sleeper candidate Glynn County (15/1) in the Turf Cup.
Tide of the Sea is a graded-stakes winner, capturing the Grade 3 W.L. McKnight at Gulfstream Park in January.
Kentucky Downs' leading all-time trainer, Maker's already made his mark in the 1 ½-mile Turf Cup. He's won four of these; the last time with Zulu Alpha in 2019. This is the eighth consecutive year Maker sent at least two horses into the gate and he's had at least one horse hit the board seven consecutive years.
Maker builds his season around the Turf Cup
He's sent out a record 22 starters in the event, going 4-2-4 and banking more than $2.225 million. In 2018, Maker's quartet finished second, third, fourth and fifth. He's claimed horses such as Ajourneytofreedom just for races like the Turf Cup.
"I have a lot of horses that can go a mile and a half on the grass, there are limited opportunities and this purse is always lucrative," Maker told Kentucky Downs' Jennie Rees.
Zulu Alpha accounted for $677,800 of Maker's Turf Cup haul. Aside from winning the 2019 race – where he beat current 3/1 favorite Arklow – Zulu Alpha finished third last year. That was the last time he finished in the money. Zulu Alpha came into this year's race carrying 6/1 morning-line odds, but recent form hasn't been good.
He finished seventh in the Grade 1 Mr. D Stakes at Arlington Park and fifth in July's Grade 3 Arlington Stakes, the Mr. D prep.
Zulu Alpha has a good home awaiting him
That prompted Hui to scratch the 12-time winner. According to Rees, Hui called the Kentucky Downs racing office and said he's going to retire the 8-year-old gelding.
"He's going to be retired to Old Friends. There's not a whole lot that physically's wrong with him," Hui told Rees. "After consultation with Mike this weekend, he just believes he will not be competitive at this level."
Zulu Alpha retires with a 12-5-6 record and $2,269,084 in 37 career starts. His signature victory came in the 2020 Pegasus World Cup Turf, one of seven graded-stakes victories on his resume. He'll spend the rest of his days at Old Friends, the Thoroughbred retirement farm in Georgetown, Ky.
A host of champions look forward to welcoming Zulu Alpha to his happily ever after home at @Oldfriendsfarm https://t.co/6YBz1VL7LE pic.twitter.com/zZkrtFApQk

— caton bredar (@CBredar) September 10, 2021
"His race record speaks for itself. He took me to a level I had never dreamed of," Hui said. "The right thing to do is while he's good, he deserves the utmost in retirement. I have all the faith in Mike. He's guided me on this path several times now. But Zulu was a special one. When Mike says he's not competitive at this level, I have to believe it."
Zulu Alpha has been retired and the 8-year-old will be headed soon to Old Friends. "We didn't feel like he's competitive at a top level anymore," owner Michael Hui said. "He's taken us to a level I never dreamed of, and if anything happened to him I couldn't live with myself."

— Randy Moss (@randy_moss_TV) September 10, 2021