Arlington Park will command a lion's share of the horse racing world's attention Saturday. It will command that attention without a stakes race on its nine-race card. And many paying attention will do so with tears in their eyes.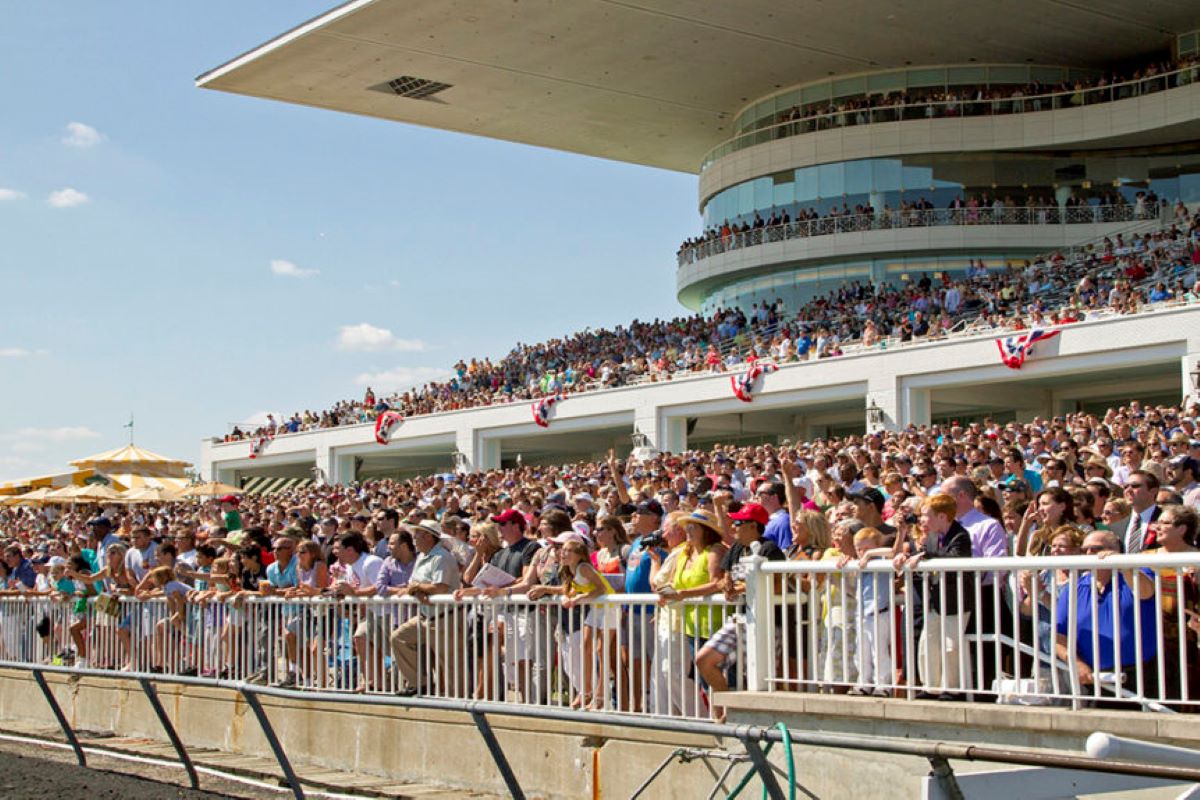 Saturday is the final day of Thoroughbred racing at Arlington Park. The 94-year-old track, which opened for racing in 1927, went on the auction block earlier this year. And Churchill Downs Inc., which owns the track in the northwest Chicago suburbs, does not want to sell to anyone intending to race horses on the 326-acre property.
That Saturday is Arlington Park's swan song was known for months. But the lesson became clear when Churchill Downs did not apply for Arlington Park race dates for 2022. That means the Illinois Racing Board could not assign dates. In turn, that means Hawthorne Race Course in nearby Stickney, Ill. inherits most of Arlington Park's Thoroughbred dates.
Hawthorne will play host to six months of Thoroughbred racing: running from April through June, then from Sept. 23 through the end of the year. The rest of the year will feature harness racing. The Daily Racing Form reported that Thoroughbred race dates in the Chicago area will drop from 124 this year to 76 in 2022. Fairmount Park in southern Illinois will pick up 61 days of Thoroughbred racing, running from mid-April to late September.
Who were Arlington Park's last top trainer and jockey?
And so we get Saturday's farewell to one of North America's iconic tracks. We get Larry Rivelli and Jareth Loveberry becoming trivia answers to the questions, "Who won Arlington Park's last training and riding titles," respectively?
We get 102 horses entered in those nine races. The last race, a $40,000 allowance optional claimer, sends its 12 fillies and mares 5 ½ furlongs. Track officials named it the Luxembourg, honoring the first winner of an Arlington Park race on Oct. 13, 1927.
This finale is light years from what put Arlington Park on the horse racing map. The legendary Citation drew many of the first lines of that map, winning the Stars and Stripes Stakes three weeks after he won the 1948 Triple Crown. He won it in 1:49.2, tying the track record for 1 1/8 miles.
A quarter-century later, Secretariat followed Citation's Triple Crown with one of his own. He also followed Citation's path to Arlington Park. Three weeks after his Triple Crown, Secretariat won the 1 1/8-mile Arlington Invitational by nine lengths as the 1/20 favorite.
The Arlington Million blazed a money trail
In 1981, Arlington Park became the first North American track to offer a seven-figure purse. The Arlington Million joined the front-rank of US races out of the gate, getting a thrilling win by the iconic gelding John Henry. He turned aside a pesky challenge from 40/1 The Bart in a photo finish.
Four years later, a fire burned down the grandstand. Yet a month later, Teleprompter won the Arlington Million at the track, in front of 35,000 people packed into temporary grandstands. Richard Duchossois, the Chicago businessman and decorated World War II officer who owned Arlington Park, rebuilt it into one of the most picturesque tracks in North America.
In 1997, Duchossois closed the track for 2 ½ years, claiming he couldn't compete with other forms of gaming. But he reopened in May 2000, selling a majority share to Churchill Downs Inc. a month later.
Arlington Park got the Breeders' Cup in 2002, the first time a Midwest track played host to the prestigious fall event.
Be careful for what you wish for
In 2019, two events happened that sealed Arlington Park's fate. The first came when Illinois Gov. JB Pritzker signed a bill expanding legal gambling in the state. While this was technically a boon to horsemen and horse racing fans, who wanted the extra income stream to help the sport, it came with a poisoned pill for the track.
That was a higher tax rate on tracks expanding their gambling operations. This prompted Churchill Downs Inc. CEO Bill Carstanjen to pass up adding slot machines and table games at Arlington Park. Instead, Carstanjen fortified the gaming options at CDI's Rivers Casino in the nearby suburb of Des Plaines.
In July 2020, Carstanjen tipped his hand about Arlington Park's future on a conference call with investors. He said the land under Arlington Park had a more lucrative future outside of racing. In February 2021, CDI put Arlington Park up for sale.
'Da Bears' want Arlington Park for a stadium
As this goes on, three groups – including one headed by former track president Roy Arnold – put bids into CDI for the property. Arnold's group would preserve racing. Another wants to build a commercial development on the site. The third entity entering the mix is the Chicago Bears, who want to build a new stadium on the property. CDI hasn't issued a date or a time frame on a sale.
On Aug. 14, Arlington Park ran its final Grade 1s, including the race formerly known as the Arlington Million. That became the Mr. D Stakes, named after Duchossois, who turns 100 on Oct. 7. Two Emmys, who went off at 27/1, became another trivia answer when he nipped 2/5 favorite Domestic Spending by a neck.
Which brings us to now. Arlington Park remains open to horsemen through Oct. 2. By Oct. 5, the barns and temporary housing will be empty. And another North American race track exits the game, leaving nothing but memories and history behind.