Biopics are usually cat nip for voters at the Academy Awards, so it's not shocking to see three main roles based on real people nominated at the 2022 Oscars for Best Actress, including Nicole Kidman as the betting favorite at +120 odds for her portrayal of Lucille Ball in "Being the Ricardos."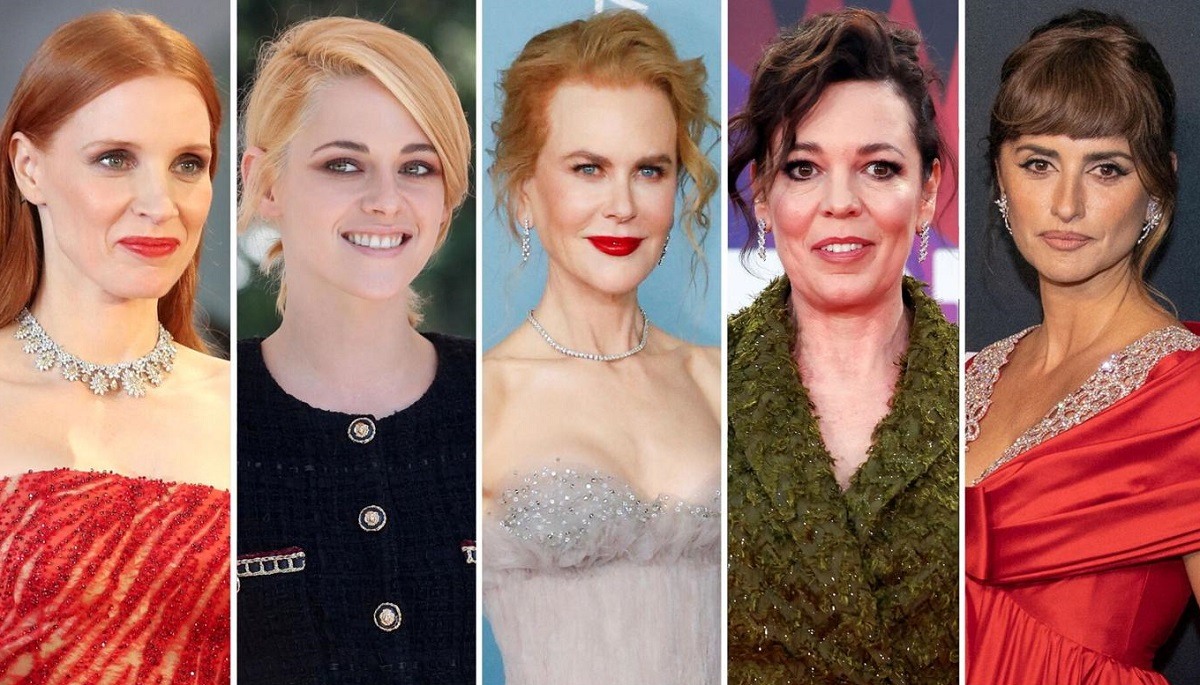 Kristen Stewart is the second favorite on the board at +200 odds to win Best Actress at the Oscars for her haunting role in "Spencer" where the American actress dons a posh English accent to play Princess Diana.
2022 OSCARS – BEST ACTRESS ODDS
Nicole Kidman (Being the Ricardos) +120
Kristen Stewart (Spencer) +200
Olivia Colman (The Lost Daughter) +400
Jessica Chastain (The Eyes of Tammy Faye) +500
Penelope Cruz (Parallel Mothers) +1400
---
Jessica Chastain is the other notable role in the biopic "The Eyes of Tammy Faye" about the wife of TV evangelist Jim Bakker.
Meanwhile, Olivia Colman and Penelope Cruz are two former winners who are both seeking their second Oscar.
Nicole Kidman +120
Kidman won Best Actress at the 2002 Oscars for her role as Virginia Woolf in "The Hours", and now she has a chance for a second win twenty years later. Kidman has five nominations including four for Best Actress and one for Best Supporting Actress.
"Being the Ricardos", directed by Aaron Sorkin and starring Javier Bardem as Desi Arnaz, gives a behind the scenes glimpse of a tumultuous week in the life Lucille Ball. Arnaz and Ball shoot an episode of their hit show "I Love Lucy", while Ball fends off possible cancellation after she's accused of being a communist, even though she was previously cleared during the McCarthy hearings.
Kidman nails the accent along with Ball's wit and comedic timing. Hollywood insiders were miffed that a film released on Amazon would have the inside track to winning a major award at the Oscars. After Kidman won Best Actress at the Golden Globes, she emerged as the favorite at +120 odds to win at the Oscars.
Kristen Stewart +200
Don't sleep on "Spencer" if you like creepy castles and a kick-ass soundtrack from Radiohead's Johnny Greenwood. Stewart plays a fragile Princess Diana during a Christmas getaway with the royal family in 1991.
Stewart earned her first-ever nomination at the Oscars with a strong portrayal of Princess Diana under duress. She struggles with an eating disorder and an unfaithful Price Charles, while being alone and isolated in the constricting confines of palace life and dreadful obligations as a member of the royal family. She's also haunted by the ghost of Anne Boleyn and considers suicide.
Stewart is the second favorite on the 2022 Oscars betting board at +200 odds to win Best Actress.
Olivia Colman (The Lost Daughter) +400
Colman earned her third nomination for Best Actress in the last four years. She won her first Oscar in 2019 in "The Favourite" as Queen Anne in the early 1700s. She also recently earned rave reviews for her role in "The Crown" series as Queen Elizabeth.
"The Lost Daughter" is a departure for Colman, because it's not a period piece and she's not playing the Queen of England. Instead she plays a professor who struggled with motherhood and she confronts her past while on holiday in Italy. She meets a young mother on the beach, who triggers flashbacks of her own failing relationship with her two daughters.
Colman will try to pull off an upset and win her second Best Actress award at the Oscars since 2019, and you back her at +400 odds.
Jessica Chastain (The Eyes of Tammy Faye) +500
If you were around in the 1980s, then you're aware of the power of televangelists and the scandal involving Jim Bakker and his freakish wife, Tammy Faye.
Jessica Chastain does not hold back in her eye-popping role in "The Eyes of Tammy Faye", where you get Tammy Faye's perspective of the rise and fall of the Bakkers and the Praise the Lord Network. Yes, even Tammy Faye got the rags to riches to rags treatment by Hollywood, with Chastain unleashing a gutsy performance between belting out Christian songs and putting on a Bible-themed puppet show for kids.
Chastain had previously earned nominations in 2012 for Best Supporting Actress in "The Help", and in 2013 for Best Actress in "Zero Dark Thirty", but she lost both years. In "The Eyes of Tammy Faye", Chastain prays she pulls off an upset at +500 odds.
Penelope Cruz (Parallel Mothers) +1400
In 2007, Cruz made a huge splash with her role in "Volver" which earned her a nomination for Best Actress. In 2009, she won an Oscar for Best Supporting Actress for her funny role in "Vicky Cristina Barcelona", which was directed by Woody Allen. She earned another Best Actress nod in 2010 with "Nine" but failed to win.
Cruz earned her third Best Actress nomination and fourth-overall nod with "Parallel Mothers", which is the latest film by renown Spanish director Pedro Almodovar. It's the story about two pregnant women who develop a bond while in the maternity ward between a middle-aged Cruz and a frightened teenager. I'll avoid spoilers and plot twists, but it's a doozy from Almodovar. Cruz delivered another fantastic performance, but she's a massive long shot at +1400 odds because very few people saw the film, which is in subtitles.
Check out OG's coverage and more betting odds for the 2022 Oscars.