Conor McGregor appeared in Kings County Supreme Courthouse in Brooklyn on Thursday for a hearing related to his attack on a bus of UFC fighters at a UFC 223 media event in April.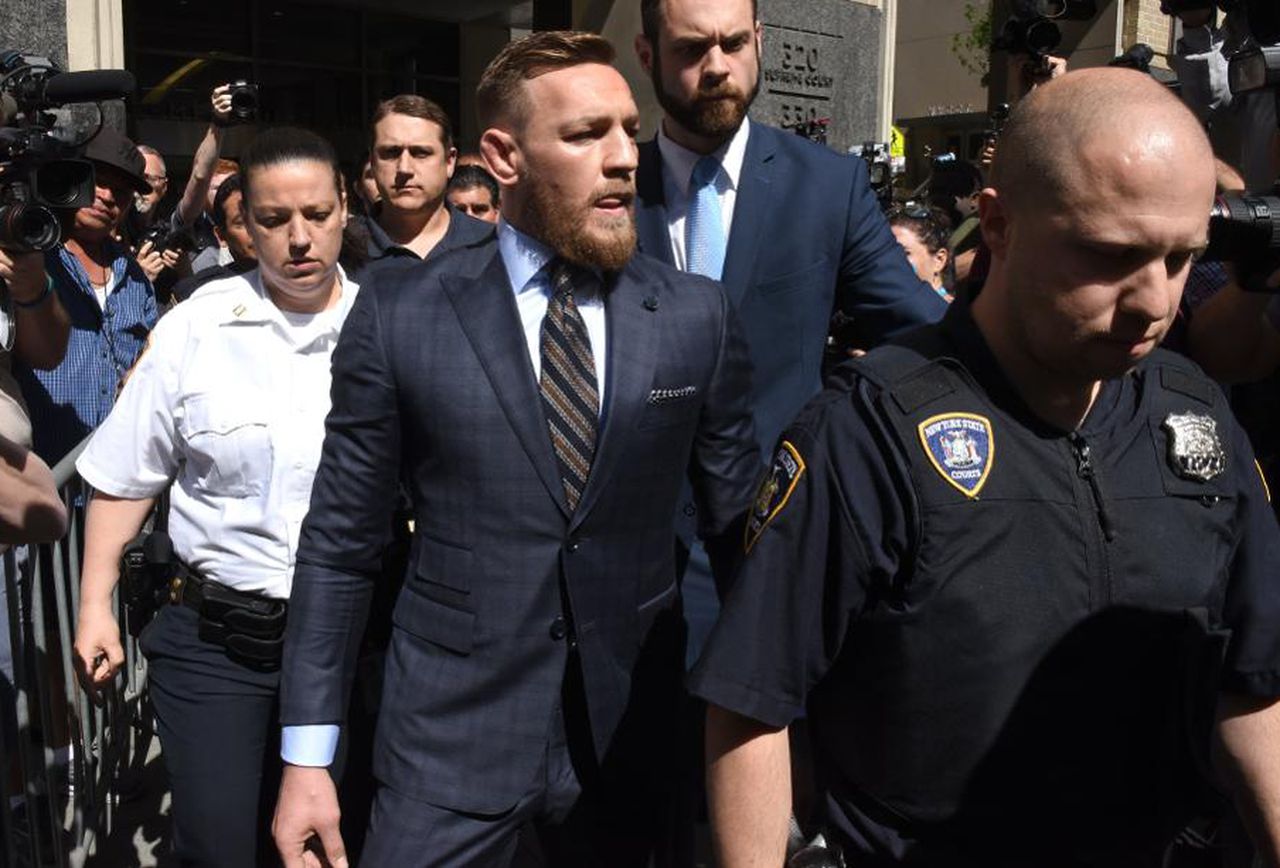 McGregor's legal team says they are currently in negotiations with the Brooklyn District Attorney's Office over a potential plea deal for the Irish fighter.
McGregor Apologizes Outside Courthouse
McGregor only spent a couple minutes in the courtroom before heading outside to speak to the media gathering outside the courthouse.
"I regret my actions that led to today," McGregor told reporters. "I understand the seriousness of this matter and I am hopeful this will get worked out."
McGregor is facing a total of 12 charges. Along with 10 misdemeanor counts, he faces two felony charges: criminal mischief in the second degree and criminal mischief in the third degree.
McGregor appeared in court alongside training partner Cian Cowley, who is also facing charges related to the April incident.
During the brief hearing, McGregor's team told the judge that negotiations were ongoing, and that they hoped to have an agreement in place in time for their next court date, which was set for July 26.
On Apr. 5, McGregor was caught on camera throwing a hand dolly through the window of a bus that was carrying UFC fighters from a media event at the Barclays Center. The attack resulted in several injuries, with Michael Chiesa and Ray Borg both being pulled out of fights as a result.
In addition, McGregor's teammate Artem Lobov was also pulled from a fight for taking part in the melee. Those losses, combined with a series of replacements in the main event, resulted in a hastily reshuffled card with only nine fights in total.
When Will Conor Fight Again?
In the aftermath of the attack, UFC President Dana White referred to the incident as "the most disgusting thing that has ever happened in the history of this company." On Wednesday, White confirmed that he had plans to meet with McGregor in the near future.
"We're meeting after [the hearing]," White told TMZ Sports. "He and I are meeting on the 18th of this month."
It's reasonable to assume that McGregor's future with the UFC will be a topic of conversation during that meeting. McGregor (21-3) hasn't fought in a UFC bout since November 2016, with his only fight since then coming in the boxing ring against Floyd Mayweather last August.
There has been rampant speculation on when or if the former featherweight and lightweight champion could return to the octagon. While White made comments earlier this year suggesting McGregor could be back by September, that target date was never confirmed by the fighter, and that date seems unlikely given the current legal situation.
According to McGregor agent Audie Attar, the first priority is sorting out his client's legal issues.
"We're not going to focus on any future plans until we handle this matter," Attar told ESPN. "Right now we're in negotiations with the district attorney. We'll focus on that and focus on the future later."
McGregor is currently free on bail. He could potentially face up to seven years in prison if convicted of the charges against him.