It's a small sample size for a very large man, but Zion Williamson has lived up to the hype after only 10 NBA games. Since making his rookie debut with the New Orleans Pelicans in late January, Williamson is averaging 22.1 points and 7.5 rebounds per game. Only Shaquille O'Neal as a rookie put up better numbers than Zion through the first 10 games of his career.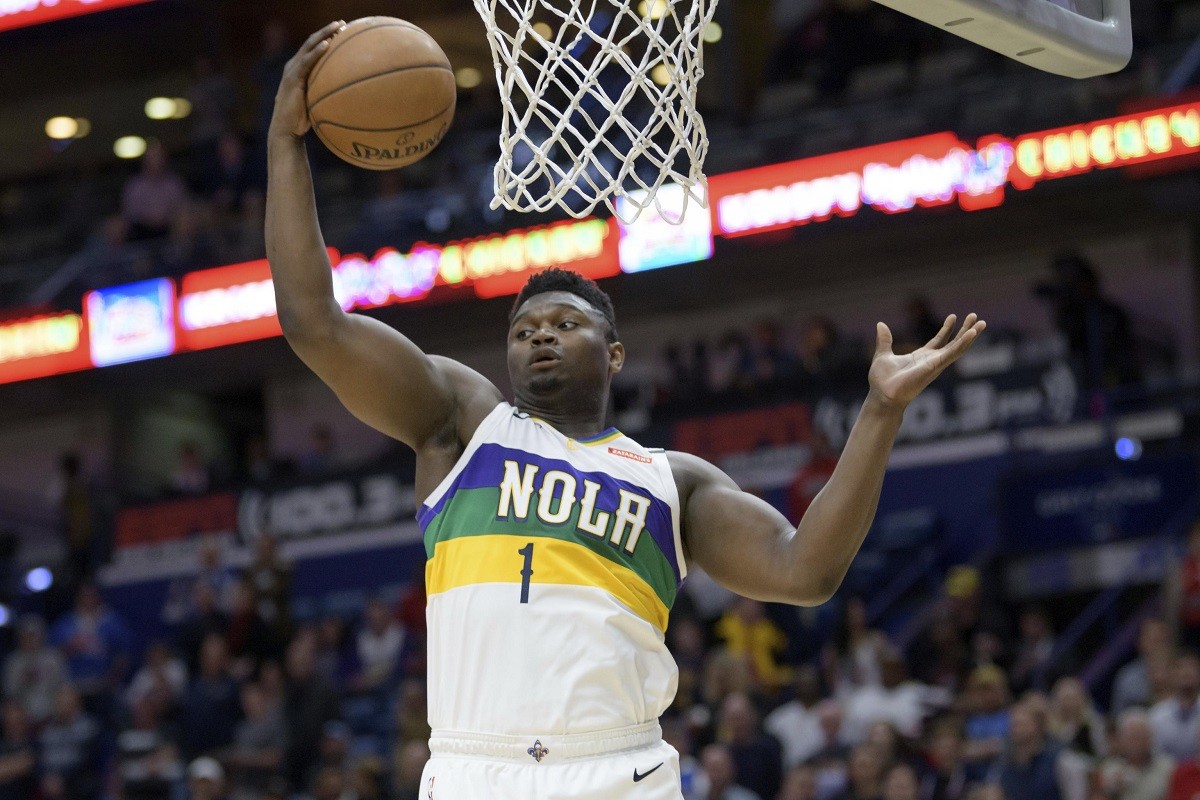 There's always a ton of pressure on the #1 pick in the NBA Draft, yet Zion has handled the hype well. What's lost in all of this is that Williamson is still 19-years old. He's the fourth-youngest player in the NBA, but he looks like a veteran out there.
The New Orleans Pelicans (23-32) are 5-5 with Zion in the lineup, but 18-27 without him. Williamson missed over 2.5 months of the season while recovering from knee surgery.
The Pelicans are ranked #11 in the Western Conference, yet are only 5.5 games behind the Memphis Grizzlies in the #8 seed. The Pels have a long way to go in a short time if they expect to compete for a playoff spot, but with Williamson in the lineup, it's certainly a possibility.
"I expected to make an impact, but I didn't expect to do nothing like this," Williamson told The Athletic. "I was kind of looking to come in and just kind of fit in and just not try to mess up."
With Zion in uniform, words like "hope" and "future" are palpable, and not empty buzzwords used to make losing teams feel better about tomorrow.
Zion Rookie Hype, 31 and 32
Williamson made his NBA debut on January 22, 2020, but he officially arrived on February 11 with a 31-point performance against the Portland Trail Blazers.
Just in case you were among the haters and thought his 31 points and 9 rebounds were a fluke, he followed that performance up with 32 points against the Oklahoma City Thunder.
"It's expected, honestly," said teammate Jrue Holiday. "Honestly, I don't see anybody that can guard him."
It took only nine games into the season before Zion posted back-to-back 30-point performances.
"He was just being Zion," said Pelicans head coach Alvin Gentry. "We see it all the time. He hasn't even scratched the surface yet."
Rising Star, Brilliant Future
During the All-Star Weekend in Chicago, Zion didn't play in the All-Star Game. However, as a rookie, he appeared in the Rising Stars game playing for Team USA.
Williamson scored 14 points in 19 minutes of action. He missed a few shots, but that happened in garbage time when his teammates fed him the ball so he could throw down a couple monstrous dunks.
In only 10 games, Zion impressed his teammates and coaching staff, despite the tsunami of media hype. Then again, they've been seeing Zion's greatness up close and personal in practice and workouts.
"It's scary to see how good he is this early," Josh Hart said. "Hopefully, he can continue to keep getting better day by day. He's going to be a problem."
"You can already see the underlying terror of Zion's game," Rob Mahoney wrote in The Ringer. "NBA coaches have tailored their defenses around his involvement and still wind up changing their approach as a game progresses."
"People are trying to find their own way to stop me, but I feel like my game is so unique that I'll be able to adjust to it on the fly," Zion said. "At the end of the day, I'm 19. I've still got a lot of room for growing. I will mess up. I'm not perfect, I will have bad games. I'm just going to learn from them."
According to a recent update by William Hill, the New Orleans Pelicans are 125/1 odds to win the 2020 NBA Championship.