If you want to watch Zion Williamson play in his first NBA game with the New Orleans Pelicans, you're going to have to wait anywhere from six to eight weeks while he recovers from surgery after an injury to his right knee.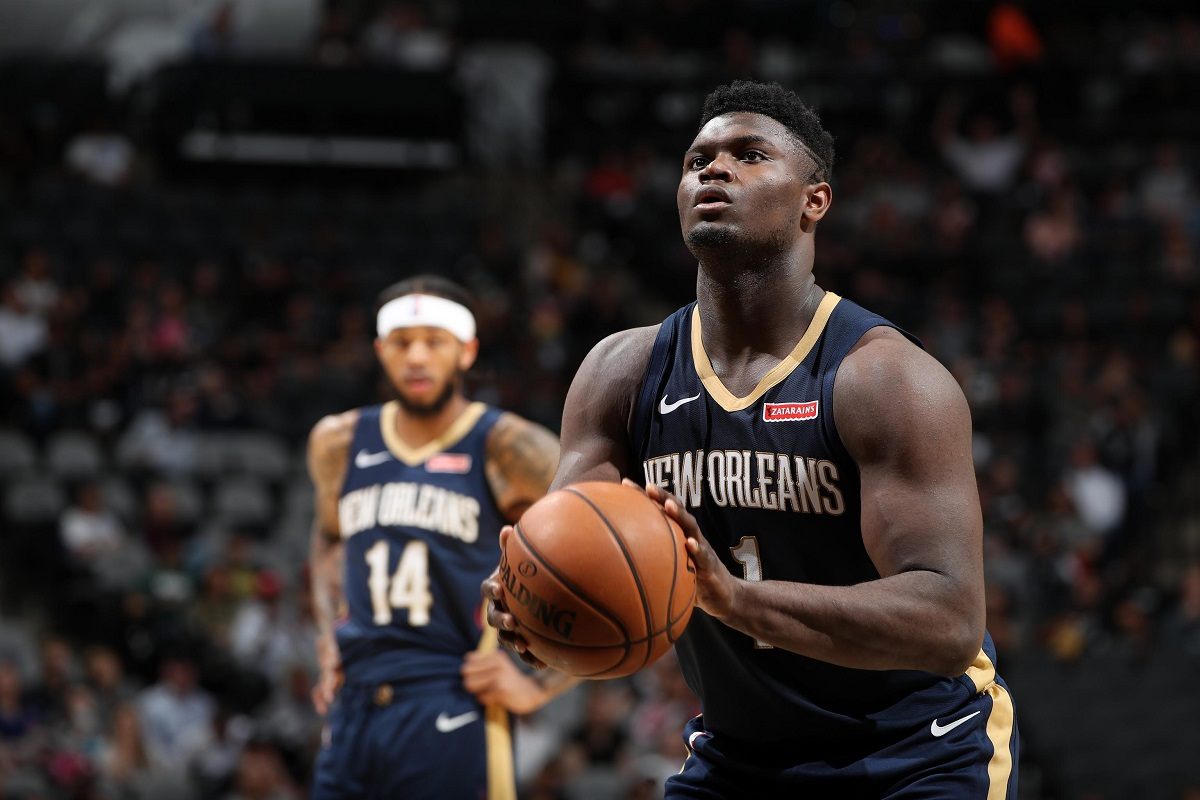 The #1 draft pick injured his knee in a preseason game against the San Antonio Spurs in which he dropped 22 points and pulled down 10 rebounds in one of his best overall performances.
Williamson did not travel with the New Orleans Pelicans during their preseason game against the Knicks in New York City. They listed Zion out with an undisclosed knee injury. On Monday afternoon, team officials confirmed that Williamson underwent successful knee surgery to repair a torn meniscus. Officials estimate Williamson could miss up to eight weeks while recovering.
Update on Zion: pic.twitter.com/7Jn2jEdUVS

— New Orleans Pelicans (@PelicansNBA) October 21, 2019
Williamson did not disappoint fans in the preseason, averaging 23.3 points and 6.5 rebounds. He also made the Pelicans analytics department drool by knocking down an astounding 71 percent of his shots.
Backup Nicolo Melli will get the bulk of Williamson's minutes. Zion topped the list of potential NBA rookie fantasy standouts, but now he's expected to miss at least 20 games.
Without Zion to start the season, the Pelicans are still estimated to finish in third place in the Southwest division behind the Houston Rockets and San Antonio Spurs.
Zion Dollars
TV executives expected Zion would provide a huge boost in ratings. They scheduled the New Orleans Pelicans for 30 nationally televised games. Fans will have to wait a couple months to see the most anticipated rookie debut since LeBron James made the jump from high school back in 2003.
Six weeks equates to approximately 20 games, which means Zion will be sidelined for the first quarter of the season. Zion could miss another half-dozen to 10 games if the knee injury keeps him out a full two months.
"We have a deep team," said teammate JJ Redick. "We'll hold it down as best we can without him. Obviously, we need him back, and hopefully, he takes his time and recovers fully."
Zion will miss the triumphant return of Anthony Davis. The Lakers visit New Orleans in late November. The earliest return date mentioned for Zion mentioned is in early December. Everyone would love to see him back in action before the end of 2019.
"He's a smart enough player that whenever he comes back, he will be fine," said head coach Alvin Gentry. "I don't see him falling behind in a situation, where all of a sudden he's got all of this make up work to do. He will be fine. It's a pretty simple system anyway."
Nagging Knee
Williamson, 19, is a big dude in a 6-foot-7 frame. He's built more like a linebacker or tight end in the NFL than an NBA player.
He initially injured his knee during his freshman season with Duke. In the heated Duke/North Carolina rivalry game, Williamson busted his sneaker and twisted his knee. He missed the remainder of the season with a sprained knee, but returned for the ACC tournament and played in March Madness.
During summer league games in Las Vegas, Zion made his debut in a Pelicans uniform. His overall participation got cut short when he banged knees in a game. The Pelicans decided to shut down their star, and not risk more injuries in the rough and tumble summer league. The Vegas knee injury is not related to the current knee surgery Zion underwent on Monday.