The WWE temporarily halted production on Tuesday after one of its wrestlers tested positive for COVID-19, prompting the company to test all of its employees for the virus.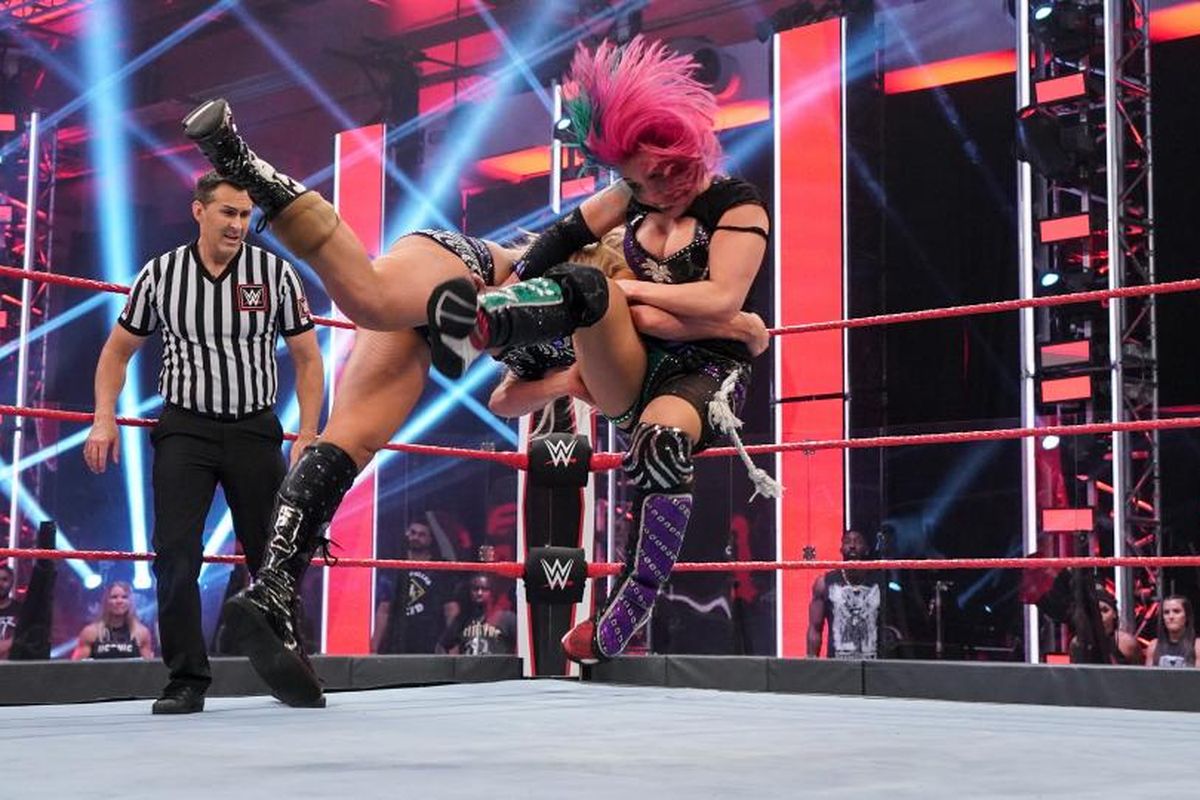 The WWE confirmed that a performer in its developmental pool tested positive, and that the individual was in the audience during the taping of WWE shows at the company's Performance Center in Orlando on June 9.
Friends and Family Attend Monday WWE Tapings
WWE officials say that the individual in question hasn't been in the Performance Center since that date, and that nobody else at the facility has shown or reported symptoms.
"Out of an abundance of caution and to ensure the health and safety of the company's performers and staff, all talent, production crew and employees on site at the training and production facilities will be tested for COVID-19 immediately," WWE associate medical director Dr. Jeffrey Dugas said, via ESPN. "Following the test results, WWE plans to proceed with its normal television production schedule."
Both WWE and All Elite Wrestling (AEW) have continued to tape programming during the coronavirus pandemic. AEW has used wrestlers who were not performing on a show as a small, makeshift audience since nearly the beginning of the COVID-19 shutdowns. WWE has used its developmental talent in the same way as of late.
The company further loosened its restrictions this week, with non-wrestlers joining the crowd.
"Yesterday, a select number of friends and family were permitted to attend WWE's TV production," WWE said in a statement on Tuesday. "These individuals were required to participate in medical screenings prior to entering the closed set at our training facility, and were kept apart from in-ring performers and production personnel. Attendance was below 20% capacity and social distancing guidelines were adhered to with at least six feet between parties, thus face masks were not required."
Audience Members Say Masks Allowed, Despite Reports
The use of masks – or lack thereof – at Monday's taping became a talking point in the wrestling world. Wrestling Observer Radio reported that WWE prohibited fans from wearing masks during production. However, journalist Jon Alba reported that those who attended the show disputed that account, saying that they chose not to wear face coverings once taping started.
The fans I spoke to told me they never felt pressured by #WWE not to wear a mask for TV purposes or any other reason. They confirmed temperature checks, and signed waivers as well. One noted they were in a group that had masks on them, and chose not to wear when taping started.

— Jon Alba (@JonAlba) June 16, 2020
"The fans I spoke to told me they never felt pressured by WWE not to wear a mask for TV purposes or any other reason," Alba wrote on Twitter. "They confirmed temperature checks, and signed waivers as well."
Alba reported that WWE did not inform fans that they should get tested, and says the company has invited them back for further tapings later in the week. He is one of many who pointed out that at least one aspect of WWE's statement doesn't ring true, however.
"While the WWE statement says fans were kept apart from performers, there were multiple times performers went into the crowd during last night's RAW taping, including the Street Profits, who danced with fans," Alba tweeted. "This was not six feet apart."
WWE pushed back its Tuesday tapings to Wednesday, but plans to continue on its regular production schedule going forward. The company plans to tape episodes of RAW and SmackDown on Tuesday, followed by two weeks of NXT shows on Wednesday.