Fans won't be able to attend. Some wrestlers won't be able to perform. But WWE is still preparing to air WrestleMania 36 over two nights this weekend in what promises to be one of the most surreal moments in the company's history.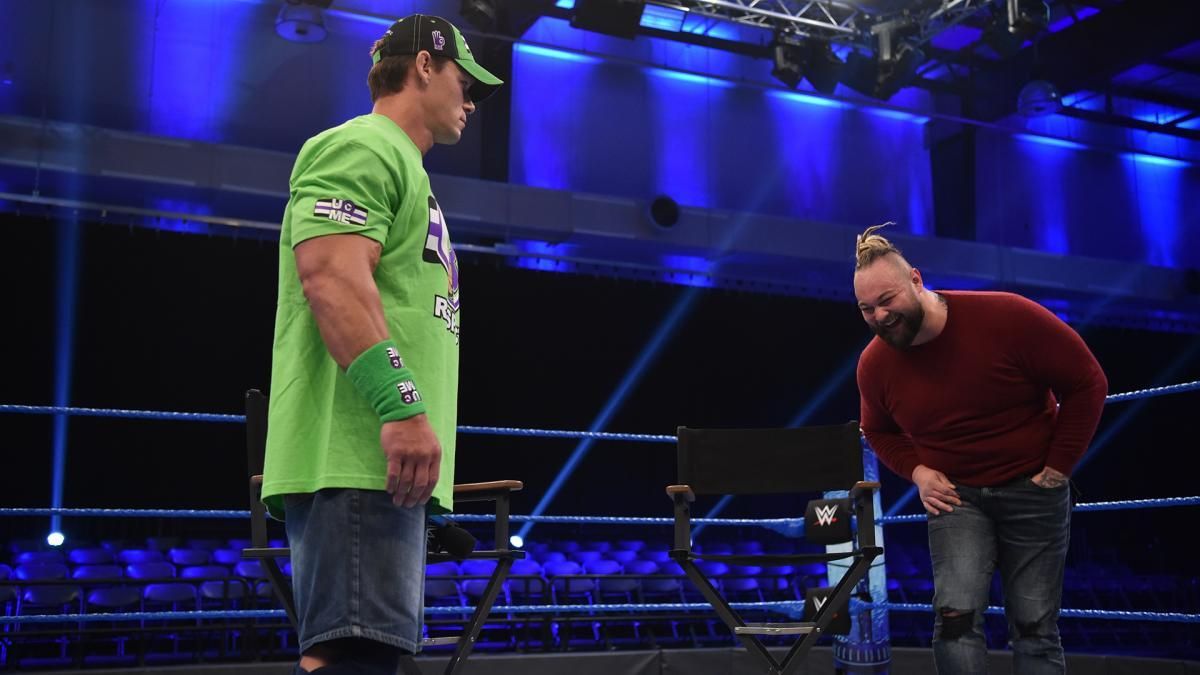 WrestleMania has moved from Raymond James Stadium in Tampa to the WWE Performance Center in Orlando. That's just the start of the changes the company has made in response to the COVID-19 pandemic.
Multiple Endings Filmed to Avoid Spoilers
WWE taped most or all of the WrestleMania matches ahead of time, doing so before stay-at-home orders went into effect for the Orlando area late last week.
That opens the company to the potential for spoilers, but WWE officials have implemented a creative solution. According to Blake Oestriecher of Forbes, WWE sources say that multiple endings have been filmed for some high-profile matches in order to prevent the show from being ruined for fans before it airs.
There have already been changes to the card as well. Roman Reigns, well known for his battles with leukemia, pulled out of the Universal Championship match over health concerns, as he may be more vulnerable than most during the coronavirus pandemic. Instead, Braun Strowman will now take on Goldberg for his title.
Rob Gronkowski Hosting WrestleMania 36
An empty arena will create an unusual atmosphere for the WWE's biggest show, to say the least. Former New England Patriots star Rob Gronkowski is hosting WrestleMania, and so far, his on-camera skills appear to be a work in progress, which could further distort the feel of the two-night show.
But WWE executives say fans will see the best possible version of WrestleMania 36 under the current circumstances.
"Cancellation or postponement was obviously considered, but we feel like it's an obligation for us," WWE executive and wrestler Paul "Triple H" Levesque told ESPN's Ariel Helwani. "Whether it's exactly what we would like it to be or what [the fans] would like it to be, it probably won't be. But it'll be a version of that. We will make it the spectacle it needs to be, and that we can, to the best of our ability, but we'll give people something to be entertained by."
Wrestling fans will have plenty of action to take enjoy over the two nights of WrestleMania. Brock Lesnar will defend his WWE Championship against Drew McIntyre, while Raw Women's Champion Becky Lynch battles Shayna Baszler. Several legends will also be performing: The Undertaker will face AJ Styles in a "Boneyard March," while John Cena will enter the Firefly Funhouse to take on Bray "The Fiend" Wyatt.
While American sportsbooks can't offer odds on scripted events, several overseas bookmakers are taking bets on the outcomes of these and other matches – and if the talk of multiple taped endings is true, then it's unlikely that even gamblers will be able to take advantage of true spoilers.
---
WrestleMania 36 Odds (Selected Matches)
Drew McIntyre (-300) vs. Brock Lesner (+200)
Shayna Bazler (-250) vs. Becky Lynch (+175)
The Undertaker (-500) vs. AJ Styles (+300)
Edge (-650) vs. Randy Orton (+350)
Rhea Ripley (-200) vs. Charlotte Flair (+140)
Odds via 888sport
---
For those who are afraid that this version of WrestleMania will lack the aura of past shows, Levesque has one message: just watch.
"While obviously not in a stadium with 70, 80,000 people, it looks spectacular, the look and the feel will be phenomenal," Levesque told ESPN. "I don't want to blow it out of proportion, but I think there's some things that might change the way we do business going forward."