If the San Francisco 49ers draft a quarterback with the third pick in the draft, will they part ways with starting QB Jimmy Garoppolo? The latest rumors coming out of the Bay Area suggest that the 49ers could trade Jimmy G before or after the upcoming NFL Draft. And if the 49ers trade Jimmy G, will he return to the New England Patriots?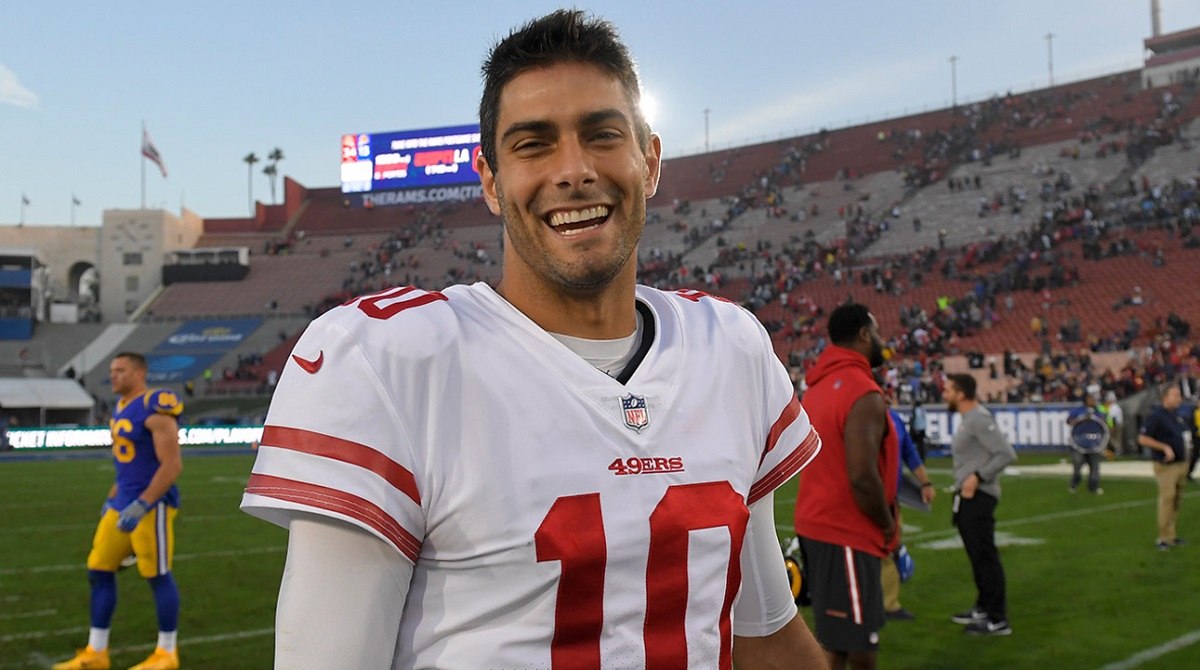 The Patriots initially drafted Jimmy G in 2014 because Bill Belichick thought he could become the heir apparent to Tom Brady. Then, owner Robert Kraft traded Jimmy G to San Francisco. Kraft was paranoid that Belichick would bench or trade an aging Tom Brady in favor of Jimmy G.
"One logical team that's been connected to this for a while now, of course, [is] Garoppolo's original team, the New England Patriots," said Tom Pelissero from the NFL Network.
Back in February, we posted a story about a prop bet involving Jimmy G and his future team. The 49ers were initially favorites at -300 to retain Jimmy G. However, the Patriots were the second favorite on the board at +400 odds that Jimmy G will play for Belichick and the Pats next season.
Will Jimmy G Stay or Go?
Jimmy G, 29, struggled with injuries since his arrival in San Francisco. When he's healthy, Jimmy G is a solid quarterback who led the 49ers to a Super Bowl berth two seasons ago. When he's not healthy, Jimmy G puts the 49ers in a precarious situation. He played just six games last season, passing for 1,096 yards and seven touchdowns while nursing a severely sprained ankle.
In four seasons with San Francisco, Jimmy G played a full season only once. He appeared in all 16 games in 2019, which coincided with an appearance in the Super Bowl.
The 49ers are 22-8 with Jimmy G as a starter. He has a 2-1 record in the postseason, with his only loss happening against the Kansas City Chiefs in Super Bowl 54.
Of course, the 49ers could stick with Jimmy G and still draft a quarterback like Mac Jones or Trey Lance. Rookie quarterbacks take time to mature. At the same time, the rookie could be a valuable hedge if Jimmy G runs into any injuries in the upcoming season.
Ian Rapoport from the NFL Network reported that the 49ers won't trade Jimmy G unless there's a tremendous trade package on the table. In short, it sounds like the 49ers are sticking with Jimmy G and won't trade him away for peanuts. But, if a team offers multiple picks, then they'll be foolish not to listen. After all, they had to give up two future first-round picks and a third-rounder to acquire the #3 pick from the Miami Dolphins.
Jimmy G Trade Partners: Patriots, Bears
If the 49ers decide to trade Jimmy G, who will want his services? The New England Patriots, Chicago Bears, Washington Football Team, Detroit Lions, and Denver Broncos are all in the market for a quarterback.
The Broncos and Carolina Panthers worked out a trade yesterday in which the Panthers traded Teddy Bridgewater to Denver for a sixth-round pick. Earlier this year, the Panthers acquired Sam Darnold from the New York Jets for multiple draft picks. They think Darnold has some of his best years ahead of him after Adam Gase nearly ruined his career with the LOL Jets.
The Panthers are also among the favorites to draft Ohio State QB Justin Fields. Fields saw his draft stock plummet in recent weeks. Yet, just last night, rumors swirled that the Patriots want to snag Fields and discussed a trade with the Atlanta Falcons for the fourth-overall pick.
The Detroit Lions traded Matthew Stafford to the LA Rams for Jared Goff and a slew of picks earlier this year. But, will the Lions stick with Goff or look elsewhere for a quarterback?
The Washington Football Team is currently renting Ryan Fitzpatrick for a season. Yes, FitzMagic is coming to Washington, DC this season, but Ron Rivera's team wants to find a franchise quarterback.
The Chicago Bears currently have Andy Dalton penciled in as their starter, but he's a glorified backup, at best. Jimmy G going to the Bears rumors have been discussed in nearly every corner bar and on every sports talk radio station between Chicago and San Francisco.
Jimmy G has a no-trade clause in his contract which means the 49ers would have to get offered a sweet deal from a team that he finds suitable. Otherwise, it's a no-go.