If you're wondering about Jimmy Garoppolo's future, then BetMGM has a wager for you. They posted a prop bet, and Jimmy G playing QB for the San Francisco 49ers is the favorite at -300 odds, but the New England Patriots are in second place at +400 odds.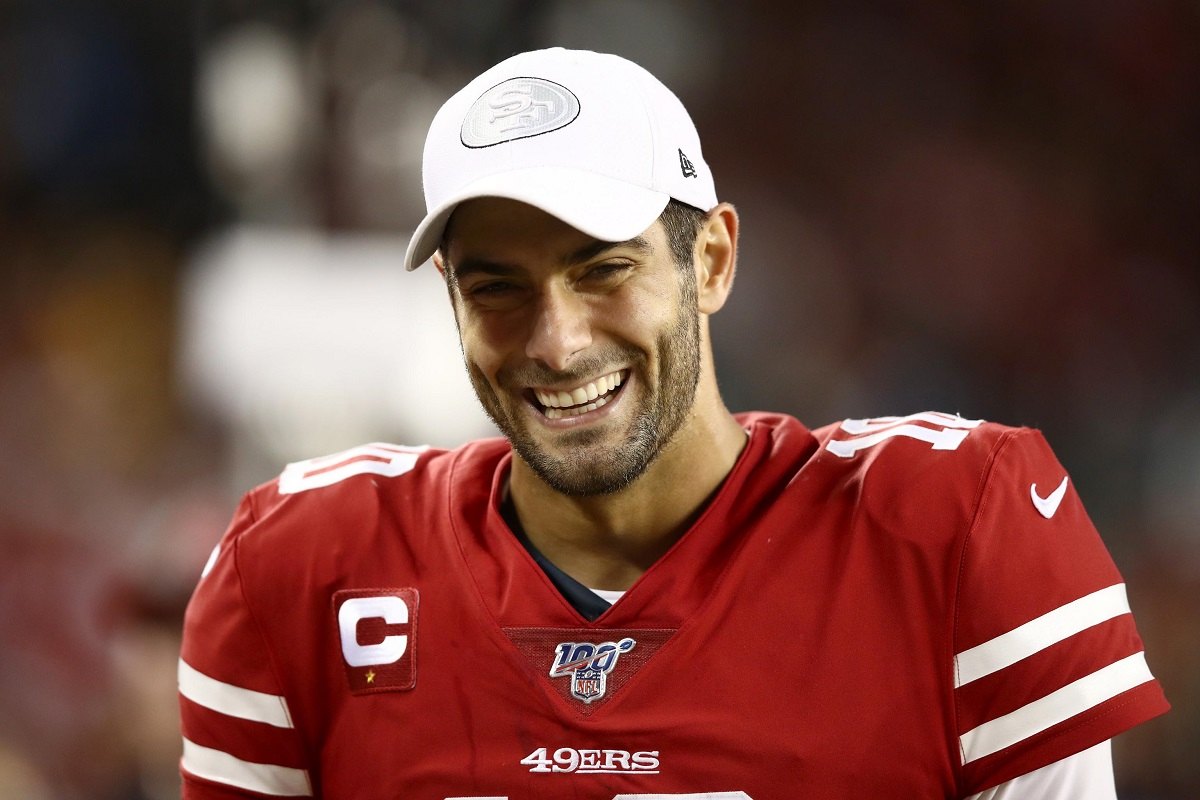 Will Jimmy G reunite with his old team? Bill Belichick adored Jimmy G and was the main reason why the Patriots drafted him. Team owner Bob Kraft was worried that Belichick would dump Brady, so he traded Jimmy G to the San Francisco 49ers, much to Belichick's disappointment.
---
PROP BET: WHERE WILL JIMMY G PLAY NEXT SEASON?
San Francisco 49ers -300
New England Patriots +400
Minnesota Vikings +700
Denver Broncos +800
Indianapolis Colts +800
Chicago Bears +1000
Houston Texans +1100
Carolina Panthers +1250
Pittsburgh Steelers +1500
Washington Football Team +2000
---
Brady bolted for the Tampa Bay Bucs last offseason and promptly won a Super Bowl in the first season with his new team. The Patriots signed Cam Newton for the 2020 season and he did a bang-up job on one of the worst Patriots' squads in two decades. But, the question now is, will the Patriots try to bring Jimmy G back to New England for 2021 and beyond?  If you think he'll return to Foxboro, then fire up your BetMGM app or head to one of their sportsbooks on the Las Vegas Strip to get in on this Jimmy G prop bet.
Jimmy G Favorites: Niners, Broncos, Colts, Pats
The San Francisco 49ers are exploring other options at quarterback, but it's not the end of the world if they bring back Jimmy G. The team was plagued with injures last season, including Jimmy G, who had nagging ankle injuries. When he's healthy, the Niners win. The Niners have a 22-8 record when Jimmy G is the starter, including a 2-1 clip in the postseason. It makes sense to bring Jimmy G back at QB, which is why the Niners are the prop bet favorites at -300 odds.
The Las Vegas Raiders put backup quarterback Marcus Mariota on the trading block. Will any teams like the Denver Broncos or Indianapolis Colts bite on the former #2 pick in the draft? Or would they rather have Jimmy G?
The Broncos have been desperate for a QB ever since Peyton Manning retired. If they miss out on the Deshaun Watson sweepstakes and pass on Mariota, will they make a move for Jimmy G? If you think Jimmy G would look great in orange and blue, he's +800 odds to play for the Broncos in the Mile High City next season.
After Philip Rivers finally retired, the Indianapolis Colts are also looking for a quarterback. Jimmy G playing for the Colts next season pays out +800.
The Minnesota Vikings are an interesting option. Has Kirk Cousins worn out his welcome? He's just an average quarterback, but is it really his fault that the Vikes overpaid for his services? The Vikings are +700 odds to land Jimmy G for next season.
Jimmy G Long Shots: Da Bears, CLT, DC
The Chicago Bears and Philadelphia Eagles have been discussing a quarterback swap. Da Bears want to move on from both Mitch Trubisky and Nick Foles, while the Eagles are hell-bent on ditching Carson Wentz. The Eagles think Wentz is worth as much as Matthew Stafford, and they're asking for a ridiculous number of draft picks to acquire Wentz. That's why their trade talks stalled.
If Da Bears are wise, they'll keep an eye on Jimmy G. Right now, the Jimmy G prop bet pays out +1000 if he ends up in Chicago.
The Houston Texans are a sh-t show. They insist they don't intend on trading Deshaun Watson. Meanwhile, Texans President Jamey Rootes quit after 20 years on the job. He was fed up with all the shenanigans involving the hiring of a new general manager and head coach. The Texans are +1100 odds to land Jimmy G, but it would have to be as a part of a Watson trade. However, Watson wants to go to either the New York Jets or Miami Dolphins.
The Carolina Panthers weren't impressed with Teddy Bridgewater as the starting QB. If Jimmy G ends in Charlotte, the prop bet pays out +1250.
Big Ben says he wants to play at least one more season with the Pittsburgh Steelers, so save your money on any Jimmy G in Steeltown prop bets.
The Washington Football Team needs a quarterback, but all signs point to Cam Newton reuniting with his former coach Riverboat Ron Rivera.