The hunt for a quarterback continues for a handful of desperate teams. The Las Vegas Raiders put backup quarterback Marcus Mariota on the trading block and the Chicago Bears, Indianapolis Colts, New England Patriots, Carolina Panthers, and the Washington Football Team are all interested parties.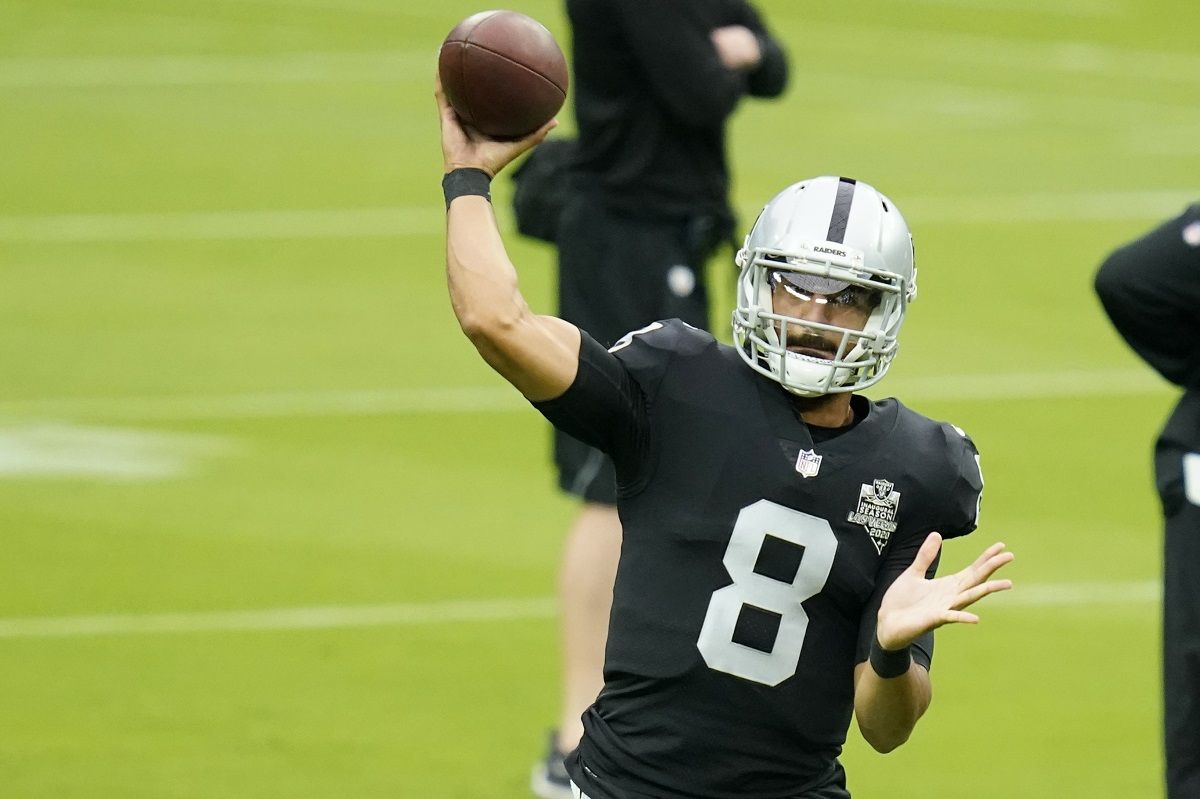 A couple of weeks ago, there were other rumors that the Raiders were looking to trade starting quarterback Derek Carr as well. Carr turns 30 next month and has two more seasons left on his contract. The Raiders are on the hook for a $22.1 million cap hit this season, and $19.8 million in 2022.
For a hot second, rumors in Sin City suggested that the Raiders would trade Carr and start Mariota, and look for a quarterback in the 2021 NFL Draft to groom. On paper, that move makes sense because they can get a better deal with Carr than Mariota.
---
MARCUS MARIOTA TRADE DESTINATIONS
New England Patriots
Carolina Panthers
Washington Football Team
Chicago Bears
Indianapolis Colts
---
For now, however, head coach Jon Gruden and the Raiders are sticking with Carr and putting Mariota up for grabs. Trading him will help the Raiders save $11.3 million in cap space.
The New England Patriots are an interesting situation. Bill Belichick and the Pats plugged in Cam Newton this past season after Tom Brady left for the Tampa Bay Bucs. But, the Newton experiment is over and they're looking for different options. Meanwhile, Newton has been linked to Washington and could rejoin forces with his former head coach, Riverboat Ron Rivera.
QBs Wanted in Chicago, Indy, DC, and New England
After the Detroit Lions and Los Angeles Rams swapped quarterbacks last week, Matthew Stafford is no longer on the market. Very few teams have the necessary draft capital (e.g., NY Jets or Miami Dolphins) to compete in the Deshaun Watson sweepstakes.
There are very few available arms remaining, which is why a former starting quarterback like Mariota has become a hot commodity.
"Marcus Mariota is getting some trade interest," said Ian Rapoport on the NFL Network. "There's legitimate and real interest in Mariota."
The Philadelphia Eagles are also looking to move Carson Wentz. The last rumor suggested the Chicago Bears want Wentz, and would give up Nick Foles. The Eagles are one of the few teams not linked to Mariota and the Raiders. The San Francisco 49ers are the other.
Mr. Heisman Winner
Mariota, 27, won the 2014 Heisman Trophy to cap off a sensational career with the Oregon Ducks. He set numerous school and Pac-12 passing records. In his redshirt junior season in 2014, he threw 42 touchdowns and rushed for 15 more. In just three seasons, he tallied 105 career touchdowns at Oregon.
The Tennessee Titans selected Mariota with the second overall pick in the 2015 NFL Draft. He spent five seasons with Tennessee before latching onto the Raiders as Carr's backup.
Mariota made a huge splash as a rookie, especially in his first game when he flung four touchdowns in the first half. He tied an NFL record and became only the second rookie to throw four touchdowns in his debut. He also set an NFL record by securing a perfect passer rating in his NFL debut.
Mariota lost his starting job in Tennessee midway through the 2019 season to backup quarterback Ryan Tannenhill. In Mariota's defense, he played through multiple injuries for several seasons. Born in bred in Hawaii, Mariota is a descendant of great Samoan warriors. He believed he would dishonor his family and his team if he didn't suit up to play despite the severity of his knee, shoulder, and hand injuries.
Both Mariota and a number of teams think he still has several good seasons ahead of him. His time as a backup quarterback over the past 1.5 seasons also allowed his body to heal from various injuries. Mariota looked sharp in limited action this season. He filled in for Carr in Week 15 and threw for 226 yards and a touchdown. He also rushed for 88 yards and another touchdown.