Deontay Wilder announced Monday that he plans to exercise the rematch clause contained in the contract for his second fight with Tyson Fury in an effort to get redemption for his loss on Saturday.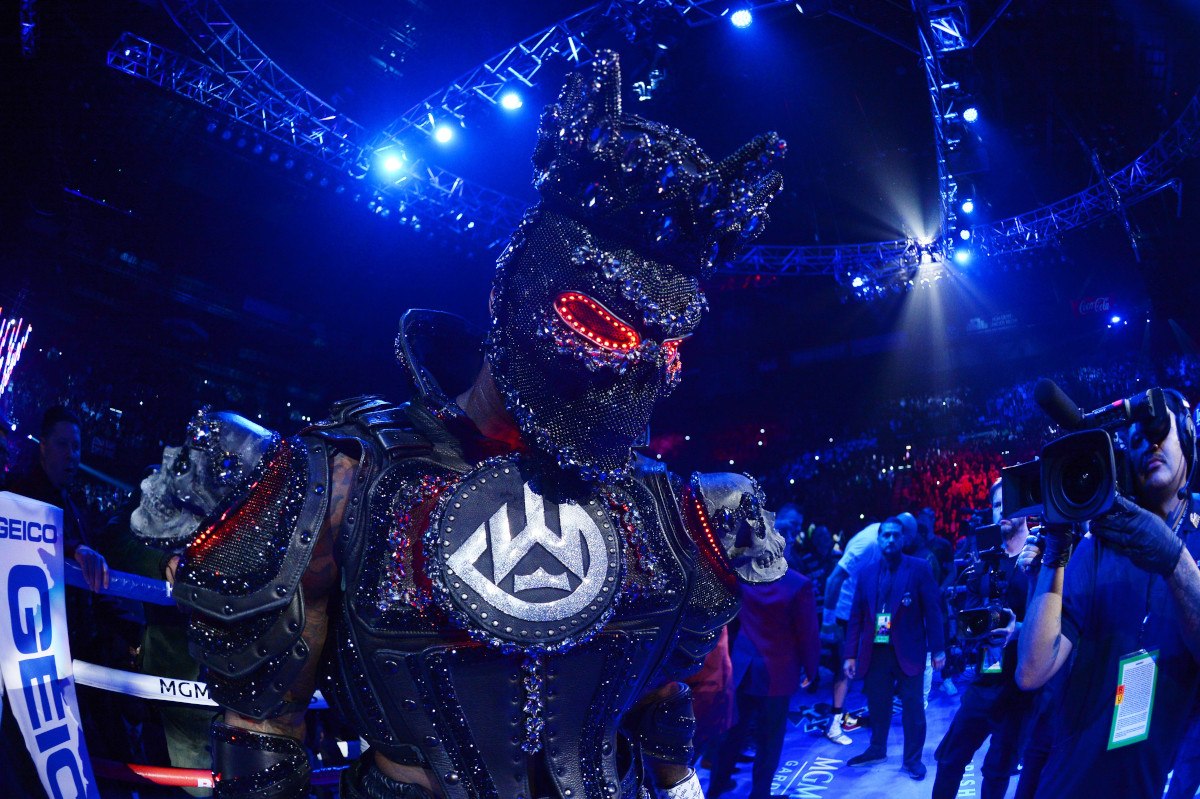 Wilder told The Athletic that he hopes to fight Fury again as soon as possible, and that his loss was in part due to the weight of the elaborate costume he wore to the ring.
Wilder Says Fury Rematch Will 'Definitely Happen'
Fury won Saturday's fight in dominant fashion, knocking down Wilder twice before the American's corner threw in the towel in the seventh round. The two men had fought to a draw in their first fight in December 2018, with Fury winning most rounds, but Wilder scoring two knockdowns to even up the scorecards.
Now, Wilder says he's ready for a third fight with the giant Englishman.
"The rematch is definitely going to happen," Wilder told The Athletic. "We're going to get it on. I want to get right back to it."
Boxing

Pontential fights available @SuperBookUSA

Deontay Wilder +200
Tyson Fury -250

Anthony Joshua +240
Tyson Fury -300

— Jeff Sherman (@golfodds) February 24, 2020
That fight could take place as soon as this summer. Some sportsbooks have already created odds for the potential bout, with SuperBook USA making Fury a solid -250 favorite for the third fight.
Costume, Trainer, Referee All Blamed for Loss
Wilder also said that the bulk of the steel costume he wore to the ring had an impact on the fight. The Black History Month themed costume weighed over 40 pounds, and Wilder wore it for an extended period of time during the ring walk.
"We had it on 10 or 15 minutes before we even walked out and then put the helmet on," Wilder told ESPN. "That was extra weight, then the ring walk, then going up the stairs. It was like a real workout for my legs. When I took it off, I knew immediately that the game has changed."
Wilder also felt that he wasn't adequately protected by referee Kenny Bayless, despite promises to be hard on illegal punches heading into the fight. Bayless docked Fury a point in the fifth round, but by then, it was unlikely that the scorecards would matter.
"I don't understand certain things that Bayless was doing because he came in the back room, and he looked me in the eyes, and he said that he would disqualify me or take two points from me if I threw rabbit punches or punched after the break," Wilder told ESPN. "But I guess that rule only applies to me because my opponent did it all night long … [Bayless] took a point, but it was too late. At that point, Fury didn't care about that point being taken."
The fight ended when Mark Breland, Wilder's assistant trainer, threw in the towel. The decision immediately upset Wilder, who said he will consider removing Breland from his corner for future fights.
"We love Mark to death and he'll always be part of the team," Wilder told The Athletic. "[Head trainer Jay Deas] told him not to [throw in the towel]. Jay is the first. Mark did it anyway. I still had my senses. Fury's blows don't hurt. I just didn't have the legs at all to get out of the way and to show people I was still a warrior who was still going to fight."
The rematch clause and a mandatory defense for Anthony Joshua will likely delay a potential heavyweight unification bout between Fury and Joshua until at least 2021. SuperBook USA also announced odds for that matchup, with Fury installed as a -300 favorite over Joshua (+240).