A slew of quarterbacks were banged up in Week 2, but the San Francisco 49ers saw their backfield get decimated by injuries. Fantasy football Week 3 waiver wire pickups include newly signed 49ers running back Kerryon Johnson, running back Cordarrelle Patterson, running back Sony Michel, and hybrid running back/receiver Demetric Felton.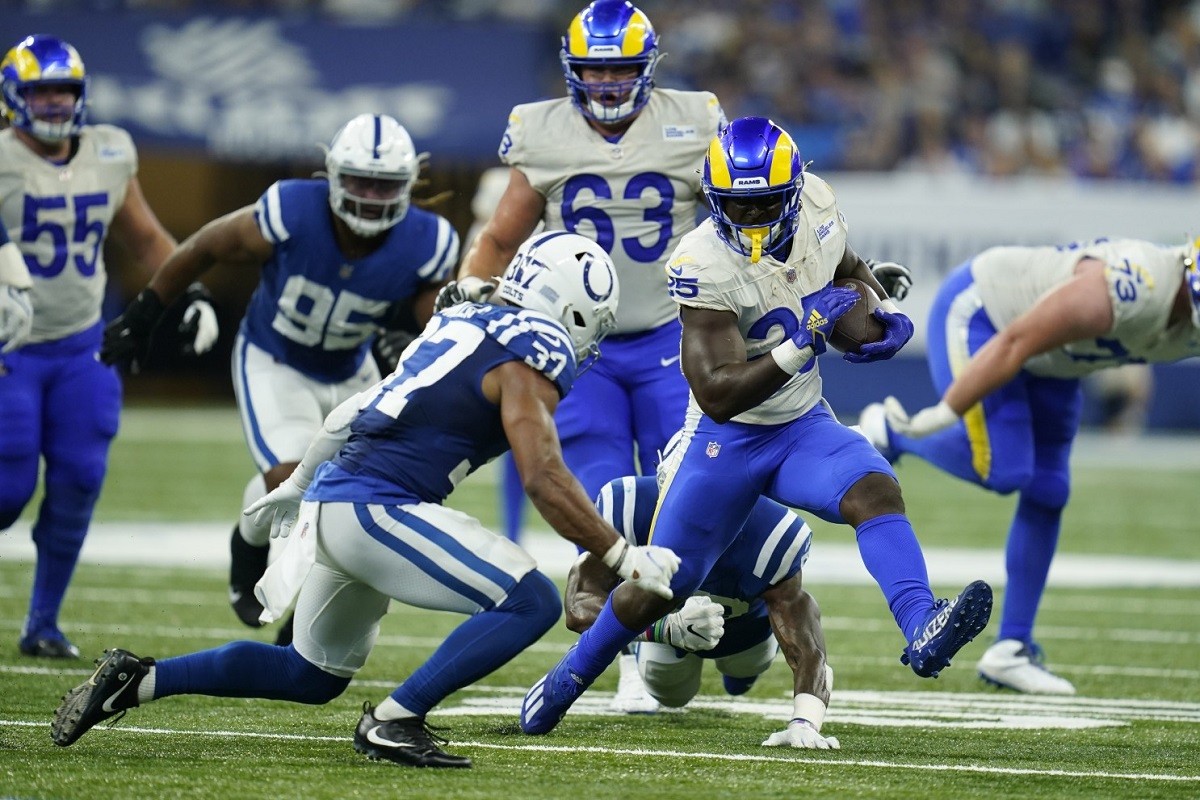 Chicago Bears quarterback Andy Dalton went down with a knee injury against the Cincinnati Bengals. Rookie Justin Fields sprang into action for the second half and led the Bears to a 20-17 victory. Dalton underwent an MRI on Monday, which did not reveal any major damage. He was diagnosed with a bone bruise, but if he's ready to play on Sunday against the Cleveland Browns, then Dalton will retain the starting job.
WEEK 3 WAIVER WIRE PICKUPS
Kerryon Johnson (RB, San Francisco 49ers)
Cordarrelle Patterson (RB, Atlanta Falcons)
Sony Michel (RB, Los Angeles Rams)
Demetric Felton (RB/WR, Cleveland Browns)
---
Tyrod Taylor from the Houston Texans exited Week 2's game with a hamstring injury, but do you really want to take a flier on backup QB Davis Mills? The Texans have a short turn-around time with a Thursday Night Football matchup against the Carolina Panthers. Taylor is expected to miss a couple of weeks, so Mills will start in Week 3.
San Francisco ER: Kerryon to the Rescue?
In Week 1, the San Francisco 49ers lost starting running back Raheem Mostert to a knee injury. Although there was no serious structure damage, he was slated to miss a couple of months after getting his knee scoped. However, the 49ers abruptly changed their prognosis and Mostert will have season-ending knee surgery.
We hyped up rookie Elijah Mitchell in last week's waiver wire pickups. Mitchell suffered a shoulder injury in Week 2, but managed to post 42 rushing yards and two receptions for 11 yards. Rookie Trey Sermon lasted one play, an eight-yard scamper, before he exited the game with a concussion. Sermon is currently in a health protocol. JaMycal Hasty added 59 combined yards from scrimmage but was a valuable safety value for Jimmy G with four receptions for 21 yards. The only other option for the 49ers is Trenton Cannon, which is why they signed Kerryon Johnson.
In Week 3, the 49ers host the Green Bay Packers on Sunday Night Football. If you're desperate or in a 12-14 team league, you can take a flier on Johnson. If you want to cockblock any opponents, you could snatch up Johnson as well.
Sony Michel: The Closer
In SoCal, the Los Angeles Rams are also having problems keeping their running backs healthy. Darrell Henderson was supposed to be the backup this season, but that was before Cam Akers injured his knee in preseason. The Rams acquired Sony Michel in a trade, but had yet to become fully integrated into Sean McVay's playbook. Michel played the entire fourth quarter after Henderson went down with a rib injury.
Michel demonstrated his upside when he rushed for 36 yards during the game-winning drive in the final quarter to edge out the Colts 27-24.
"That was good for me, that was good for our players to see," said McVay. "He did a nice job closing it out."
Henderson is questionable, but will most likely sit out against Tampa Bay in Week 3, which is why you should add Michel to your waiver wire pickups.
Hybrids: Patterson and Felton
With so many pass-happy teams out there, versatile running backs like Cordarrelle Patterson and Demetric Felton add value, especially when their teams lose the war of attrition. Felton, a second-year running back out of UCLA, saw himself an important part of the Cleveland Browns passing game in Week 2.
With the Browns stacked at running back with Nick Chubb and Kareem Hunt, Felton was not going to crack the lineup. However, once the Browns lost Jarvis Landry to a knee injury, Felton became an important part of the Browns air attack. He only caught two passes from Baker Mayfield, but Felton led the Browns with 51 receiving yards plus a touchdown. Odell Beckham missed the first two games of the season because he's not fully recovered from ACL surgery. OBJ's  status for Week 3 is unknown, but with Landry on the IL, you can expect Felton to contribute to the passing game even though he's listed as a running back on most fantasy football platforms.
The Falcons have Mike Davis as their primary running back, but Patterson is a valuable hybrid back heading into their Week 3 matchup against the New York Giants. Patterson scored a pair of touchdowns in Week 2's blowout against the Bucs. Patterson rushed seven times for only 11 yards, but he found the end zone with their lone rushing score. He also added five receptions for 58 yards and a touchdown.
Demetric Felton spin move shook three defenders 😨

(via @NFL)pic.twitter.com/zH0SMt5ayL

— Bleacher Report (@BleacherReport) September 19, 2021