The Golden State Warriors held off the Houston Rockets to win Game 1 of their Western Conference semifinal series 104-100. But the game – and perhaps the entire series – appears destined to be remembered more about arguments over officiating than the play of either team.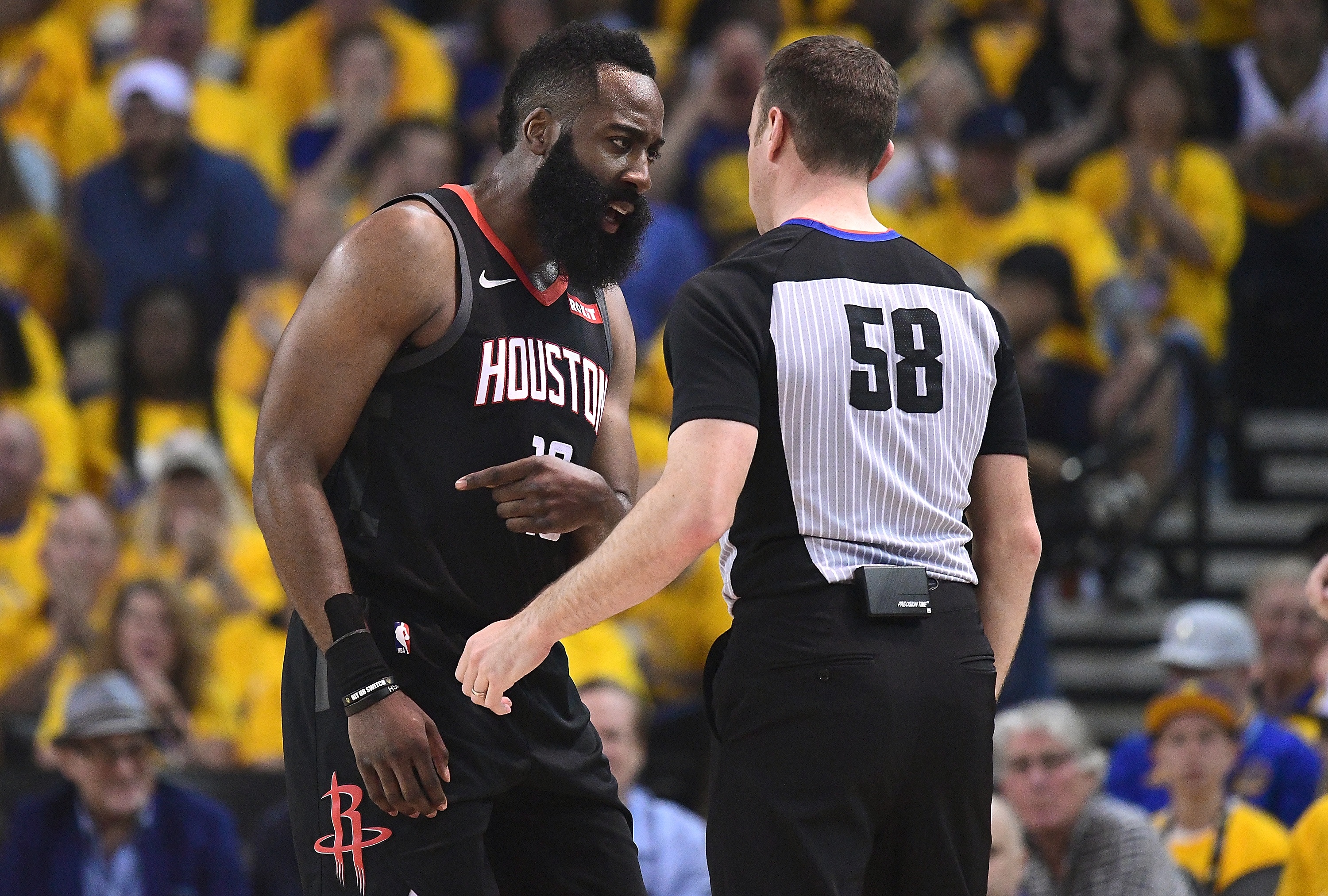 James Harden and Kevin Durant each scored 35 points to lead their respective teams in a game that came down to the final seconds before Golden State was able to put Houston away.
Rockets Say Refs Missing Shooting Fouls
But after the game, the Rockets only wanted to talk about one thing: their perception that the refs failed to call fouls on Warriors defenders on several 3-point attempts during the game. That included an attempted three-pointer by Harden with just under 10 seconds left in the game, when Draymond Green made contact with the Rockets star as he was landing.
"Call the game how it's supposed to be called, and that's it," Harden told reporters after the game. "And I'll live with the results. But especially we all know what happened a few years back with Kawhi. That can change the entire series."
It's an argument that may well define the series, and the way the refs respond to the conversation could play a key role in determining the winner.
The Rockets – and Harden in particular – are known for jumping into defenders on their 3-pointers in an attempt to draw fouls. The move is designed to take advantage of a rule that stops defenders from standing where shooters will land after going up for a shot, a rule associated with the incident Harden was referencing, in which Zaza Pachulia undercut Kawhi Leonard in the 2017 playoffs.
Tight Defense vs. Attempts to Draw Contact
The situation becomes difficult for referees when players intentionally try to make contact with defenders who are playing shooters tight, as the Warriors are planning to do in this series. Sometimes, it appears that Houston is getting calls while Golden State defenders are simply standing their ground. Other times, the refs appear to be missing instances where Warriors players are making contact with Rockets shooters.
According to Houston coach Mike D'Antoni, even the referees themselves told him at halftime that they had missed some calls.
"They missed four of them. That's 12 foul shots," D'Antoni told reporters after the game. "They're trying to do the best that they can do."
Meanwhile, Warriors defenders appeared to be just as frustrated as their Houston counterparts, with some wondering how they're supposed to defend against the tactics being used by Rockets shooters.
"When you land three feet ahead of where you shoot the ball from, that really ain't my issue," Green said after the game. "I've been fouled by James on a James 3-pointer before."
After the critical no-call late in the fourth quarter, Harden missed his shot, but Chris Paul grabbed the rebound. After a scramble, Paul picked up a technical after yelling at referee Josh Tiven, getting ejected from the game as a result.
The series continues Tuesday night in Oakland, with the Warriors installed as 5.5-point favorites by FanDuel Sportsbook. Golden State is also a -440 favorite to win the series over Houston (+320).