UFC fights in 2018 were more about who was not competing than who was actually getting into the ring. Whether it was due to injury or suspension, a recurring storyline throughout the year was about finding the right people available to fight in an effort to create the next MMA superstars.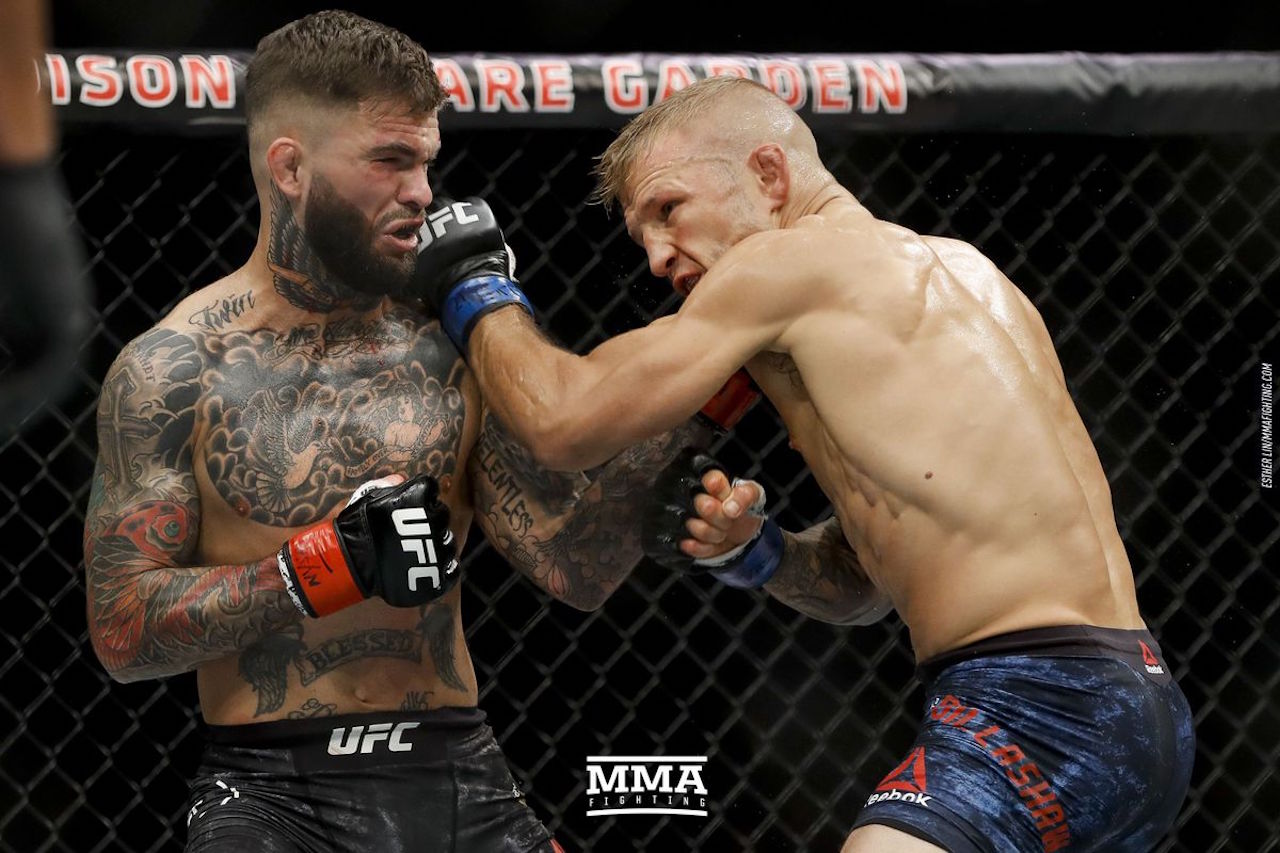 George St. Pierre, for example, had to step away from the sport to battle ulcerative colitis. So much for the Greatest MMA fighter of All Time. But after fighting a chronic, inflammatory bowel disease that causes inflammation in the digestive tract, St. Pierre's next fight was with UFC President Dana White — in the office, not the octagon, as St. Pierre tried to convince his boss to let him face Khabib Nurmagomedov.
But White insisted that his comeback kid first win a qualifying bout before a fighting Nurmagomedov.
At UFC 223, four bouts were either cancelled or altered because of reasons ranging from Max Holloway not making weight to injuries suffered by Michael Chiesa and Ray Borg when Conor McGregor and his posse attacked a bus they were in.
Undefeated bantamweight Sean O'Malley was a main event at UFC 229, but was banned from competing after a failed drug test found a banned substance in his system.
There were some marquee bouts throughout the year, however. Below are some of the top ones of 2018.
UFC 227: TJ Dillashaw vs. Cody Garbrandt
This was the anticipated rematch between the two heated rivals. The first fight ended in a TKO for Dillashaw. Garbrandt vowed this bout would be different, and early in the first round it appeared he was correct. Garbrandt tagged the 32-year-old two-time champion, staggering him, before he regained his form and started counterpunching.
"He caught me good but nothing to where I wasn't there," Dillashaw said. "I expected him to want to counter my kicks so I wanted to wait. I know he likes to lead with that right hand so I tried to time it and hit him with one of my own."
Dillashaw then turned the momentum quickly, punishing Garbrandt with a flurry of punches that ultimately forced the ring judge to stop the bout, awarding Dillashaw with his second TKO victory.
"I am the best bantamweight of all time," Dillashaw said. "That's it, the best bantamweight of all-time, right here."
UFC 230: Daniel Cormier vs. Derrick Lewis
Heavyweight champion Daniel Cormier didn't have to work to hard to retain his belt against challenger Derrick Lewis. Cormier dominated the fight at Madison Square Garden from the beginning. It ended with a submission hold by Cormier in the second round.
Oddsmakers didn't give Lewis much a chance before the fight. They had Cormier -700 to retain his belt, while Lewis was at +450.
Cormier did compliment his opponent afterward.
"If you have a puncher's chance, that's not enough," Cormier said. "You have to be one of the best in the world to even compete. And Derrick is good, but just not that level yet."
UFC 229: Conor McGregor vs. Khabib Nurmagomedov
This fight between Conor McGregor and Khabib Nurmagomedov could have been the most anticipated one of the year, but the hype wasn't as good as the actual contest, and the brawl after the bout might have provided more action.
Nurmagomedov submitted a rear naked choke hold on McGregor in the fourth round to keep his lightweight belt. After the decision the chaos broke out in the Octagon as Nurmagomedov went out into the crowd to fight someone, and two of his supporters jumped in to try and attack McGregor.
Both fighters were suspended by the UFC. McGregor wrote on his Instagram account that he didn't have the correct game plan for Nurmagomedov.
"I gave his upright fighting no respect in preparation," McGregor wrote. "That won't happen again. I also gave my attacking grappling no respect. Too defense minded. Lessons. Listen to nobody but yourself on your skill set."