Valentina Shevchenko will get the chance to avenge one of only three losses in her MMA career on Saturday, as the women's flyweight champion defends her title against Liz Carmouche at UFC Fight Night 156 in Uruguay.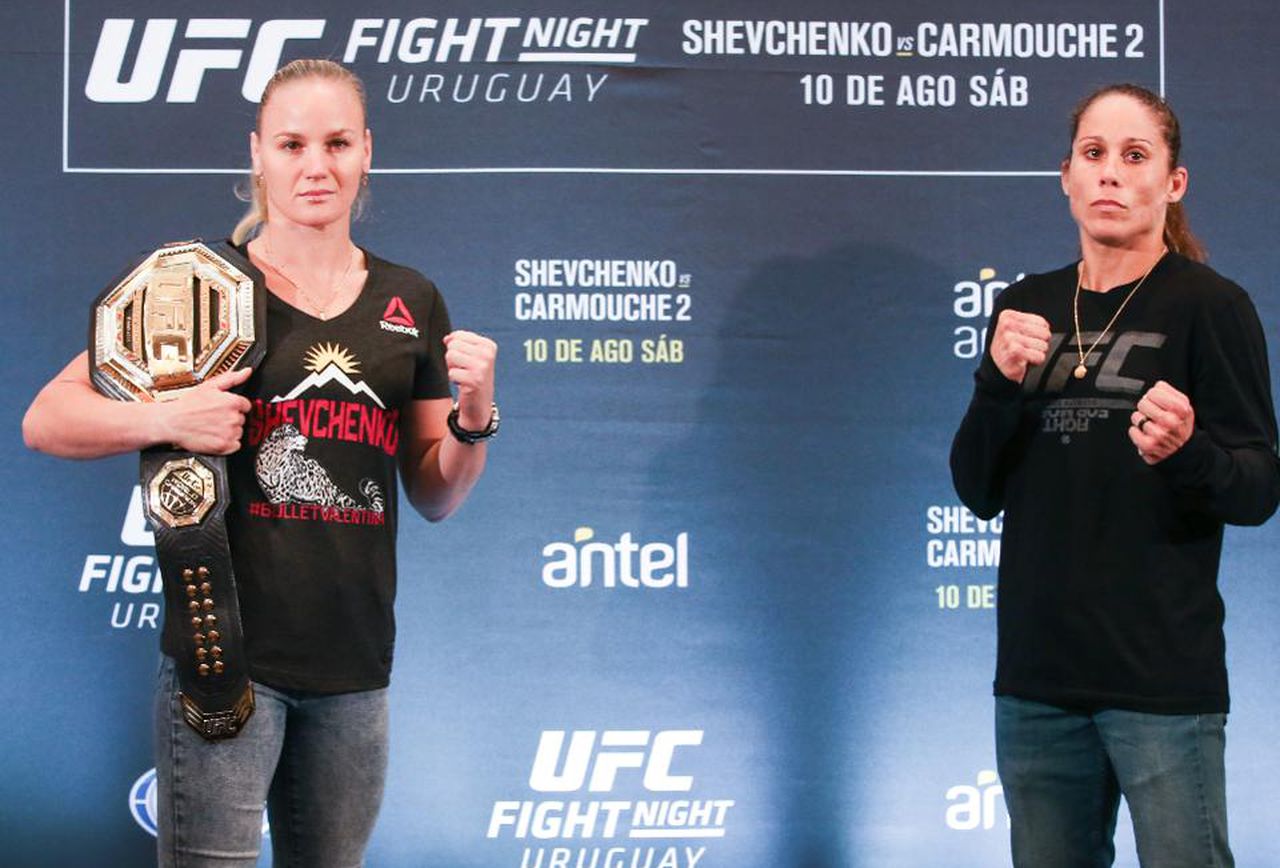 Shevchenko and Carmouche last fought in 2010, well before either of them were fighting at the UFC level.
Carmouche Thinks Shevchenko Can Be Beat Again
Both were undefeated at the time, with Shevchenko (17-3) entering the fight as a hot prospect and the heavy favorite. But it was Carmouche (13-6) who walked away with the win that night in Oklahoma, after Shevchenko was forced to retire in the second round due to a bad cut over her eye.
Since then, both women have made it into the elite of women's MMA. But while Carmouche has had a solid career, it is Shevchenko who is the champion. And since that night nine years ago, only Amanda Nunes has managed to hand Shevchenko a loss, twice beating her by decision.
But while Shevchenko may be the heavy favorite, Carmouche is convinced that lightning could strike twice. Talking to MMA Fighting, the challenger said that while Shevchenko may be 3-0 at flyweight, her only impressive result was her title defense against Jessica Eye earlier in 2019.
"[The win over Eye] went exactly how I expected," Carmouche said. "Actually, I thought it would happen in the first round instead of the second. So you can really go off of one fight and to me that doesn't really show someone that's unstoppable or has this mystique around them that they should be someone to be feared."
But while Carmouche may be coming into the fight confident, few believe she has what it takes to beat Shevchenko again. At FanDuel Sportsbook, Shevchenko is a -950 favorite over Carmouche (+600), and there are a number of reasons to believe she'll find a way to win this time around.
---
UFC Fight Night 156 Odds (Via FanDuel)
Valentina Shevchenko (-950) vs. Liz Carmouche (+600)
Vicente Luque (-230) vs. Mike Perry (+184)
Luiz Eduardo Garagorri (-122) vs. Humberto Bandenay (+100)
Volkan Oezdemir (-162) vs. Ilir Latifi (+132)
Rodolfo Vieira (-235) vs. Oskar Piechota (+188)
Enrique Barzola (-138) vs. Bobby Moffett (+114)
---
While Shevchenko doesn't often produce thrilling finishes – the head kick KO against Eye in June being an obvious exception – she has proven to be a difficult problem for opponents to solve. At flyweight, she has simply overpowered her opponents, and while Carmouche may be one of the few women who can match her strength, the champion figures to have the better of the striking thanks to her strong kickboxing game.
Unfortunately, there's every chance that this could be a slow fight without much action, especially if both women decide they're okay with taking their chances in grappling contests. Most likely, Shevchenko will get enough offense in to win a safe decision, though she will have to be wary not to be so conservative that the judges have a tough time scoring rounds.
Luque, Perry Clash in Exciting Co-Main Event
The co-main event features welterweights Vincente Luque (16-6-1) and Mike Perry (13-4), both of whom have appeared to be on the verge of contention despite not yet earning a spot in the UFC rankings.
If nothing else, this fight should provide plenty of action. Perry is constantly on the attack, and Luque is also an aggressive fighter, if a bit more well-rounded. But heading into UFC Fight Night 156, Perry has suggested that fans might see something a bit different from him.
"I've grown up and matured, and there are smarter ways to go in there," Perry told UFC News. "I try to look toward the future and think about being a beat-up meathead, and how I don't want to be that. I want to be logical and think and be able to use my brain and function."
A new approach from Perry could throw a wrinkle into a fight in which bookmakers see him as the underdog. Luque (-230) likely has the advantage due to having more ways to win the fight, but Perry (+184) is certainly a live dog, as he is more than capable of finding a finish against an opponent who has been prone to taking big shots even in some of his wins.