Two of the top bantamweight fighters in the world will make their case for a title shot on Saturday night at UFC Fight Night 144 in Fortaleza, Brazil.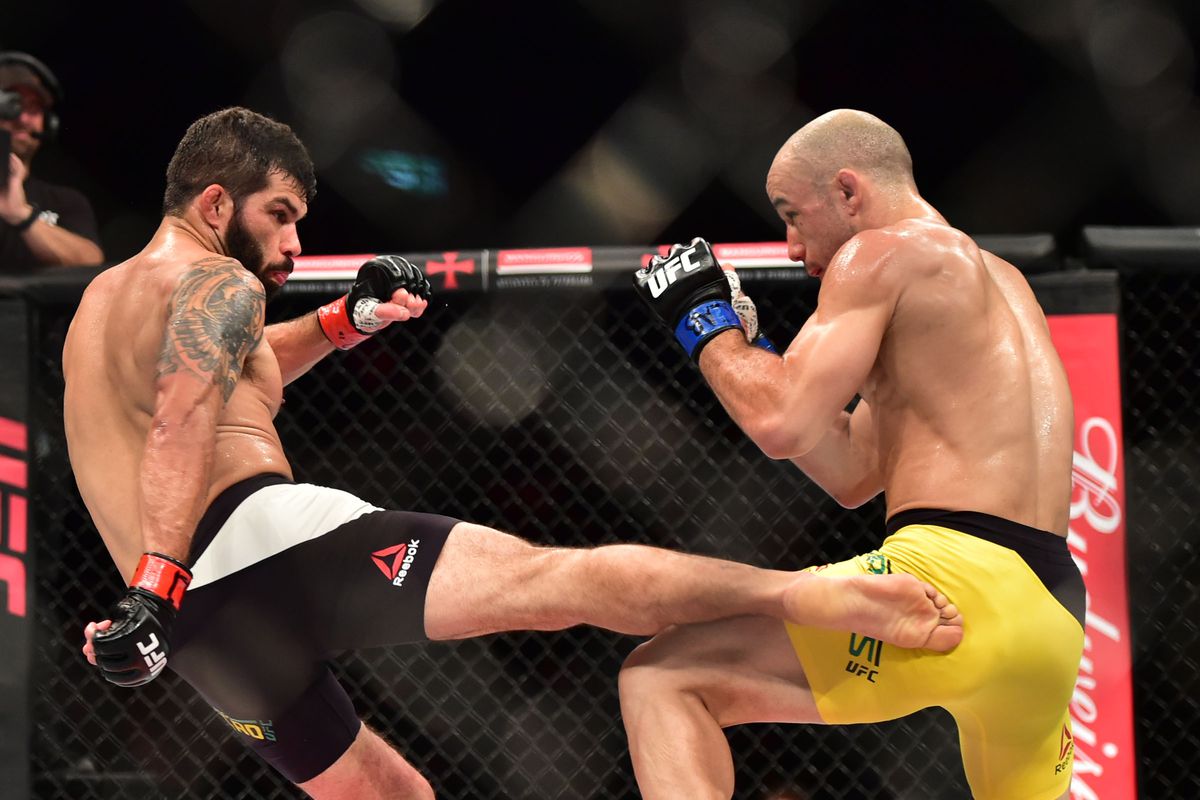 The main event features No. 3 bantamweight contender Raphael Assuncao (27-5) fighting No. 4 ranked Marlon Moraes (21-5-1) in a rematch of their closely contested bout at UFC 212 in 2017.
Winner May Get Title Fight, Eventually
That fight ended with Assuncao claiming a split decision win, Moraes' only loss in his last 17 fights. Meanwhile, Assuncao has won 11 of his past 12 contests.
That history has given this fight the feel of a qualifier, with the winner set to take on UFC bantamweight champion TJ Dillashaw. But after Dillashaw (16-4) lost in an attempt to win the flyweight title against Henry Cejudo in January, those plans could be put on hold, as Dillashaw has expressed a willingness to fight a rematch with Cejudo – either at 125 or 135 pounds.
That hasn't dissuaded the two Brazilians who are set to clash in front of their own fans, however.
"I don't care if I'm going to fight TJ next or not," Moraes told ESPN. "I can beat all these guys. One day, he will have to fight me. I'm here to work and I'll fight anyone after this."
Saturday's rematch could come down to who can impose their style on the other in a five-round fight. The 30-year-old Moraes is a dangerous finisher with great speed who can end a fight in seconds, while Assuncao tends to take a more defensive approach, luring opponents in and then relying on counterstriking to win.
Assuncao was able to impose his will on the first fight between the two, but he is also the older fighter at 36. That may be why Moraes has been installed as a slight favorite. Bodog is listing Moraes at -165, while Assuncao is a +135 underdog.
Aldo Planning to Retire in 2019
The co-main event also features two top contenders, with No. 2 featherweight Jose Aldo (27-4) taking on No. 5 contender Renato Moicano (13-1-1). The 32-year-old Aldo has said that he plans to retire later this year after completing his current UFC contract, which has three more fights on it.
"I'm at a point where I have to make a decision, and nothing is going to change my mind," Aldo told ESPN via a translator. "Martial arts is always going to be a part of my life, but everything has a beginning, a middle and an end. And I see this coming to an end."
While Aldo's career may be coming to an end, Carneiro is a rising star in the UFC. Since suffering his only career loss to Brian Ortega in July 2017, Carneiro has come back with wins over Calvin Kattar and Cub Swanson, and a win over the legendary Aldo could easily earn him a title shot against Max Holloway.
While Carneiro is undoubtedly faster and more athletic than Aldo at this point, it's far from certain that will be enough for him to take down the veteran. Bookmakers are expecting a close fight, with Moicano (-150) getting the slight edge over Aldo (+120).
UFC Fight Night 144 is the second UFC card that will appear on the ESPN+ streaming service. Other notable fights including a welterweight bout between Demian Maia (-190) and Lyman Good (+155), as well as a competitive lightweight contest between Charles Oliveira (-120) and David Teymur (-110).