UFC 254 features an extended six-fight main card live from Fight Island in Abu Dhabi. The action begins at a special earlier time: 2 pm Eastern in the United States, with the preliminary bouts starting at 11 am. The card culminates with the main event, a lightweight title fight between Khabib Nurmagomedov and Justin Gaethje.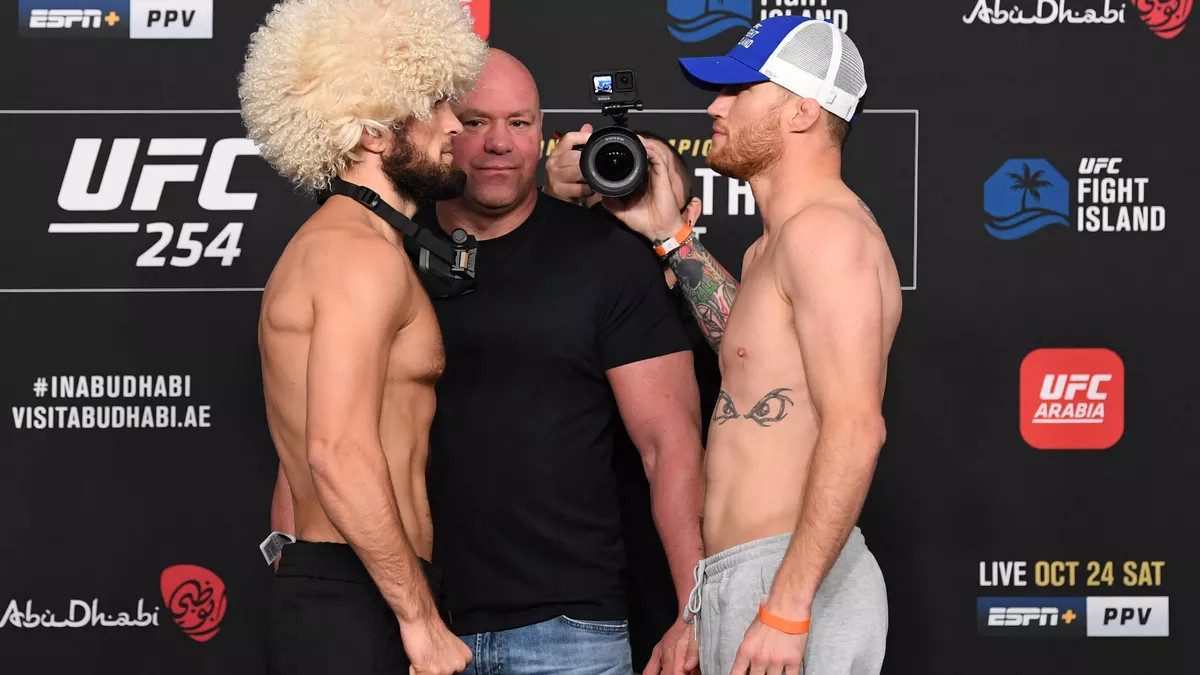 If you can't watch the pay-per-view yourself, I'll have live updates and unofficial scoring after every round of the main card. Refresh this page to see the latest action from UFC 254!
Khabib Nurmagomedov (28-0) vs. Justin Gaethje (22-2)
Round 1: A deliberate start to Round 1. Gaethje throws the first strike — an attempted leg kick — nearly 25 seconds into the fight. Gaethje lands a leg kick a little over a minute in to start the real action, with Nurmagomedov landing back with a few jabs over the next minute. A pace quickens two minutes in, as Nurmagomedov starts throwing his hands more and closing the distance. A Nurmagomedov takedown attempt fails to bear fruit. Nurmagomedov dictating the action and pressuring Gaethje. Nurmagomedov misses on a flying knee attempt. Not doing damage, but he is landing far more than Gaethje, mostly with jabs to the head. Gaethje lands a left-right combo with about a minute left, his best strikes of the round. Nurmagomedov shoots in to score a takedown in the final minute and slips into mount to end the round. Unofficial Score: 10-9 Nurmagomedov
Round 2: Gaethje's corner is looking for more leg kicks, as they believe Nurmagomedov is already starting to feel the effects. Indeed, a minute in Nurmagomedov reacts poorly to a solid kick by Gaethje. Gaethje lands another leg kick that looks like it hurt the lead leg, but Nurmagomedov grabs Gaethje while going to the ground and manages to get another takedown. Nurmagomedov seemingly choosing positions at will, takes Gaethje's back, and lands a triangle choke! Gaethje taps several times, but the ref doesn't notice until Gaethje goes to sleep. Nurmagomedov remains undefeated with an impressive performance against one of his most dangerous challengers.
BREAKING: Khabib Nurmagomedov announced his retirement from the UFC after the win. Look for a full report tonight as details become available.
KHABIB BY SUBMISSION 😤#UFC254

— DraftKings (@DraftKings) October 24, 2020
Result: Nurmagomedov wins by Technical Submission (Triangle Choke) at 1:34 of Round 2
Jared Cannonier (13-4) vs. Robert Whittaker (21-5)
Round 1: Cannonier comes out of the gate with a hard leg kick. Both fighters exchange awkward slips inside the first minute, but nobody's hurt. Cannonier throwing regularly to the legs, which seems like it'll be adding up soon. Whittaker lands a stiff jab to the face, and is throwing some kick/punch combos that Cannonier is struggling to defend. Tough round to call heading into the final minute; both men are throwing somewhat cautiously, waiting for moments to land without taking any crazy risks. Close first round, I'll give it to Cannonier due to the effective leg kicks. Unofficial Score: 10-9 Cannonier
Round 2: Whittaker opens the round landing a jab and then a couple rights, backing up Cannonier. Whittaker landing much more in Round 2, but Cannonier still doing damage to Whittaker's left leg — though Whittaker still looks to be fully mobile at the moment. Whittaker having tons of success with his jab; definitely his round at the halfway point. The punches are starting to show on Cannonier's face, especailly around his right eye. Barring a huge final minute, this is Whittaker's round. The question: will Cannonier's leg work pay off in Round 3? Whittaker looks for a takedown, but Cannonier quickly escapes along the cage. Cannonier keeps landing to the leg, and now starts to mix in some punches — but Whittaker has still had the better of the boxing. Whittaker gets one last combo in during the final seconds of a round he clearly won. I may have this 1-1, but I suspect a lot of people have it 2-0 Whittaker. Unofficial Score: 10-9 Whittaker (19-19)
Round 3: Whittaker still the aggressor to start Round 3, landing jabs every time Cannonier gets close. Whittaker hurts Cannoner with a combination of a straight left followed by a right kick, a combo he's been trying to land cleanly all fight. Whittaker follows up and gets control on the ground, with Cannonier pulling half guard against the cage. Whittaker moves to mount with three minutes to go. Cannonier gives up his back, and while he's defending against a submission, he is bleeding badly. Cannonier managed to get the fight standing in a clinch and has Whittaker up against the cage, and does manage to land at least one nice knee before Whittaker escapes. Cannonier is way behind, but still isn't pressing the action in the last couple minutes. Meanwhile, the Whittaker jab is still landing. Cannonier lands a straight right that hurts Whittaker with under a minute left. Whittaker comes in for a takedown and manages to get a clinch up against the cage to run out the clock. A good finish by Cannonier, but doesn't feel like nearly enough to win the round. At least it should mean there's no chance for a 10-8 round for Whittaker. Unofficial Score: 10-9 Whittaker (29-28 Whittaker)
Result: Whittaker Wins by Unanimous Decision (29-28, 29-28, 29-28)
UFC 254 Earlier Results
Alexander Volkov (31-8) vs. Walt Harris (13-8)
Round 1: Harris comes out throwing hands and feet, looking faster and more active. Volkov starts landing a minute in, landing a straight right and a jab that send Harris backward, though he doesn't seem hurt by the shots. At the midpoint of the round, Harris lands a nice right hand to the head during an exchange. Lots of missing and glancing blows, hard to say if either man is landing cleanly. Volkov finding some success with leg kicks. Volkov appears to have Octagon control, for what that's worth, and perhaps is landing a bit more than Harris. Volkov lands a big right with just under a minute left, hurting Harris! Volkov follows up, but Harris survives and throws a few haymakers to stabilize his position.  That flurry still feels like it won the round for Volkov. Unofficial Score: 10-9 Volkov
Round 2: Harris has definitely improved his cardio, but does look a bit more tired than Volkov heading into the second round. Harris shoots in for a takedown, but doesn't find success. Volkov lands a straight right kick to the stomach – and Harris crumbles! Volkov piles on with punches as Harris goes to the fence, and the referee waves this one off. Some discussion that the kick might have been a low blow, but nope: a clean shot that Harris just couldn't handle.
Result: Volkov wins by TKO at 1:15 of Round 2
Phil Hawes (8-2) vs. Jacob Malkoun (4-0)
Round 1: Hawes and Malkoun come out moving at a frantic pace. Hawes lands a right against the fence. Malkoun tries to recover, but Hawes lands two more punches to drop him again. One undefended punch with Malkoun down on the mat, and the referee stops the fight! That literally took seconds.
👊 WENT TO WORK 👊

An incredible debut for @PhillipHawes5!

[ #UFC254 on ESPN+ PPV: https://t.co/QRo69oxI0h ] pic.twitter.com/WotQqCABnO

— UFC (@ufc) October 24, 2020
Result: Hawes wins by KO at 0:18 of Round 1
Lauren Murphy (13-4) vs. Liliya Shakirova (8-1)
Round 1: Murphy controling the Octagon early, while Shakirova looks to land hard shots when she finds her spots. Shakirova goes for a takedown and gets a single leg, though Murphy has little trouble keeping the fight standing. Murphy landing solid scoring combinations, even if she's not yet doing any damage. Shakirova throwing enough kicks to keep Murphy honest. With a minute left in the round, Shakirova again gets a single leg, but Murphy proves too strong to take down, landing some sharp elbows in the clinch. Unofficial Score: 10-9 Murphy
Round 2: Murphy starts the second round more aggressive and looking like the fresher of the two. Shakirova still throwing big kicks, but unable to land anything significant. A minute in, Murphy landing combinations of punches with Shakirova up against the cage. Midway point of the round, Murphy uses her size advantage to score a takedown, though Shakirova pulls guard. Murphy declines to stand up, instead taking Shakirova's back. She immediately lands a rear naked choke. Shakirova can't find a way to defend, and taps out!
Make it 4️⃣ in a row!

🍀 @LaurenMurphyMMA stating her case at the top of the division!

[ #UFC254 continues on ESPN+ PPV: https://t.co/QRo69oxI0h ] pic.twitter.com/sQaMvT75C8

— UFC (@ufc) October 24, 2020
Result: Murphy wins by Submission (Rear Naked Choke) at 3:31 of Round 2
Magomed Ankalaev (13-1) vs. Ion Cutelaba (15-5)
Round 1: A much more measured start than in the last fight between these two men, as both spent the first minute trying to find the range rather than throwing. Ankalaev got the first meaningful strike in with a front kick about a minute into the round, but didn't appear to do any real damage. Cutelaba landed flush to the head with a counter at 3:30, and now both men are exchanging. Still a much slower pace than most expected. Ankalaev scores a knockdown with a straight left with about a minute left in the round, though Cutelaba got back up. Ankalaev lands a vicious left, jumps on top of Cutelaba to move to ground-and-pound, and the ref jumps in to stop the fight! No controversy on this stoppage: Ankalaev won clean.
Result: Ankalaev wins by KO at 4:19 of Round 1