In a rare occurrence for its pay-per-view events, there won't be a world championship on the line at UFC 244 in Madison Square Garden this Saturday. Even so, there will still be some hardware up for grabs when Jorge Masvidal and Nate Diaz meet up in the main event.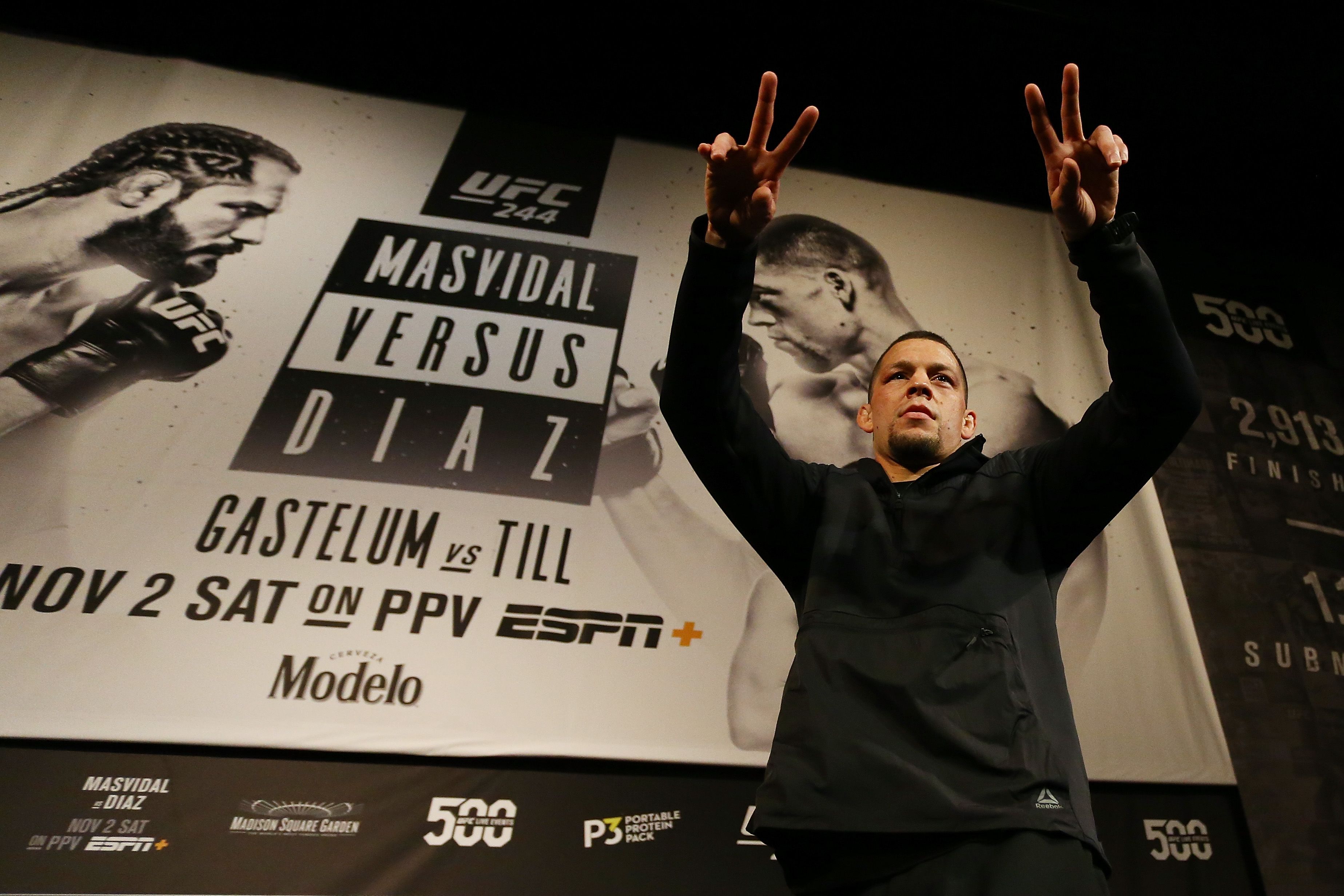 Masvidal and Diaz will compete for the "BMF" belt, a UFC creation that should add yet another fun wrinkle to a highly entertaining bout.
Diaz Cleared After Drug Test Result
The fact that the fight will actually be happening is a relief for fans, as it appeared for a few days last week that the bout wouldn't happen at all. Diaz announced that he tested positive for a banned substance, and that he expected he would be prohibited from fighting.
The United States Anti-Doping Association later clarified that while Diaz did test positive for elevated levels of an unapproved substance, the amount he tested for was very small, and they had confirmed that it had come from a contaminated supplement. Those factors meant that Diaz had not actually committed a violation, and allowed the UFC, USADA, and authorities in New York to clear him to fight on Saturday.
---
UFC 244 Odds
Jorge Masvidal (-170) vs. Nate Diaz (+138)
Kelvin Gastelum (-230) vs. Darren Till (+184)
Stephen Thompson (-110) vs. Vicente Luque (-110)
Derrick Lewis (-104) vs. Blagoy Ivanov (-118)
Kevin Lee (+130) vs. Gregor Gillespie (-160)
Odds via FanDuel Sportsbook
---
The battle between Masvidal (34-13), currently the No. 3 contender in the UFC's welterweight division, and Nate Diaz (20-11), the No. 7 contender, and one of the promotion's biggest draws promises to be an action-filled affair. Both men have a long history of performing well in big fights, coupled with backgrounds in street fights that have given them reputations as two of the toughest MMA fighters in the world – or the baddest motherf—ers, if you will.
"Jorge Masvidal is someone else who has put in the work and time at a high level like I have," Diaz said via UFC.com. "I've been fighting top-10 fighters since I was 21. I'm 34 now. And I've seen him do the same thing in his career."
Win Puts Masvidal in Title Contention
Diaz is at the point where he is picking fights selectively, rather than pursuing a particular path toward another title shot or some other goal. Masvidal, on the other hand, is very close to earning a shot at the welterweight championship, and he believes a knockout victory on Saturday would be the best way to get there.
"He's literally, the best way to describe him is, he's a fighting dog," Masvidal told Yahoo. "And fighting dogs, the only way to take care of them is to put them down."
At age 34, both men are late in their careers, but still at a point where they can deliver incredible fights. Masvidal may have the advantage, however, as he has been more active in the past few years, while Diaz looked less aggressive in his return fight against Anthony Pettis in August after a three-year layoff.
There's no telling how Diaz will approach this fight though, and that makes this one a tough bout to call. Masvidal's form – including his five-second KO of Ben Askren in July – likely gives him the edge, and FanDuel Sportsbook has "Gamebred" as a -170 favorite over Diaz (+138).
Also at UFC 244, Kelvin Gastelum (-230) takes on Darren Till (+184) in a battle of top-10 middleweights, while welterweight contenders Stephen Thompson (-110) and Vicente Luque (-110) will clash in an evenly matched encounter.