UFC middleweight champion Robert Whittaker will fight in front of a supportive Australian crowd when he takes on interim champion Israel Adesanya at Marvel Stadium in Melbourne on Sunday.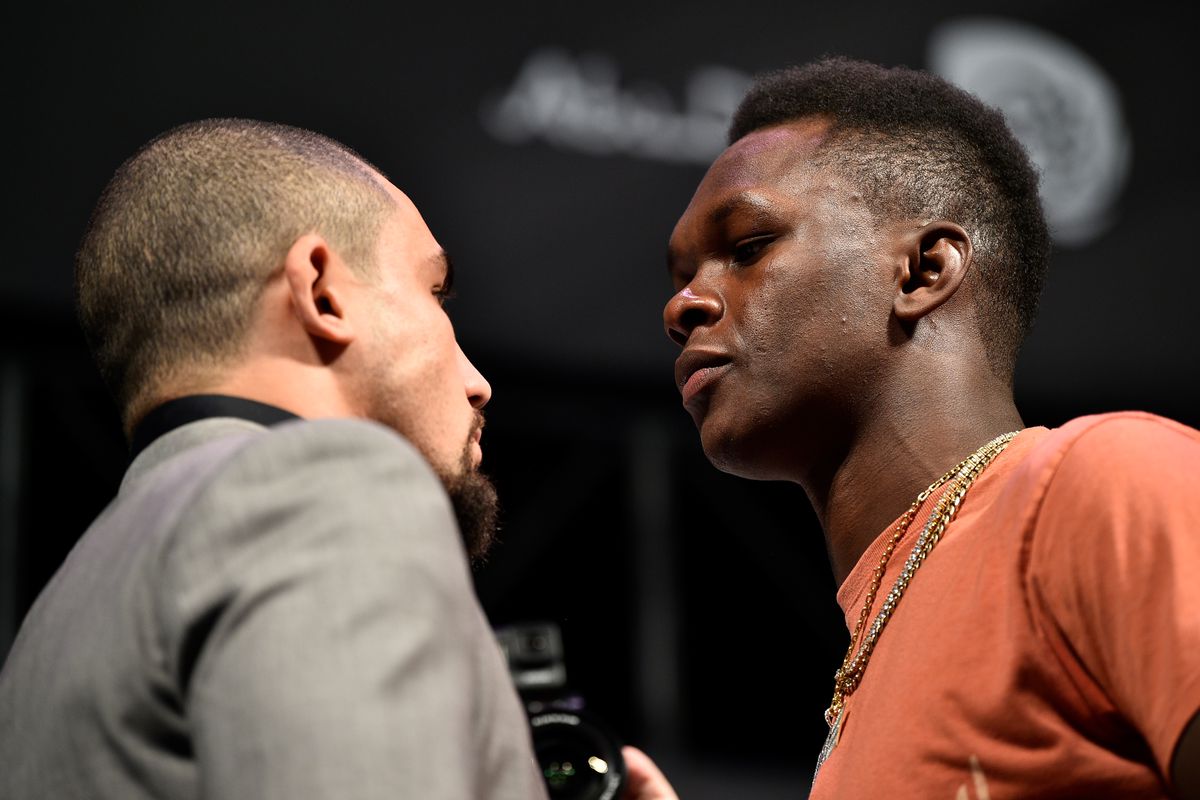 Whittaker is fighting for the first time since June 2018, when he defeated Yoel Romero by split decision.
Injury Makes Whittaker Inactive Champion
Technically, that fight at UFC 225 wasn't even a title bout, as Romero had failed to make weight. That means that this will be Whittaker's first true defense since beating Romero in their first bout back in 2017.
That wasn't originally the plan. The UFC had hoped to get Whittaker (20-4) to defend his title in Melbourne in February against Kelvin Gastelum, but the fight fell apart at the last minute when Whittaker suffered a severe hernia.
But despite being relatively inactive, there's no doubt that Whittaker is a worthy champion. Since moving to middleweight in 2014, he is a perfect 8-0, continuing to find ways to get past more and more imposing opponents. Now, he'll look to hold on to his title against a man who might be his toughest rival yet – though Whittaker says that's how he thinks about every one of his fights.
"He's my biggest threat to date, only because he's the next fight," Whittaker told reporters. "The next fight is always the biggest threat, but I'm going into this the best I've ever been."
The undefeated Adesanya (17-0) isn't so certain that Whittaker is actually at his best. The Nigerian, who now hails from New Zealand, comes from a kickboxing background and has so far been able to find ways to get past everyone the UFC has put up against him.
Undefeated Adesanya Seen as Worthy Challenger
That rise has happened extraordinarily rapidly as well. In contrast to Whittaker's relative inactivity, Adesanya has kept busy, fighting (and winning) six times since making his UFC debut in February 2018. He believes that activity makes him the bigger draw in Melbourne, even if he only holds the interim title.
"I've been the one pushing the culture forward for fighting down here with my team," Adesanya told MMA News. "And he, unfortunately, hasn't been because, unfortunately, he's been pulling out sick."
Not only is this fight going to be a blast for local fans, but it is expected to be an extremely competitive bout. FanDuel Sportsbook has Whittaker as a slight -122 favorite over Adesanya, but supporters of either fighters have elements of the fight they could point to in order to claim an edge.
---
UFC 243 Odds
Robert Whittaker (-122) vs. Israel Adesanya (+100)
Al Iaquinta (+138) vs. Dan Hooker (-170)
Tai Tuivasa (-440) vs. Sergey Spivak (+320)
Luke Jumeau (+122) vs. Dhiego Lima (-148)
Justin Tafa (-130) vs. Yorgan De Castro (+106)
Odds via FanDuel Sportsbook
---
Whittaker probably has a slight advantage in the striking battle, as he has a more well-rounded game that includes stronger defense than Adesanya has shown so far in the Octagon. On the other hand, Adesanya has continued to improve in what is still a relatively short MMA career, while Whittaker's inactivity and injuries give reason to think he might be slowing down a bit against the worst possible opponent.
Also on the UFC 243 card is a lightweight clash between ranked contenders Al Iaquinta (+138) and Dan Hooker (-170) that serves as the main event, as well as a heavyweight battle between prospects Tai Tuivasa (-440) and Sergey Spivak (+320).