The UFC announced on Wednesday that it would be postponing its UFC 233 pay-per-view event, thanks to a combination of factors including injuries and the decision to move one of the headlining fights to the first UFC card to appear on ESPN+.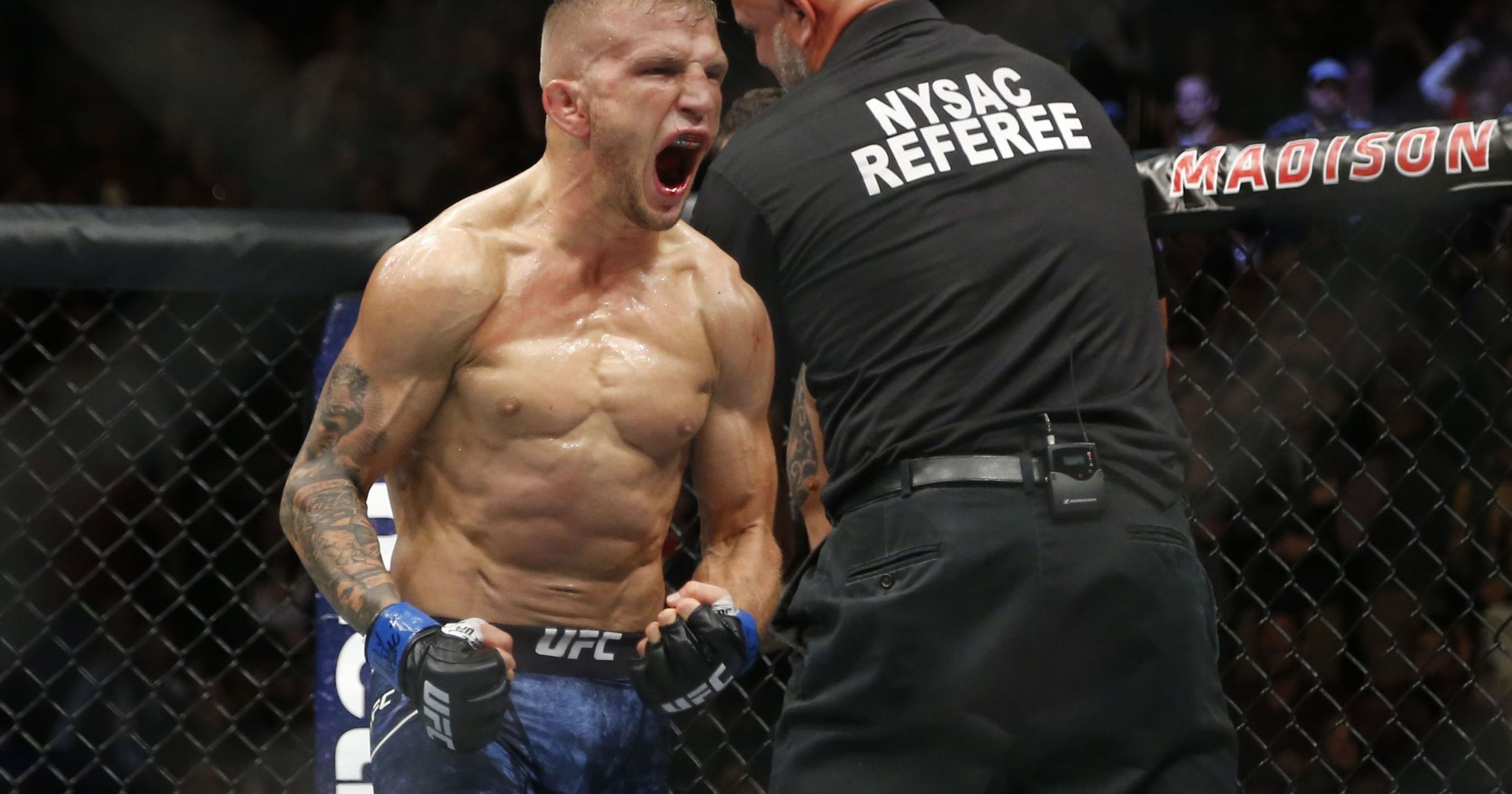 UFC 233 was originally scheduled for Jan. 26 in Anaheim. The event is still expected to be held at a later date, though it isn't clear yet whether it will still take place in Anaheim.
Lack of a Headliner Forces Postponement
The move was made after two potential headlining fights fell through. At one point, it was expected that the flyweight championship bout between Henry Cejudo (13-2) and TJ Dillashaw (16-3) would be the main event for UFC 233, but that was moved to the UFC Fight Night event on Jan. 19 to headline the first ever UFC card on ESPN+ instead.
Another potential main event would have seen welterweight champion Tyron Woodley (19-3) defend his belt against Colby Covington (14-1), but that had to be scrapped because Woodley hasn't yet recovered from a thumb injury suffered during a September bout.
That led the UFC to make the decision to postpone the entire card, the second time in two years that the promotion has cancelled a pay-per-view in Anaheim well after it had been scheduled.
All of the fights that were planned for the UFC 233 card will be rescheduled for other events. In addition, UFC 234 – scheduled to be held in Melbourne, Australia on Feb. 10 – will keep its name, despite the cancellation of a prior pay-per-view. The UFC says it still plans to hold a total of 12 pay-per-view events in 2019.
Most Fights Moving to ESPN Cards
The big beneficiary of the cancellation promises to be ESPN, which is building impressive cards for its first UFC events. Not only does it now have the Cejudo vs. Dillashaw fight for the ESPN+ debut, but several other fights that were originally scheduled for UFC 233 are now moving to UFC on ESPN 1, which is scheduled for Feb. 17. That includes a bout between lightweights Paul Felder (15-4) and James Vick (13-2), as well as the UFC debut of Kron Gracie (4-0), who will face off against Alex Caceres (14-11).
While there were plenty of reasons to cancel UFC 233, there were alternatives to postponing the event. One fighter who tried to step up and save the card was former Bellator welterweight champion Ben Askren (18-0), who was willing to fight Robbie Lawler (28-12) in the main event in Anaheim. Unfortunately for Askren, UFC officials came down against the idea.
"I was ready and willing to save the day for my new bosses," Askren told ESPN's Ariel Helwani. "Heck, I'm ready to fight tomorrow. If Robbie needs a little more time to get ready to lose to me, so be it."
Instead, the Askren vs. Lawler fight will be scheduled for UFC 235, taking place on March 2 in Las Vegas.