Amanda Nunes is looking to defend her UFC women's bantamweight championship for the third time on Saturday night, when she takes on Raquel Pennington in front of a home crowd in Brazil in the main event of UFC 224.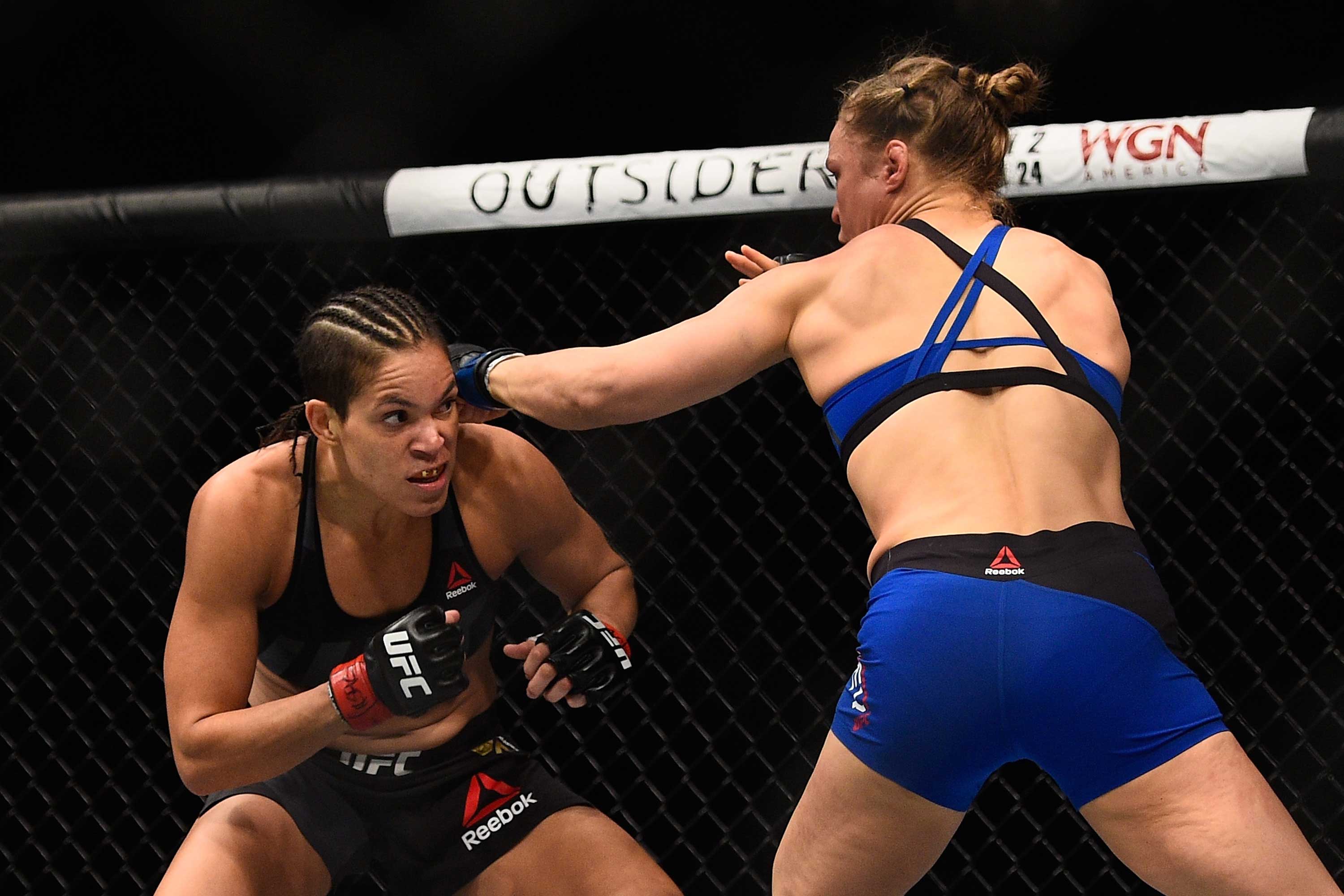 Nunes (15-4) may currently live in Florida, but she was born and raised in Salvador, Brazil. She has been waiting to face Pennington (9-6), as the two were originally scheduled to fight in December before a hunting accident caused Pennington to postpone the fight.
A Battle Between Strikers
Pennington fought her way into the championship fight with a run of four high-profile wins, including victories over Bethe Correia and Miesha Tate.
"I definitely earned the title shot," Pennington said before the right. "I feel like I've worked my way up from ground zero. I never had anything handed to me and I wholeheartedly believe that this is my time to shine."
Nunes has an impressive record of success in UFC, having defeated former champions like Ronda Rousey and Tate before either could get out of the first round. She is seen as one of the best strikers in women's MMA, with few opponents being able to deal with her kickboxing inside the octagon.
That could prove troublesome for Pennington, a boxer who also wants to stay on her feet as much as possible. While that certainly gives Pennington the classic puncher's chance at finishing her opponent, Nunes is a clear favorite in this championship bout. William Hill has installed Nunes as a 1/10 pick to retain her title, with Pennington listed as the 6/1 underdog.
Will Souza vs. Gastelum Winner Earn Title Shot?
While the Nunes fight is the main event for UFC 224, the undercard features several bouts that bettors and fans might find more intriguing.
The co-main event is a middleweight bout between No. 5 ranked Kelvin Gastelum (15-3) and No. 2 ranked Ronaldo Souza (25-5). Gastelum is coming off the biggest win of his career, a first-round knockout victory over Michael Bisping at UFC Fight Night 122 in November. Now, the winner of The Ultimate Fighter 17 finds himself one step away from a probably title fight.
"I have had a lot of ups and downs over the years," Gastelum told The Sporting News. "It's just about putting those good experiences into battle and really creating something that works for me now."
Souza (4/6) comes into the fight as a slight favorite, and the Brazilian known as "Jacare" will be fighting in front of a friendly crowd. But bookmakers are giving Gastelum (6/5) a real opportunity to pull off an upset and continue his rise up the UFC's ranks.
UFC 224 features a nine-fight main card, as well as four early preliminary bouts. Other notable fights include a middleweight clash between veterans Lyoto Machida (4/11) and Vitor Belfort (21/10), as well as a women's strawweight fight that pits the undefeated Mackenzie Dern (2/5) against Amanda Cooper (19/10).