The UFC has announced that reigning featherweight champion Max Holloway will move up a division to challenge Khabib Nurmagomedov for the lightweight title at UFC 223 next weekend following an injury to Tony Ferguson.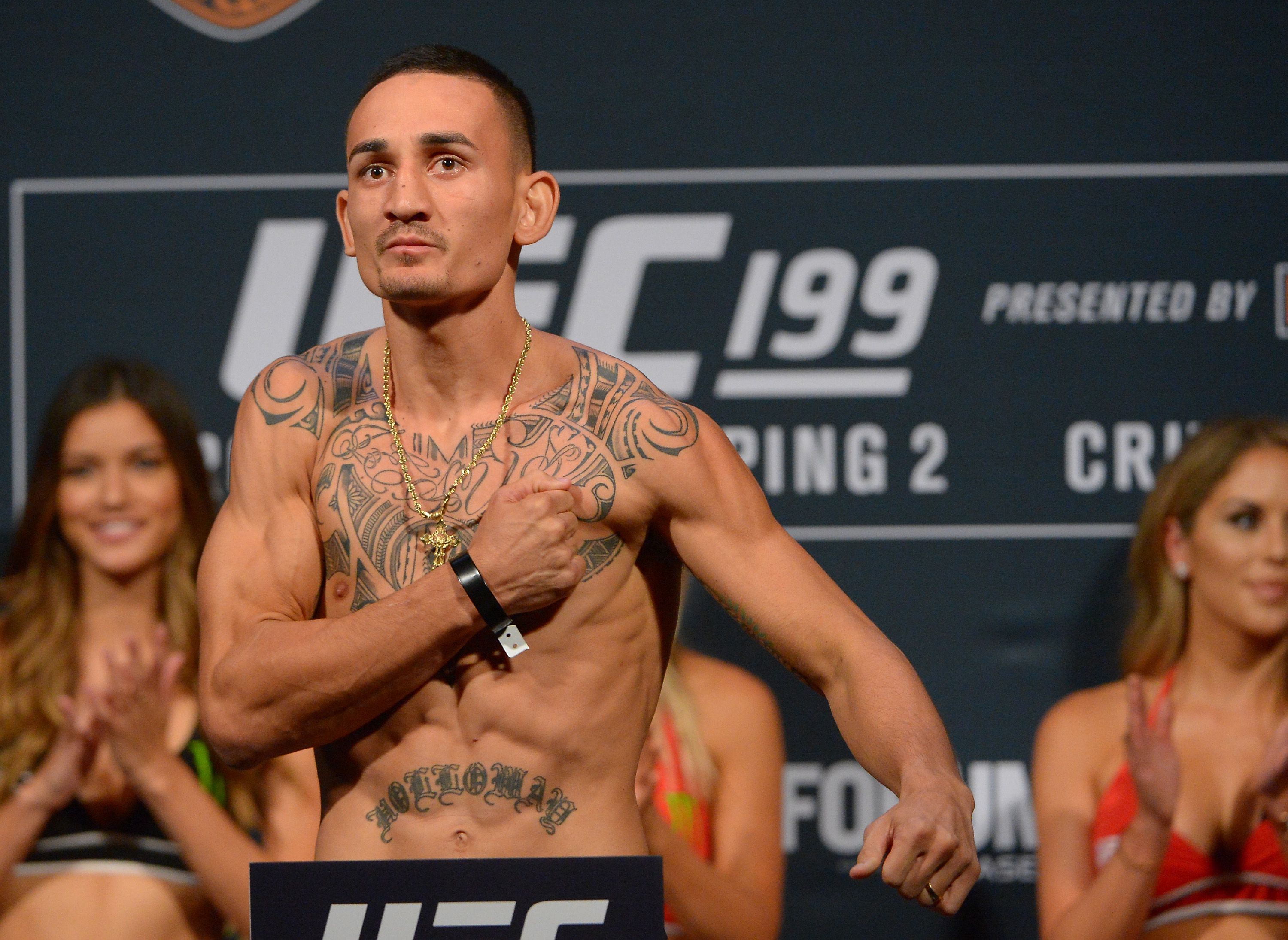 The fight between Nurmagomedov (25-0) and Ferguson (23-3) was one of the most anticipated fights of the year. Ferguson is the interim title holder, with Conor McGregor (21-3) as the official UFC lightweight champion. However, McGregor has not fought in a UFC bout since 2016, and the winner of the April 7 championship fight was expected to become the official champion.
However, the fight had to be called off suddenly after Ferguson tore a knee ligament while on set during a prefight media commitment on Friday.
"My doctor and the UFC doctor both said I can't fight and one is saying I need surgery, so I will see a specialist to make the final determination on how I can heal up and get back in there to defend my belt ASAP," Ferguson wrote on Twitter. "I want to apologize to all the fans, the UFC, Khabib, my teammates, my coaches, my friends and most importantly my family."
Match That Never Happens
This is the fourth time that Ferguson and Nurmagomedov had been booked for a UFC fight. However, all four have fallen apart before the fights could take place. According to an ESPN report, UFC president Dana White said "hell no" when asked if he would try to schedule the fight a fifth time.
With Ferguson out, that left Saturday's card without a main event. Thankfully for the UFC, they got a credible challenger to take the fight on short notice. Holloway (19-3) is the current featherweight champion and presents an intriguing enough matchup to still headline UFC 223.
"The guy hasn't lost a fight since 2013, and that was a decision to Conor McGregor," White said to ESPN about Holloway. "He's the type of guy that steps up for opportunities like this."
As the current official lightweight champion, McGregor himself would also have been a logical choice to step into the octagon against Nurmagomedov. However, White told ESPN that the UFC did not reach out to McGregor to gauge his interest in the fight. While White expects McGregor to fight again in the near future, this didn't seem like the right time to bring him back, he said.
"I don't think Conor McGregor could make the weight on six days' notice," White told ESPN. "And Conor is not the guy I want to throw in as a late replacement fighter. He's a guy I want to make a fight with and have the right amount of time to promote the fight."
Holloway as Underdog
While Holloway is an extremely accomplished fighter, he may prove to be less of a challenge for Nurmagomedov than Ferguson would have been. Holloway and Ferguson utilize similar styles, but Holloway is a smaller fighter who is slightly less accomplished in his ground game.
Considering that and the fact that Holloway is taking the fight on a week's notice, it shouldn't be surprisingly that Nurmagomedov is a significant favorite. Bovada has Nurmagomedov as a -550 pick over Holloway (+375).
UFC 223 will take place at the Barclays Center in Brooklyn. Other fights include a women's strawweight title bout between champion Rose Namajunas and Joanaa Jedrzejczyk.