The UConn Huskies won't take the field for football this year after the school canceled its 2020 season due to concerns over the COVID-19 pandemic.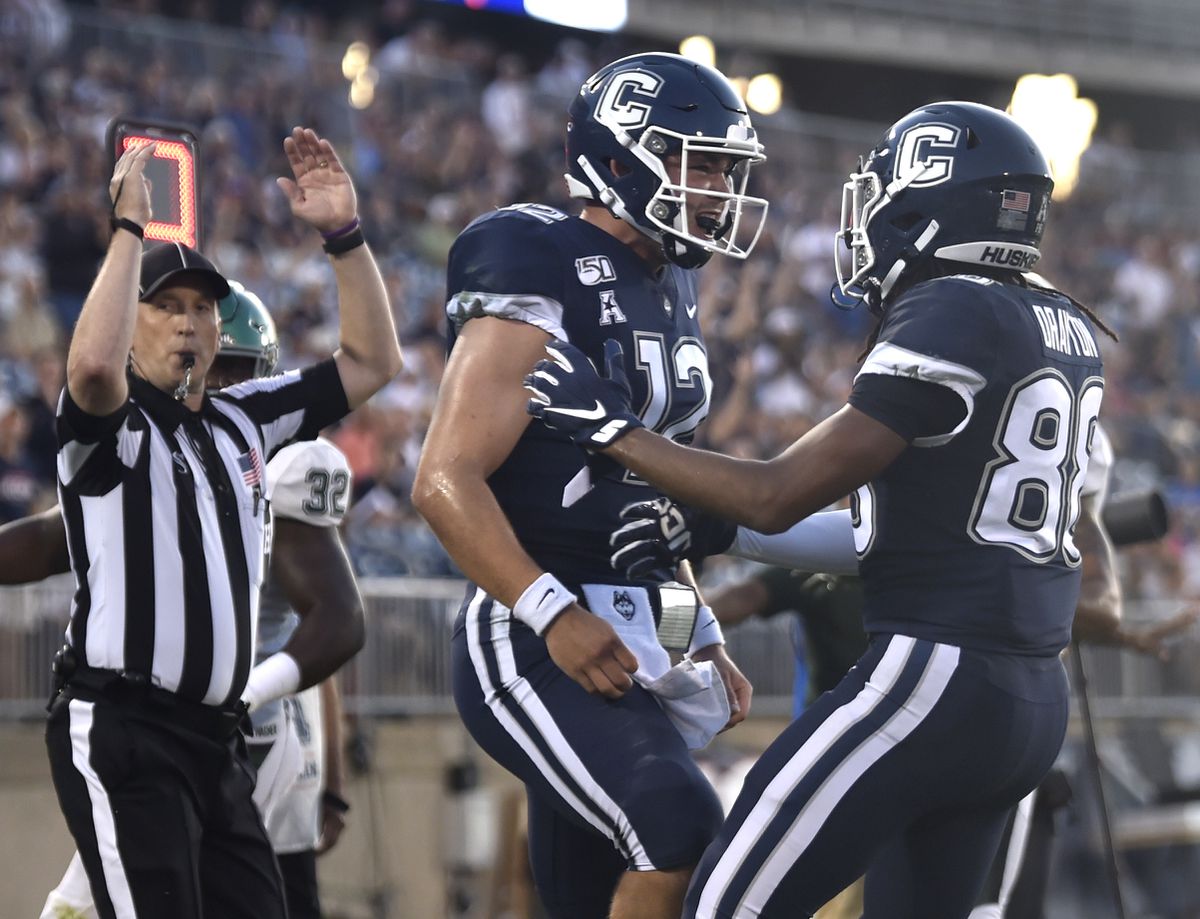 UConn planned to make its debut as an independent football school this season after playing in the American Athletic Conference since 2004.
Independent UConn Faced Scheduling Shortfall
UConn hadn't reported any positive tests among its football players since they began training camp in early July. However, some players showed symptoms of COVID-19 and sat out from practices while others quarantined based on contact tracing protocols.
"Our players wanted to play, they were eager to play, wanted to do what we had to do," UConn football coach Randy Edsall told reporters on Wednesday. "But as we continued through this process it became evident that we weren't going to be able to do that, and understanding that the most important thing for us is making sure we look out for the health and safety and welfare of the student-athlete."
Many conferences have altered their schedules to limit or entirely eliminate non-conference games. That's torn apart the schedules for independent schools like UConn. The school had already lost games against Illinois, Indiana, Maine, and Ole Miss. In addition, the ACC implemented a model that only allows schools to play one non-conference game each. That left games against North Carolina and Virginia hanging in the balance.
Even if UConn constructed a working schedule for the upcoming season, it would have been difficult to implement. Players would have faced the risk of contracting COVID-19 and potential travel restrictions. Connecticut has issued a travel advisory for 34 states, and is directing anyone traveling to the state from those locations to self-quarantine for 14 days.
Players Support Decision to Skip Season

UConn officials determined they could not reasonably participate in the college football season given those factors.
"After receiving guidance from state and public health officials, and consulting with football student-athletes, we've decided that we will not compete on the gridiron this season," UConn athletic director David Benedict said in a statement. "The safety challenges by COVID-19 place our football student-athletes at an unacceptable level of risk."
UConn players also released a statement saying that they support canceling the season.
"We have many health concerns and not enough is known about the potential long-term effects of contracting COVID-19," the statement read. "We came to campus in the beginning of July knowing there would be challenges presented by the pandemic, but it is apparent to us now that these challenges are impossible to overcome."
UConn finished 2-10 last year, including an 0-8 mark in the AAC. But while the Huskies may not be title contenders, their decision could influence other schools as they consider options for the upcoming season.
At the FCS level, the Ivy League and Patriot League have already canceled fall football for 2020. While most FBS conferences have implemented model schedules for the upcoming season, other independents like BYU are struggling to find enough opponents to play. Notre Dame will join the ACC for football this year to guarantee a competitive slate as the Fighting Irish attempt to reach the College Football Playoff.