UFC heavyweight champion Francis Ngannou has floated the idea of competing as a boxer in the past. Now, WBC heavyweight champion Tyson Fury says he wants to take on Ngannou, and is willing to throw a twist into the mix to entice the MMA star.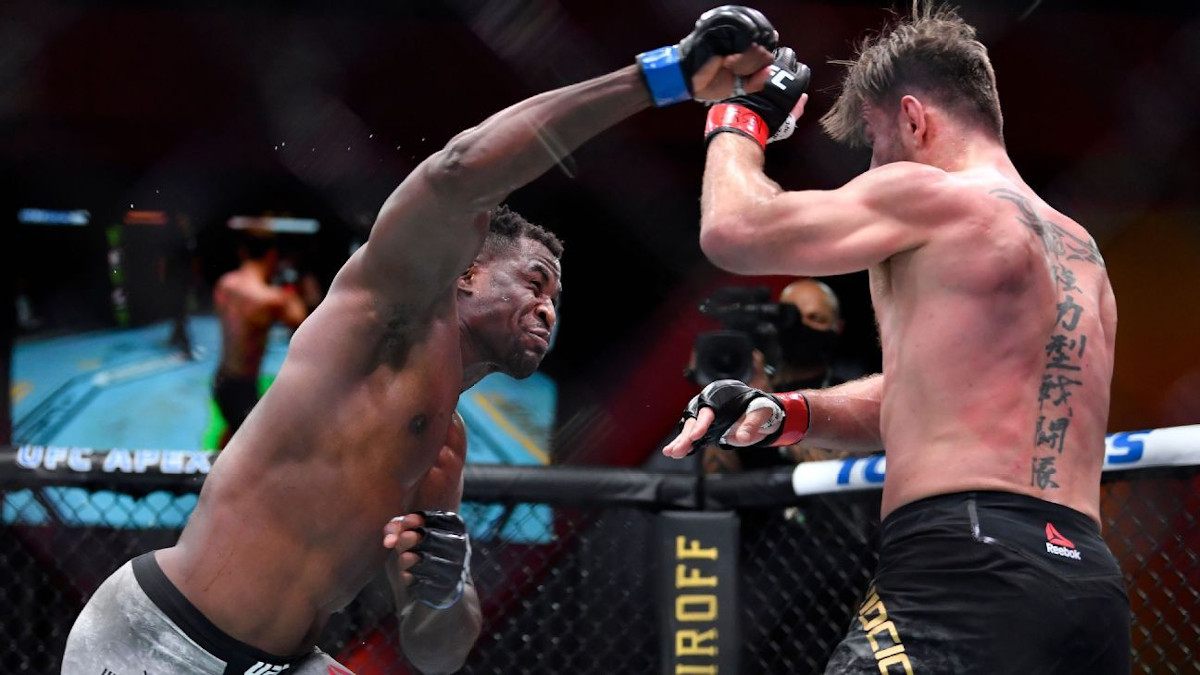 Fury and Ngannou traded potential fight proposals on Twitter on Thursday, raising hopes of a crossover bout in the future.
Heavyweight champions discuss fight rules
The proposals began on Thursday morning, when Fury tweeted about boxing Ngannou, tagging both Ngannou and UFC president Dana White.
Who would like to see me fight this beast boxing rules @ufc gloves?@danawhite @francis_ngannou pic.twitter.com/xONNoT8NzR

— TYSON FURY (@Tyson_Fury) January 6, 2022
"Who would like to see me fight this beast boing rules [with UFC] gloves?" Fury wrote.
The UFC uses four-ounce gloves. Heavyweight boxers traditionally fight with 10-ounce gloves. MMA-style gloves also allow for grappling, while boxing gloves fully cover the fingers.
Ngannou replied just over two hours later, offering a different version of the same fight.
How about MMA rules with boxing gloves? I can do you that favor. https://t.co/NpCMOQ3DDu

— Francis Ngannou (@francis_ngannou) January 6, 2022
"How about MMA rules with boing gloves?" Ngannou tweeted. "I can do you that favor."
If Fury and Ngannou fought using pure boxing rules, Fury would stand as an imposing favorite. Online sportsbook Bovada lists Fury as a -900 favorite over Ngannou (+550) in a hypothetical matchup, provided the fight uses "normal boxing rules" and takes place in 2022. It's unclear whether using MMA gloves would be enough to violate the rules clause.
Ngannou sees boxing career in future
Ngannou has long talked about pursuing boxing. In February 2020, he talked about the possibility of fighting Fury someday.
"[I'm interested in] competing in the boxing match in general, but Fury and I have some little story together because he was first calling me out in MMA and everything," Ngannou said to MMA Junkie last year after Fury defeated Deontay Wilder in their second fight. "Basically, the man stands, after his fight yesterday as the best heavyweight. No argument about that – he stands as the best heavyweight. For someone looking to box, you definitely have to go through him to prove that you're the best."
Ngannou said he wanted to box more than once, however.
"I know for a fact that I'm going to do a few boxing matches," Ngannou said. "I'm not just like, one big fight. I want to make my own little statement in a boxing career."
Fury (31-0-1, 22 KOs) has won four fights since battling Wilder to a draw in December 2018. He fought Wilder in each of his last two bouts, winning by stoppage both times.
Ngannou (16-3) won five straight fights since suffering back-to-back losses to Stipe Miocic and Derrick Lewis back in 2018. All five wins have come by knockout, including a second-round win over Miocic in March at UFC 260 to win the heavyweight championship. He will defend his title against interim champion Ciryl Gane on Jan. 22 at UFC 270 in Anaheim, California.