Francis Ngannou delivered a devastating second-round knockout over Stipe Miocic to win the UFC heavyweight title on Saturday night in the main event of UFC 260.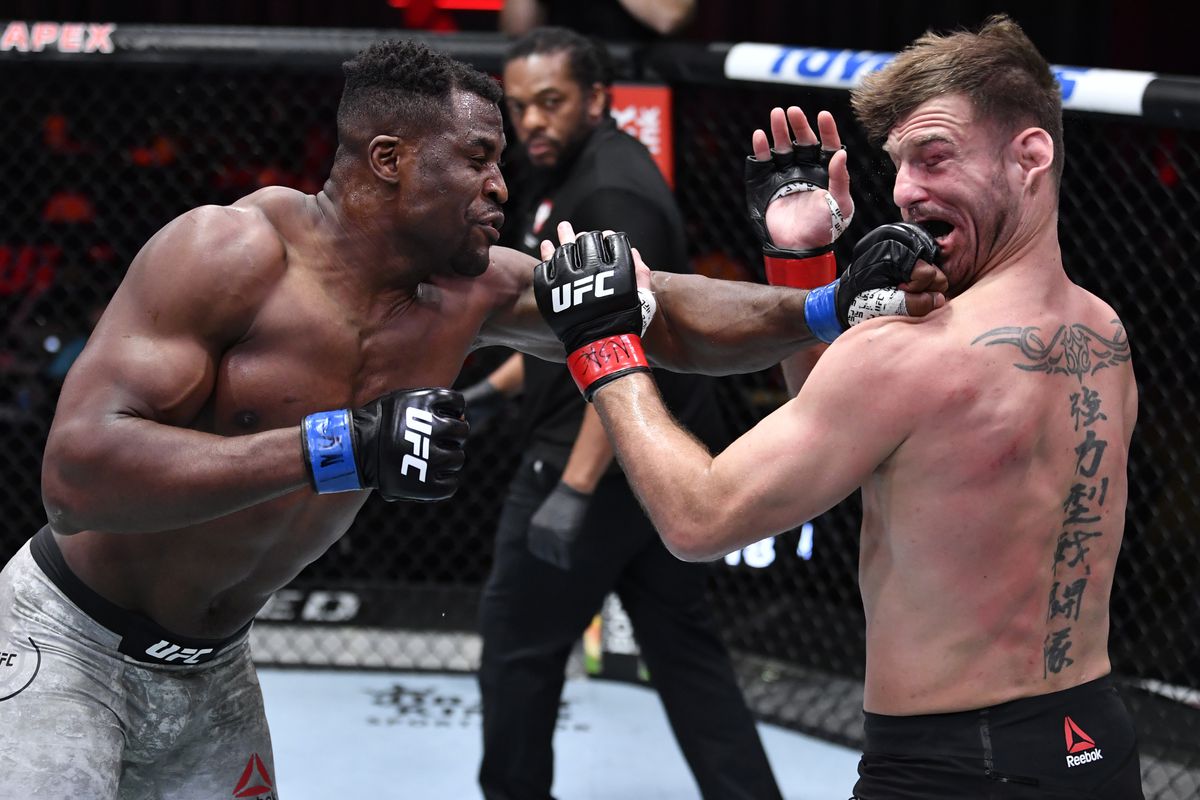 The win came at the end of a back-and-forth sequence that saw Ngannou drop Miocic multiple times in the opening of the second round.
Ngannou avenges defeat after 3-year wait
Ngannou knocked down Miocic with a left, but the champion regained his footing. Miocic even managed to wobble Ngannou with a big right of his own. It wasn't enough to change the tide of the fight, however, as Ngannou recovered and hit with a left hook to send Miocic to the mat again. One last punch on the ground finished the fight.
The victory came three years after Miocic beat Ngannou via a one-sided decision in their first meeting.
"When the journey is longer, the reward is always more appreciated," Ngannou said afterward. "I'm sure I would have been happy three years ago, but I think now I have a different perspective about it, being happy with my improvement and my fighting IQ."
Many observers consider the 38-year-old Miocic the greatest heavyweight champion in UFC history. That stature means he could likely demand – and get – a third fight with Ngannou to complete the trilogy, and give one man a decisive advantage in their rivalry. Even the new champion agreed that another fight would make sense.
White doubts Jones' interest in title fight
UFC president Dana White doesn't see that fight in the cards, at least not right away.
"I don't know what the future holds for Stipe," White told reporters. "Obviously, after this fight, he's got to go home and heal up and spend some time with his family, and then we'll talk about what's next with him. But I have nothing but the utmost respect for Stipe Miocic and everything he's done in this sport and for this company."
Instead, White targeted a fight between Ngannou and No. 2 heavyweight contender Derrick Lewis. When Jones tweeted out "show me the money," White questioned whether Jones really wants a piece of the new heavyweight champion.
Show me the money

— BONY (@JonnyBones) March 28, 2021
"I tell you guys this all the time: You can say you want to fight somebody, but do you really want to?" White said to reporters. "If Jon Jones really wants the fight, Jon Jones knows he can get the fight. All he's got to do is call and do it."
Woodley drops fourth straight fight
Tyron Woodley suffered his fourth straight loss on Saturday, as Vicente Luque defeated the former welterweight champion by first-round submission in the co-main event of UFC 260. White suggested that the defeat could mean the end of the line for Woodley in the UFC.
Dana White indicates Tyron Woodley's UFC career is over: "39 (years old), that's 4 in a row … yeah."#UFC260 | Full interview: https://t.co/iLdKtItCwR pic.twitter.com/TOhhPxoeyA

— MMA Junkie (@MMAjunkie) March 28, 2021
"How old's Tyron now, 39?" White asked reporters about Woodley, who will turn 39 next month. "That's four in a row … yeah."
Woodley addressed his latest loss on social media.
"Shit was going really well until it wasn't," Woodley wrote on Instagram. "I saw the opportunity for the KO and got too excited. [Paid] a big cost. I don't regret my aggression as that's what God created me to do."