When Stipe Miocic first battled Francis Ngannou in 2018, the Cameroonian proved no match for the heavyweight champion. But Ngannou says the story won't be the same when the two clash once again for the heavyweight title in the main event of UFC 260 in Las Vegas on Saturday.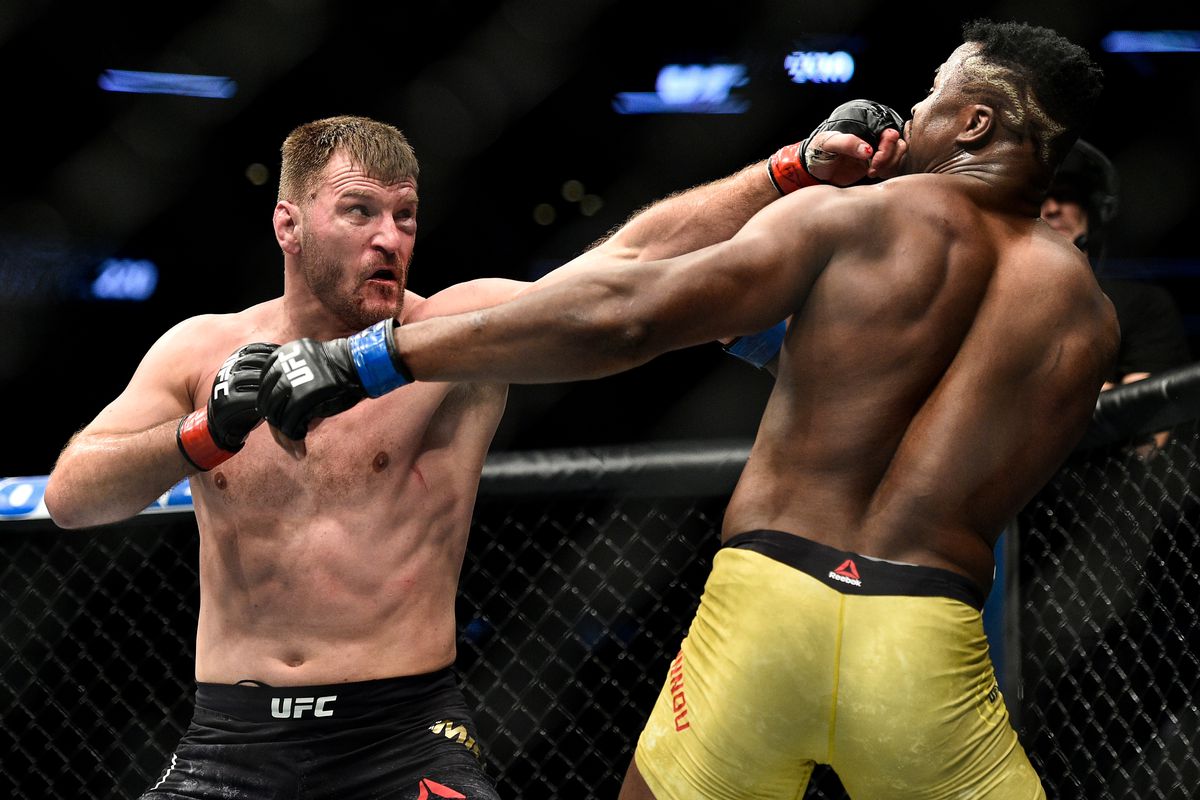 Miocic dominated the first bout, winning a unanimous decision by a one-sided 50-44, 50-44, 50-44 score on the cards.
Ngannou doesn't recognize 2018 version of himself
Ngannou (15-3) suffered his first UFC loss that night. While he won't pretend that he should have won the first meeting, Ngannou also says he's nothing like the man who lost badly three years ago.
"He was the better fighter that night," Ngannou told MMA Junkie. "But when I look at that fight, I hate watching that fight because I don't recognize myself. Even the way that I'm fighting and the way that I'm rushing, that guy looked like me – but I don't recognize that style."
Ngannou also says that he feels more motivated and more focused in his preparation heading into the rematch.
For the Baddest on the 🌎!

🏆 @StipeMiocic vs 🇨🇲 @Francis_Ngannou 2

[ #UFC260 LIVE on #ESPNPlus PPV: https://t.co/4v1XFz4qub ] pic.twitter.com/gdi1nhA9r9

— UFC (@ufc) March 25, 2021
"I had better preparation this time," Ngannou said. "I put some good work on my wrestling, jiu-jitsu, even striking. So yeah, I think skill-wise, I've improved a lot. I still have a lot of places to [go] in this sport. I might be 34-year-old, but I believe I'm very young in the sport, and I have a lot of places to grow."
For Miocic (20-3), Saturday's rematch provides an opportunity to improve on a legacy that is quickly becoming one of the best in UFC history, let alone in the heavyweight division. Having won two of his three battles with Daniel Cormier in the interim since fighting Ngannou, the 38-year-old Miocic says he has only one thing on his mind heading into the rematch.
"I like winning," Miocic told Yahoo Sports. "Winning's fun. I like competition. It keeps me going and it keeps me young. And also taking care of my family, making sure my family's taken care of and all that."
Champion expects new challenge in rematch
The champion doesn't expect an easy time of it at UFC 260. He acknowledges that Ngannou is right – that that challenger has improved since their first encounter.
"He's definitely a lot better. We evolve in the sport," Miocic said. "If you don't evolve, you're not going to keep up. And he's definitely evolved. He's worked on everything. Striking's even better. He's working on the ground. I think he's…definitely working on everything. But so have I."
---
Miocic vs. Ngannou Odds (via FanDuel Sportsbook)
Stipe Miocic: +104
Francis Ngannou: -128
Method of Victory
Miocic by KO/TKO: +210
Ngannou by KO/TKO: -105
Miocic by Submission: +2300
Ngannou by Submission: +3400
Miocic by Decision: +420
Ngannou by Decision: +2000
Draw: +5000
---
The younger, improved Ngannou comes into the bout as a slight favorite, with FanDuel Sportsbook listing the challenger as a -128 pick to unseat Miocic (+104). The expectation is that Ngannou's knockout power might prove decisive: he's a -105 choice to win by KO or TKO, representing almost all of his value in the fight.
Even Miocic acknowledges that Ngannou's heavy punches could be the difference.
"He got power and he is fast," Miocic said. "It's heavyweight, so anything can happen."