Lineal heavyweight champion Tyson Fury has split with trainer Ben Davison just two months ahead of his heavily anticipated rematch with WBC heavyweight titleholder Deontay Wilder.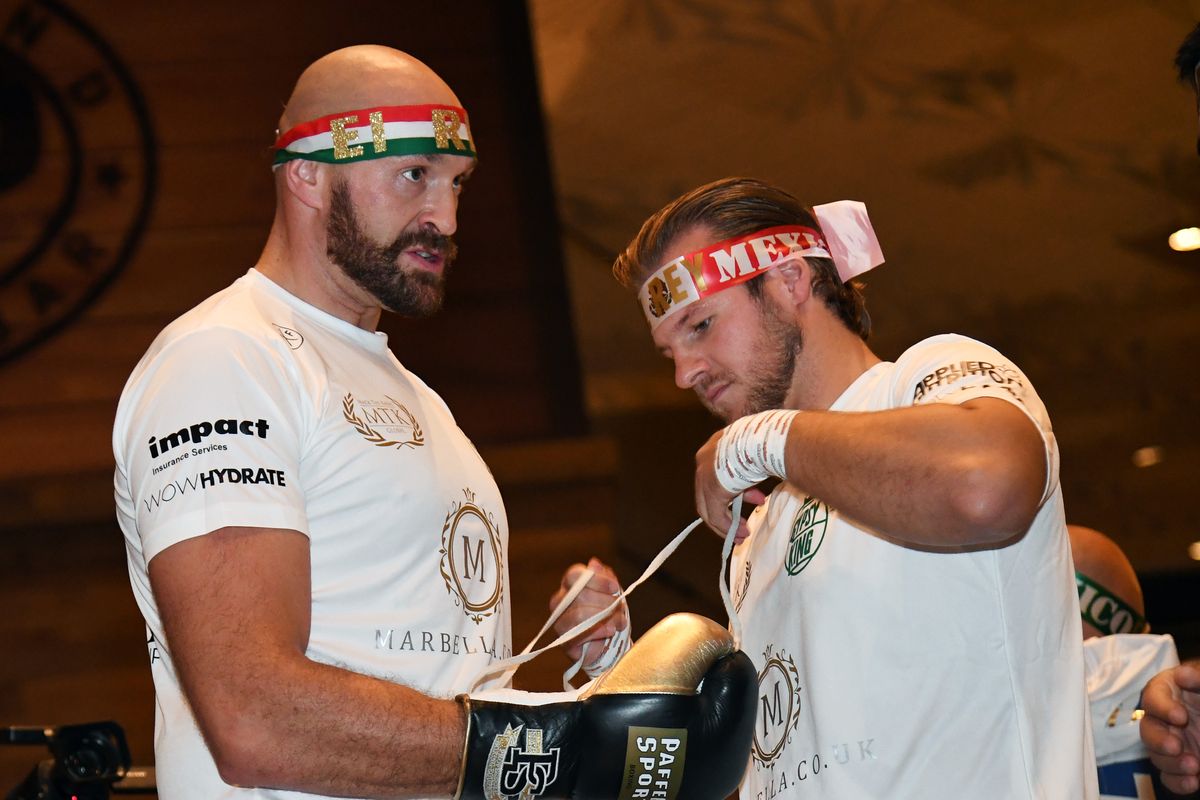 Davison announced the split on social media Sunday, just hours before Fury revealed that he would be working with a new trainer going forward.
Fury, Davidson Showed No Indications of Splitting Up
Fury (29-0-1, 20 KOs) says he will now be working with Javan "SugarHill" Steward, the nephew of the late Emanuel Steward, who was an International Boxing Hall of Fame trainer. Fury had previously worked with Steward in 2010, when the English boxer was just a prospect.
Nothing Fury or Davison had done prior to the announcement suggested that the split was coming. Davison had been training Fury up until this point, and was even in attendance to scout Wilder during his Nov. 23 victory over Luis Ortiz.
Davison helped Fury return to professional boxing after a 31-month layoff due to personal issues. Over time, Fury would lose over 100 pounds, getting back into the kind of shape that would allow him to contend with the best heavyweights in the world.
"Tyson and myself had to both make decisions for our careers, which resulted in our working relationship coming to an end," Davison wrote on Sunday. "However, we remain friends and he will smash the dosser!"
Fury outboxed Wilder (42-0-1, 41 KOs) for much of their first fight last December. However, Wilder scored two knockdowns, including a dramatic flooring in the 12th round that appeared to end the fight. Fury managed to get back to his feet, and when the decision was announced, the three judges had awarded both men with a split decision draw.
Even Steward was surprised by the loss of Davison from Fury's team.
"We will work on his technique. These are the characteristics he was looking for when he called me, and I fit the description," Steward told Sky Sports. "It all happened so fast. Initially he spoke to me about coming into camp, then I heard Ben Davison is gone and I'm the head trainer."
Joshua Wants to Step in as Sparring Partner
Deontay Wilder was also surprised by the news, reacting with a mix of trash talk and genuine confusion about the switch.
"I heard about it. He's trying to do his best to get himself defeated," Wilder told BoxingScene.com. "They seemed like they were cool from what you read, but you hear a lot of different things so who knows what was really going on. Sometimes, it just takes that person to take the initiative to say 'I gotta go.' I don't know how much you can read into it."
Fury may get some additional help against Wilder from an unlikely ally. Anthony Joshua – who reclaimed three major heavyweight titles earlier this month by soundly defeating Andy Ruiz Jr. – told Sky Sports that he would be happy to spar with Fury to help him prepare for the rematch, as Joshua sees Fury as much more likely to accept a title unification fight.
Fury responded to that statement in an Instagram story on Tuesday.
"I would love to have you in camp, really, really love to have in camp to work out for this fight and give Deontay Wilder a proper beating," Fury said. "I hope you mean it, because I'd love to have you in training camp with me."
William Hill has Fury (-138) listed as a slight favorite over Wilder (+110) in their Feb. 22 rematch.