Whitmore is the equine version of your cranky uncle; the one who tells the great stories when he's not telling the neighborhood kids to get off his lawn. And while this creates a special brand of headache for trainer Ron Moquett, it also comes with built-in aspirin for those headaches.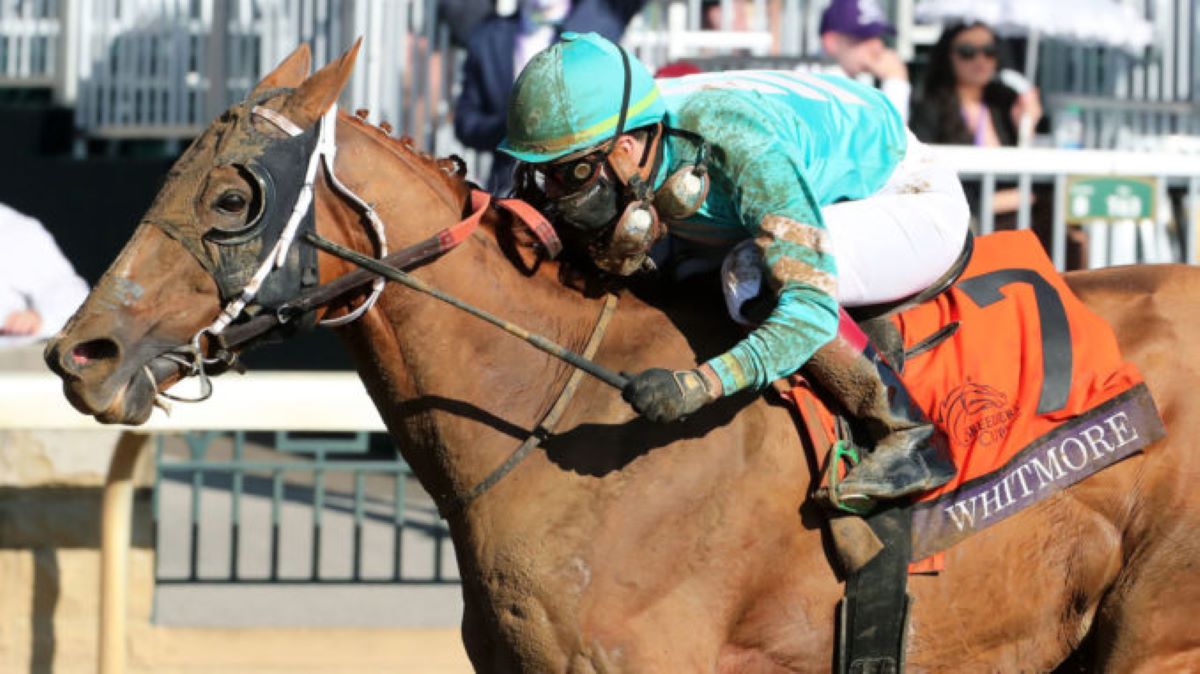 "I wouldn't like it if it were easy. It wouldn't mean as much to me if everything works out if it were easy," Moquett told the New York Racing Association. "I think for me, at this stage of my career, it's good to get something that's a little quirky and a little different and show that you can handle those types, and then hopefully get some of the easier ones down the road."
Moquett brings his temperamental 8-year-old gelding into Saturday's Grade 1 Alfred G. Vanderbilt Stakes at Saratoga. He does so with the comforting knowledge he's saddling the reigning Champion Sprinter and defending Breeders' Cup Sprint winner.
As the 4/1 third-favorite, Whitmore returns to Saratoga for the first time since last August's seventh in the Grade 1 Forego Stakes. That followed his runner-up in last year's Vanderbilt to the flashy Volatile. After a fourth in an October Grade 2 at Keeneland, Whitmore put on a stunning display in the Breeders' Cup Sprint on that same track.
Whitmore's Breeders' Cup Sprint was a picture-perfect race
Going off at 18/1 and not even in announcer Larry Collmus' frame of reference, Whitmore was ninth at the half-mile post of the six-furlong sprint. By the time he reached the stretch, he was second. With one furlong to go, Whitmore passed pace-setter Empire of Gold and pulled away for a 3 ¼-length victory.
This not only conquered a field full of sprinting stars such as Firenze Fire, CZ Rocket, Yaupon, and Diamond Oops, but essentially clinched the Eclipse Award as Champion Male Sprinter. That's quite the aspirin tablet for Moquett to swallow as it solved a lot of the headaches his quirky gelding provides.
Give him company or Whitmore won't run
"He still deals with things that aren't easy. He hasn't had a nail in his shoe since he was a 3-year-old. He wears glue-on shoes," Moquett said. "He's not the easiest to be around at the gate. He likes to train backward; he refuses to train by himself. He wants competition or he'll give you the middle finger. We have to soak his feed a certain way before he'll eat it. Everything is a collaboration of figuring out how to get along with him."
Much of that collaboration starts with Moquett's wife and assistant trainer, Laura. She's charged with much of the behind-the-scenes care and feeding of their cranky veteran. "Laura is the master of that, and she has the patience of Job, which is probably how we're married," Moquett said. "Being married to me has trained her to get along with Whitmore."
A who's who of riders have held his reins
Then, there are the jockeys. As you'd expect, considering the Vanderbilt is Whitmore's 42nd career race, there have been many of them. Eleven riders piloted the gelding, with six of them — Jose Ortiz, Irad Ortiz Jr., Manny Franco, Didiel Osono, Joe Talamo, and current rider Ricardo Santana Jr. — winning races.
The five who didn't win races aren't exactly slouches, either. Hall of Famers Mike Smith and Victor Espinoza, along with future Hall of Famers Joel Rosario, Luis Saez, and Flavien Prat all piloted Whitmore at one time or another.
"He's quirky, but he's not hard to ride," Moquett said. "These guys are professionals. When you look at the list of jockeys that have ridden this horse, those are some top riders. I've always said you ride riders for the comfort that they will get done what you want to get done. But it also has to do with the fact they're very sure and confident. If he catches a little glimpse of any thread, he can pick on you. He will pull that thread."
Whitmore's 41-race career thread goes back to a 7 ¼-length romp in his November 2015 debut at Churchill Downs. The equine version of your cranky uncle comes in with a record of 15-13-4 and earnings north of $4.43 million. This year, Whitmore has two seconds and a third in three races.