Usually, horses of Whitmore's age are working in the breeding shed or are retired. They're not doing morning workouts. Usually, horses with 14 career wins are … well, rarely do horses with this portfolio get to 14 career wins.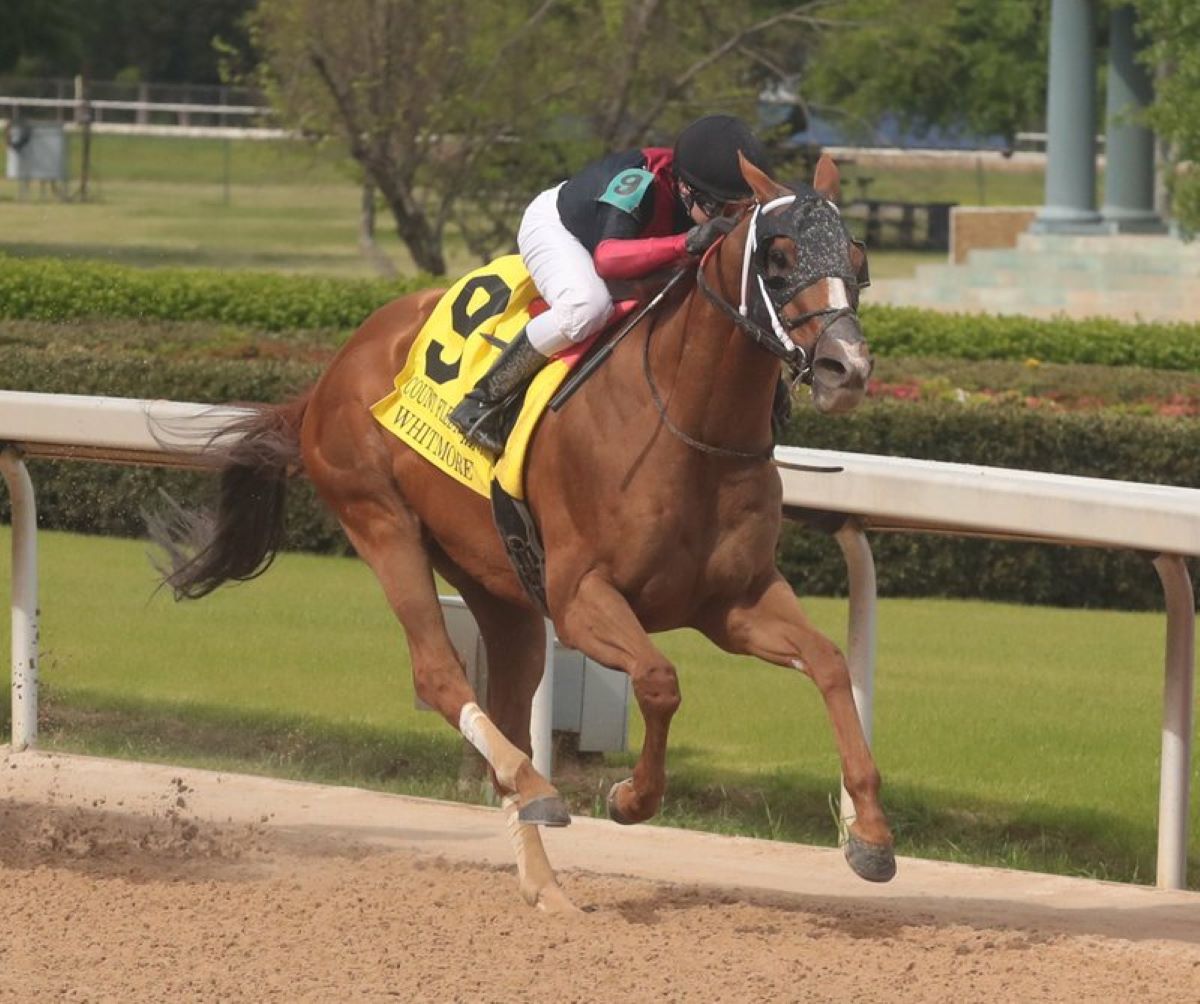 But here is Whitmore, a 7-year-old gelding, seeking career win No. 15 in Saturday's Grade 1 Alfred G. Vanderbilt Stakes at Saratoga. The six-furlong sprint for older horses highlights Saratoga's Saturday card. At the same time, it highlights an underrated, under-the-radar horse who brings a two-race winning streak into the Saratoga gate.
That Whitmore rides in with that two-race win streak — the Grade 3 Count Fleet Sprint Handicap, which he won for the third time in four years, and the listed Hot Springs Stakes drastically understates Whitmore's career. Well, as much as you can understate 14 wins – six in graded stakes — and more than $3.1 million in career earnings. And as much as you can understate hitting the board 27 times in 34 races.
And understating Whitmore is easy to do. When it comes to older horses learning new tricks for winning races, the current focus understandably zeroes in on Tom's d'Etat, the 7-year-old who turned back the clock as fast as he's turned back his rivals. The multiple graded-stakes winner blitzed his rivals by 4 ¾ lengths in the Stephen Foster last month. That was his second stakes victory in as many months.
Whitmore Proves He's a Crafty Veteran Like Tom's d'Etat
Now, Tom's d'Etat blitzed his way to the No. 2 spot in the National Thoroughbred Racing Association's Top Thoroughbred poll. He's going to draw deserved betting attention at next week's Whitney Stakes and at November's Breeders' Cup Classic. He's the poster child for what veteran horses can accomplish.
And now, with Whitmore, Tom's d'Etat has company on that poster.
When you look at Whitmore's career, several elements stand out, starting with one area where he owns bragging rights on Tom's d'Etat — Whitmore ran in the Kentucky Derby.
In 2016, before he became a sprinting star, Whitmore roamed the Kentucky Derby Trail. He finished second in the Grade 3 Southwest Stakes and in the Grade 2 Rebel Stakes, then earned his spot in the Churchill Downs gate with a third in the Arkansas Derby. That year's winner, Creator, went on to win the Belmont Stakes.
Not a Memorable Run for the Roses
Whitmore endured a bad Kentucky Derby trip. He finished 19th. Trainer Ron Moquett gave him the next seven months off, then turned him loose at Aqueduct to win an allowance race. Moquett took Whitmore to Arkansas and watched him win another allowance. Then, Whitmore won the Hot Springs Stakes in March 2017, the Grade 3 Count Fleet in April, and the Grade 3 Maryland Sprint at Pimlico in May.
Five consecutive victories over a six-month span.
It had to end sometime, and Whitmore's streak ended with back-to-back thirds at the Grade 2 True North at Saratoga and the Grade 3 Frank DerFrancis Memorial Dash at Laurel Park. But Whitmore bounced off those races with a win in the Grade 2 Ogden Phoenix Stakes. That got Whitmore into the first of three Breeders' Cup Sprints, where he finished eighth (2017), second (2018), and third (2019).
That eighth at the 2017 Breeders' Cup at Del Mar marked Whitmore's only off-the-board finish in a six-furlong race. He's 12-6-2 in 21 career starts at that distance.
Whitmore Shone Brighter than City of Light
After winning his second consecutive Count Fleet in April 2018, Whitmore went 16 months without a win. True to form, Whitmore's form returned with a vengeance. In August 2018, he won his first Grade 1 — the Forego Stakes at Saratoga. In that race, Whitmore beat City of Light, who went on to win the Breeders' Cup Dirt Mile and the Pegasus World Cup.
"It was a great race and one of my favorite races of all time," Moquett told the New York Racing Association. "I'd really like to win the Vanderbilt now. There's a ton of quality horses running in it, so it's going to be a tough, but fun, race."
In that, the Vanderbilt takes after Moquett's prize pupil, who is one tough – but fun to watch – horse.