After a seven-season stint with the New York Yankees, starting pitcher Masahiro Tanaka returned to Japan after he signed a two-year contract to play with his old team, the Tohoku Rakuten Golden Eagles. The Yankees added starting pitcher Jameson Taillon to fill an open spot in the rotation. The Yanks also added veteran righty side-armer Darren O'Day and his crazy windup to bolster the bullpen.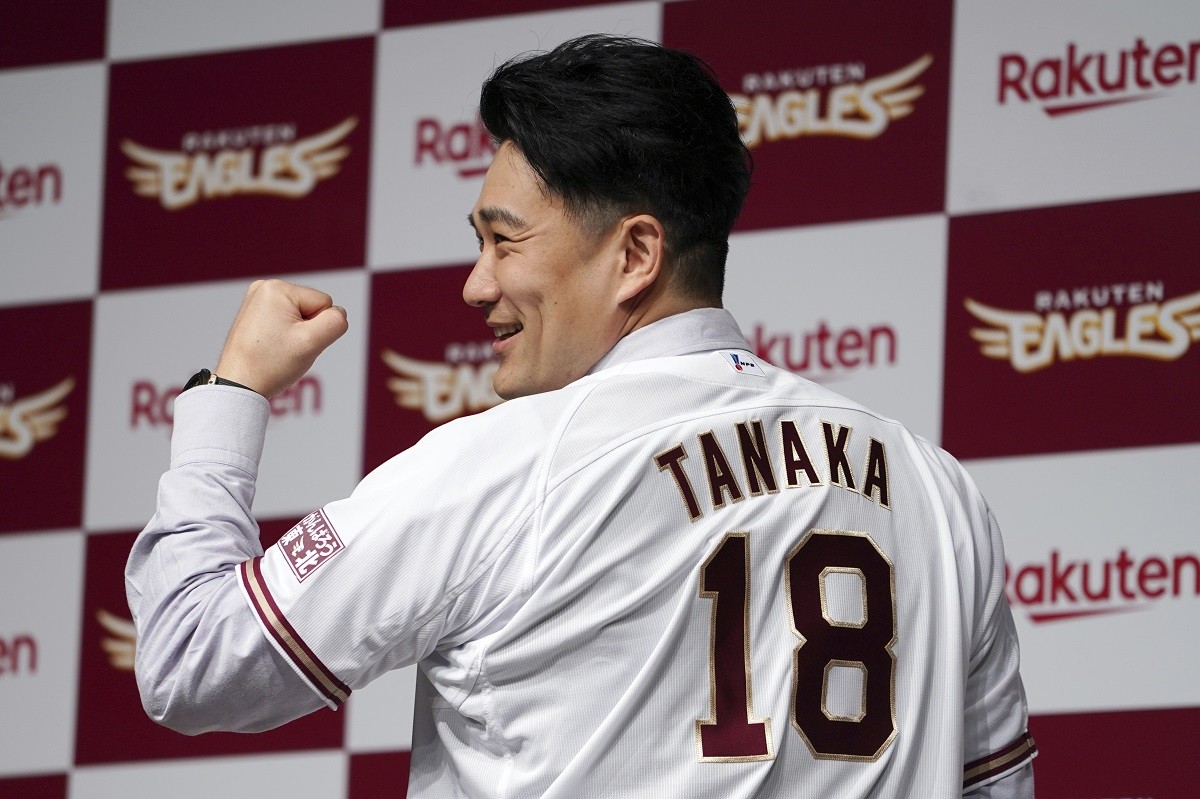 Tanaka, 32, signed a deal in Japan worth approximately $17 million in USD. He has an opt-out for his second season with the Golden Eagles. He's expressed interest in returning to the MLB, but it wasn't in his cards for this season.
In seven seasons with Rakuten Between 2007 and 2013, Tanaka posted a 99-35 record with a 2.29 ERA.
"I have unfinished business in America, and I haven't given up on that," said Tanaka in a press conference. "(Tohoku Rakuten) agreed on terms that would keep those options open. Without throwing away those goals, I really want to win a Japan championship here."
Tanaka would have commanded a high price tag if the Yankees re-signed him. General manager Brian Cashman explained that passing on Tanaka allowed the Yankees to pursue two pitchers, including Kluber.
It sounds like Tanaka could play a season or two in Japan before returning to America. If he comes back, the Yankees would love to have him.
"He was a great Yankee," said Cashman. "A tremendous competitor and a big loss for us. I'm always open to evaluating opportunities that present themselves. There's no doors closed from my perspective."
Welcome to the Bronx, Jameson Taillon
The Yankees let starting pitchers James Paxton and JA Happ leave the Bronx. The Minnesota Twins signed Happ to a one-year deal worth $8 million.
Paxton has yet to sign with a new team, but the Pittsburgh Pirates, New York Mets, and Toronto Blue Jays are all interested in the southpaw's services. There are still many notable free agents that have yet to sign with new teams.
The Yankees added right-handed pitcher Jameson Taillon after a trade with the Pirates for four prospects. Taillon, 29, underwent a second Tommy John surgery to correct his elbow. The Yanks hope he can hold down the #3 spot in the rotation behind ace Gerrit Cole and the newly-added Corey Kluber. Taillon is a testicular cancer survivor who was first selected with the second-overall pick in the 2010 MLB Draft.
---
NEW YORK YANKEES – STARTING ROTATION
Gerrit Cole
Corey Kluber
Jameson Taillon
Jordan Montgomery
Deivi Garcia
---
Taillon went 28-24 in 82 starts with the Pirates since 2016, with a 3.67 ERA and 1.25 WHIP. In his only full season with Pittsburgh, he posted a 14-10 record with a 3.20 ERA and a 1.18 WHIP. Taillon didn't pitch in 2020 while recovering from his second elbow surgery, but the Yankees are willing to take a flier on him.
"I have a fire under me now that I'm going to a contender," Taillon told The Athletic. "I want to go contribute to the Yankees and prove to everyone that the work I've been doing is going to pay off."
The Yankees also have starters Michael King and Domingo German who could crack the rotation. German is the wild card. He missed most of last season while serving a suspension for domestic abuse.
Hello O'Day, Goodbye Ottavino
The Yankees traded reliever Adam Ottavino to the Boston Red Sox. The move to the Yanks' rival seemed somewhat surprising, but the Yanks definitely were ready to move on from Ottavino.
Ottavino had been Aaron Boone's go-to guy when starters got into a jam. Ottavino logged a lot of innings in 2019. In the 2020 postseason, Ottavino looked washed up.
Righty Darren O'Day fills in the open roster spot in the bullpen. The Yanks are still stacked, with a pen that's anchored by Aroldis Chapman. They also still have Zack Britton, Chad Green, Luis Cessa, and Johnnie Lasagna (aka Jonathan Loaisga).
O'Day, 38, has a side-arm delivery that drives hitters crazy. He's played for five other teams over his lengthy career. In 2015, O'Day earned a spot on the All-Star team with the Baltimore Orioles.
O'Day appeared in 604 games as a big leaguer with a 40-19 record. He has an impressive 2.51 ERA and 1.02 WHIP. He spent the last two seasons with the Atlanta Braves where he posted a 4-0 record, a 1.25 ERA,  and 0.785 WHIP, which is why the Yankees wanted him to shore up their bullpen.
Yankees World Series Betting Faves
The Yankees recently resigned DJ LeMahieu to a multi-year deal and locked up their most-consistent player over the past two seasons.
After the Yankees shuffled their rotation and bullpen, oddsmakers still think the Yankees are one of the favorites to win the 2021 World Series. The Yankees are +550 odds to win the World Series, according to Draft Kings.
The Yanks are also +260 odds to win the AL Pennant next season.