Masqueparade is a graded-stakes winner who impressively captured his last three races, turned away two Kentucky Derby horses, and who has more than a hint of the flavor du jour about him.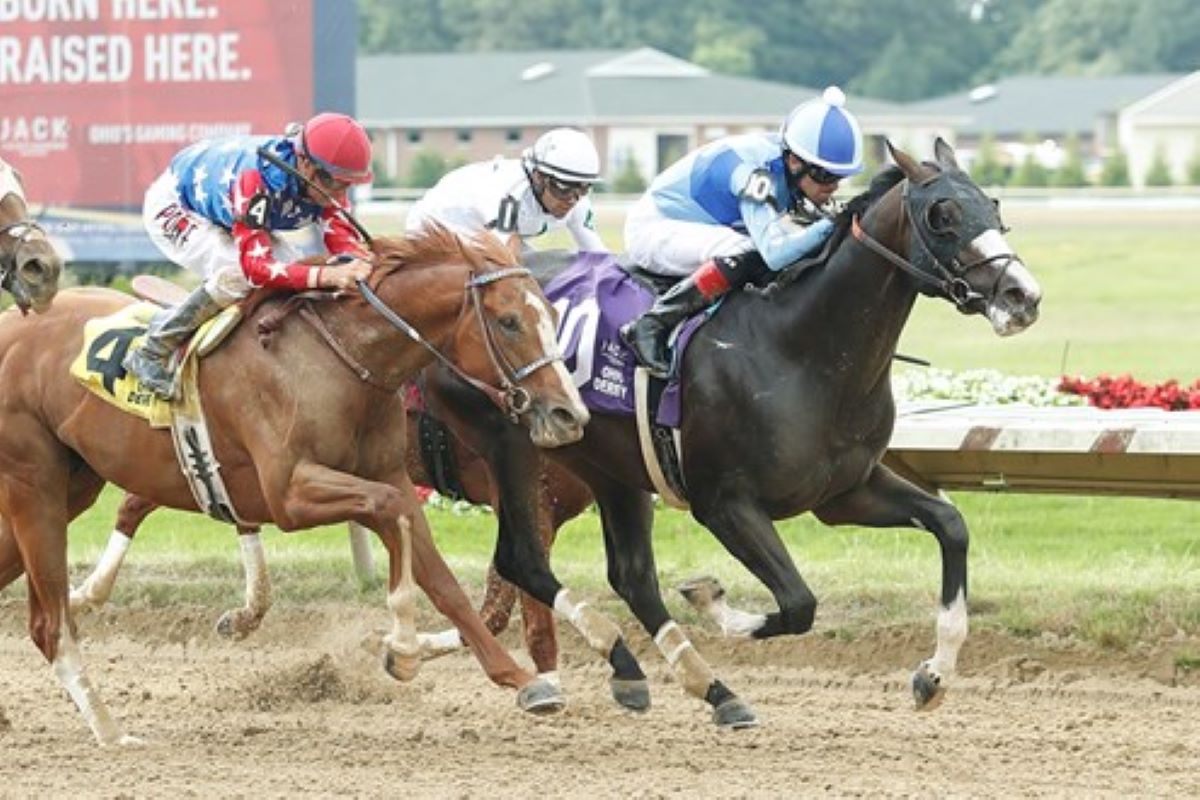 And yet, trainer Al Stall Jr. has no illusions about what awaits his Ohio Derby winner in Saturday's Grade 2 Jim Dandy Stakes at Saratoga. "There's a bonafide 3-to-5 shot in there, so we'll see what happens," Stall told the New York Racing Association. "Our horse is on the upswing, so if he keeps improving, he could be there, or thereabouts."
You probably have more than a passing knowledge of that bonafide 3-to-5 shot; he goes by the name Essential Quality. That is, when you're not calling him the reigning Belmont Stakes champion, or a three-time, Grade 1-winning colt.
Essential Quality looms over this field as the country's top 3-year-old. The son of Tapit hasn't run since he held off Hot Rod Charlie in that scintillating Belmont Derby finish on June 5. Trainer Brad Cox has his star 3-year-old in this race as the Jim Dandy is intended: as a prep for the Aug. 28, Grade 1 Travers Stakes.
Masqueparade more than a wildcard, but still a question
As for Masqueparade, he comes into the Jim Dandy carrying curiosity and hope among bettors. He's increased his Beyer Speed Figures every race for four consecutive starts; they've gone from a 74 in a third-place Fair Grounds maiden race in February to the career-best 98 for his Ohio Derby win.
He's won his last three races, including a March maiden special weight at Fair Grounds that came via disqualification, an 11 ¾-length dissection of a Churchill Downs allowance field on the Kentucky Derby undercard, and that half-length Ohio Derby win over King Fury.
King Fury was entered in the Kentucky Derby, but scratched the week of the race with a fever. The third-place Ohio Derby horse was Keepmeinmind, who finished seventh in the Derby. He's back in the Jim Dandy as well.
How will Masqueparade make this class leap?
Those two – along with fourth-place Derby finisher Essential Quality – were all household names before most race fans knew who Masqueparade was. Hence, the curiosity and hope following Masqueparade into the Saratoga starting gate on Saturday.
How will he fare against this company? It's only one factor of many, but Masqueparade's best Beyer — that previously mentioned 98 — is 11 points below the 109 Essential Quality registered for his Belmont Stakes win.
"He deserves a shot," Stall said. "His last two races have been very good and he handled graded competition. The (workout) numbers are fine, but stepping up to those proven competitors is more a test to me than running against the clock. I think he deserves a chance."
Patience helped get him to this point
Since Stall mentioned it, Masqueparade breezed four furlongs in 47.59 seconds last Friday. That was third of 87 horses at that distance that day. "We're happy with the breeze. He's right on track," Stall said. "We'll give him a chance to see how far he can take his talent. We were patient getting to where we got with him. He's got a good foundation underneath him."
That foundation carries over financially as well. A $180,000 purchase at the 2019 Keeneland September Yearling Sale, Masqueparade has already banked $419,280 in six career starts (3-0-1).