Unlike last year, there are no Kentucky Derby qualifying points available in this year's Grade 3 Ohio Derby. No mulling over potential Derby dark horses coming out of what is usually a C-level field of 3-year-olds anyway.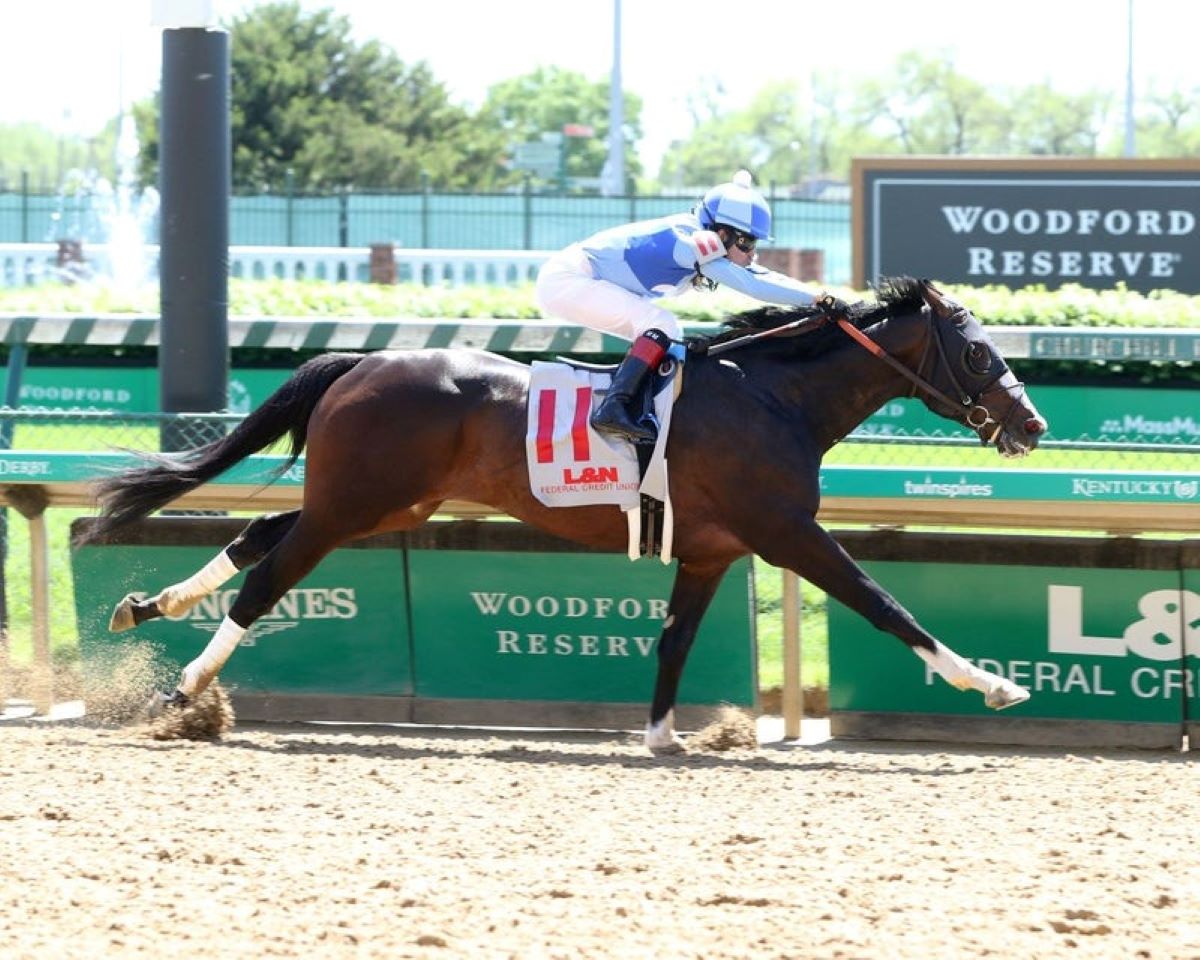 No. Instead, we have one Derby and Preakness alum, one would-be Derby alum, and a few others who made cameos on the Derby trail. They comprise the recognizable names in Saturday's 11-horse Ohio Derby at JACK Thistledown in the Cleveland suburbs.
Dating to 1876, one year after the first Kentucky Derby, the 1 1/8-mile Ohio Derby ran in its customary late June slot last year. But it didn't send its winner – 20/1 shot Dean Martini – to the early September, pandemic-postponed Derby.
This year's edition does feature a Derby horse – 4/1 second-favorite Keepmeinmind. This colt's manic-depressive career has been well-chronicled here: a great 2-year-old campaign (1-2-1), followed by nothing better than a fourth in four stakes races this year. But the Laoban colt showed signs of form in the Derby, where he went from 19th to seventh. In the Preakness two weeks later, Keepmeinmind finished a solid fourth – 9 ½ lengths behind Rombauer.
Class relief should help Keepmeinmind
None of those faster nemeses are here in Ohio tormenting Keepmeinmind, who could benefit from the class drop and the addition of blinkers. If Keepmeinmind is going to prove he belongs in the discussion of good 3-year-olds, this wouldn't be a bad place to start.
Promise Keeper is already there. The 7/2 favorite won his stakes debut as the 3/2 favorite in the Grade 3 Peter Pan at Belmont Park last month. That gave the Constitution progeny his third victory in five 2021 starts. He brings a two-race win streak to the proceedings, preceding that 2 ¼-length Peter Pan win with a 5 ½-length allowance romp at Keeneland in early April.
You didn't see much of Promise Keeper on the Derby trail, because his one cameo did not go well. He finished a miserable 12th at the Tampa Bay Derby, with a glacial 45 Equibase Speed Figure. That stumble now well behind him, Promise Keeper is proven at nine furlongs and his 104 and 103 Equibase clockings from those two wins clearly put the Todd Pletcher charge in the mix here.
King Fury uses Ohio Derby as his restart
You didn't see King Fury (9/2) in the Derby because trainer Kenny McPeek had to scratch him Derby week when he spiked a fever. Before then, however, King Fury won the Grade 3 Lexington Stakes at 18/1 with a 96 Beyer Speed Figure and 103 Equibase. That marked the son of Curlin's only 2021 start.
"It took him a while to come around. He was pretty clogged up," McPeek told Thistledown. "I sent him to my farm for about 10 days. He had a chest full of congestion, but he's locked and loaded now. He's doing really well, but he's a horse that needs some pace in front of him."
In his 2020 starts, he finished behind Keepmeinmind three times: in the Breeders' Futurity, Breeders' Cup Juvenile and Kentucky Jockey Club Stakes. The first two of those are Grade 1s; the third, a Grade 2. His Derby cred is likely to bring more money down on him than his chances warrant.
Remember Proxy? Your recent tickets wish you hadn't
One of those horses King Fury beat in the Lexington was Proxy (4/1). His fourth in that race probably took the Tapit colt off the Derby trail for good. Before then, Proxy showed enough form in three Fair Grounds Derby preps to torment bettors. He finished second in both the Grade 3 Lecomte and Grade 2 Risen Star, building up a decent bandwagon going into the Louisiana Derby. That bandwagon took a broadside when Proxy finished fourth. It emptied out when he finished fourth in the Lexington.
Trainer Mike Stidham removes the blinkers Proxy wore in his last two starts. Even then and even in this field, he's probably not fast enough to seal the deal.
That brings us to the most intriguing choice of all: Masqueparade (8/1). Much of that intrigue comes out of his last start: an 11 ¾-length dissection of an allowance optional claiming field on the Derby undercard. That victory came at this nine-furlong distance, came over familiar names like Smiley Sobotka and Last Samurai and came with a 97 Beyer and 108 Equibase.
That 108 Equibase is the best last-out figure in this field. Adding further to Masqueparade's intrigue is the fact this is his stakes debut. Factor that not insignificant variable in, along with the fairly weak field he dismantled and the underrated Al Stall Jr. at the training controls.
Grade 3 Ohio Derby/JACK Thistledown
Morning Line (Jockey/Trainer)
Promise Keeper, 7/2 (Luis Saez/Todd Pletcher)
Falcons Fury, 30/1 (Edgar Paucar/Tim Maxey)
Hozier, 12/1 (Chris Landeros/Rodolphe Brisset)
King Fury, 9/2 (Corey Lanerie/Ken McPeek)
Ethical Judgement, 8/1 (Martin Garcia/Brendan Walsh)
Hello Hot Rod, 15/1 (Francisco Arrieta/Caio Caramori)
The Reds, 6/1 (Dylan Davis/John Kimmel)
Keepmeinmind, 4/1 (David Cohen/Robertino Diodoro)
Proxy, 5/1 (Joe Bravo/Mike Stidham)
Masqueparade, 8/1 (Miguel Mena/Al Stall Jr.)
Channel Fury, 20/1 (Luis Rivera/James Jackson)
The pick: Masqueparade. We're joining this parade, provided we get a good price. And 8/1 screams "good price" — if you can get it or anything in the neighborhood. The lack of stakes experience is a legitimate variable. But so is this Upstart progeny's tactical speed. Again, did we mention Al Stall is an underrated trainer? And did we mention 8/1 screams value here?